Steel Mills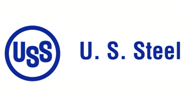 U.S. Steel Slates 16-Day Outage on Gary Works No. 6 BF
Written by Michael Cowden
October 4, 2023
---
U.S. Steel will take a 16-day planned outage beginning next week on the No. 6 blast furnace (BF) at its Gary Works in northwest Indiana.
The Pittsburgh-based steelmaker said the repairs, focused on the furnace's stove, were part of its previously planned 2023 capital project.
"There is no impact on employment or customers. This is unrelated to the UAW strike," a company spokeswoman told SMU on Wednesday.
The statement appears to dispel rumors in the market that a smaller furnace at Gary Works might be idled because of the strike, which began on Sept. 15 and has expanded since.
U.S. Steel has four active furnaces at Gary Works: No. 4, No. 6, No. 8, and No 14, according to SMU's blast furnace status table.
No. 6 is one of three smaller furnaces there. It has a daily iron-making capacity of 3,450 tons. The No. 14 furnace is much larger than the other furnaces. It has a daily iron-making capacity of 7,450 tons.
Latest in Steel Mills