Steel Products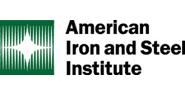 Domestic Steel Shipments Rise in August: AISI
Written by Ethan Bernard
October 6, 2023
---
Shipments from US steel mills ticked up in August vs. July and stayed level year over year, according to the latest monthly data from the American Iron and Steel Institute (AISI).
Domestic steel mills shipped 7,663,767 net tons in August, up 1.5% from the 7,550,446 tons shipped the previous month. August 2023 shipments were nearly unchanged from the 7,675,344 tons shipped a year earlier, AISI said.
Year-to-date (YTD) shipments through August totaled 59,530,059 tons, off 2.9% from shipments of 61,324,568 tons in the same period a year earlier.
Comparing YTD shipments in 2023 to the first eight months of 2022 shows the following changes: hot-rolled sheet, up 6%; cold-rolled sheet, down 1%; and corrosion-resistant sheet, down 1%, according to AISI.
Latest in Steel Products