Steel Products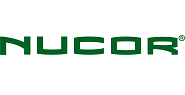 Nucor Holds Grand Opening at Brandenburg Plate Mill
Written by Ethan Bernard
October 8, 2023
---
Nucor was joined by Kentucky Gov. Andy Beshear for the steelmaker's "grand opening" of its $1.7-billion Brandenburg plate manufacturing mill in the state.
The 1.5-million-square-foot operation provides the Charlotte, N.C.-based company with 1.2 million tons of annual capacity for steel plate production, according to a press release from the governor's office on Oct. 6. The mill is located along the Ohio River in Kentucky's Meade County.
"Nucor and Kentucky have a longstanding partnership, and I'm excited that we continue to build on that by opening Nucor Steel Brandenburg," Gov. Beshear said in the release.
Nucor Steel Brandenburg already employs 440 people, the release said. The company cast its first slab on its new continuous caster in March and rolled its first plate in December of last year.
"Congratulations to the Nucor Steel Brandenburg team for safely and successfully starting up our new plate mill, which will make the sustainable steel products that serve as the building blocks of our modern American economy," said Leon Topalian, Nucor's chair, president, and CEO.
Latest in Steel Products