OEMs
Stellantis, UAW Reach Tentative Labor Deal. Belvidere Assembly Plant To Reopen
Written by Michael Cowden
October 29, 2023
---
Stellantis and the United Auto Workers (UAW) union announced on Saturday that they had reached a tentative labor agreement.
The UAW said Stellantis workers that had been on strike will go back to work pending a ratification vote.
The development means that the union, after reaching a tentative deal last week with Ford, remains on strike against only one of the "Big Three" Detroit-area automakers: General Motors.
Details of the Deal
The UAW said the deal would result in Stellantis resuming production at its assembly plant in Belvidere, Ill. Recall that Stellantis last year announced plans to idle Belvidere.
UAW president Shawn Fain and vice president Rich Boyer said in a video announcement on Saturday that the facility would have two shifts producing a mid-size truck. They said Belvidere would also receive a new battery plant.
"We have saved Belvidere," Boyer said. "We are bringing thousands of jobs back to Belvidere."
Fain and Boyer said other features of the deal included the following:
25% wage increase over the life of the new agreement, including an immediate 11% gain on ratification
Improved cost-of-living adjustments (COLAs)
The conversion of temporary workers to permanent workers, a step in reducing tiers in which some workers earned significantly less than others
Some temps receiving pay increases of as much as 168% over the life of the deal
The right to strike over any future plant closures
What They Said
Both sides cheered the deal, which at least temporarily ends a strike that began on Sept. 15.
"I would like to thank all the negotiating teams who have worked tirelessly for many weeks to get to this point," Stellantis North America COO Mark Stewart said in a statement.
"We look forward to welcoming our 43,000 employees back to work and resuming operations to serve our customers," he added.
"We've done the impossible. We have moved mountains. We have re-opened an assembly plant the company closed," Fain said.
Next Steps
UAW leaders will meet to discuss the details of the tentative agreement on Thursday, Nov. 2.
If they approve of the deal, they will share those details with union members and schedule ratification votes.
"What happens next is not up to us," Fain said. "The membership is the highest authority in our union. It's you vote and your choice."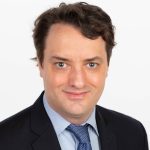 Latest in OEMs