Raw Material Prices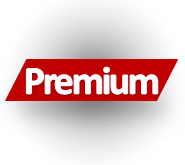 Steelmaking raw material prices remain mostly higher vs. October
Written by David Schollaert
November 21, 2023
---
Editor's note: Steel Market Update is pleased to share this Premium content with Executive members. For information on how to upgrade to a Premium-level subscription, contact Lindsey Fox at lindsey@steelmarketupdate.com.
Prices of steelmaking raw materials are largely up over the over the last 30 days, as they were the month prior, according to Steel Market Update's latest analysis.
Through the latest data available as of Nov. 20, coking coal was the exception, down 16% in the last month. Pig iron was unchanged, while iron ore, scrap, zinc, and aluminum all saw growth month on month (MoM). Busheling scrap prices saw a double-digit increase, while aluminum was up just 1% over the same period.
Compared to levels three months earlier, dynamics were similar, with pig iron and busheling scrap posting a 1% decline, and shredded scrap unchanged. Aside from aluminum, which saw a 4% increase, the other four raw materials in this analysis saw double-digit growth.
Table 1 summarizes the price changes of the seven materials considered in this analysis. It reports the percentage change from one month, three months, and one year prior for each product.

Iron Ore
At $129 per dry metric ton (dmt), the Chinese import price of 62% Fe content iron ore fines reached one of its highest levels all year. Tags had reached a recent low of $104 pet dmt in mid-August. It has since increased steadily, nearly reaching the 2023 high of $130 pet dmt. Figure 1 shows the price of 62% Fe delivered North China and its latest developments. Despite the recent gains, iron ore fines remain well below the recent high of $220 per dmt back in July 2021.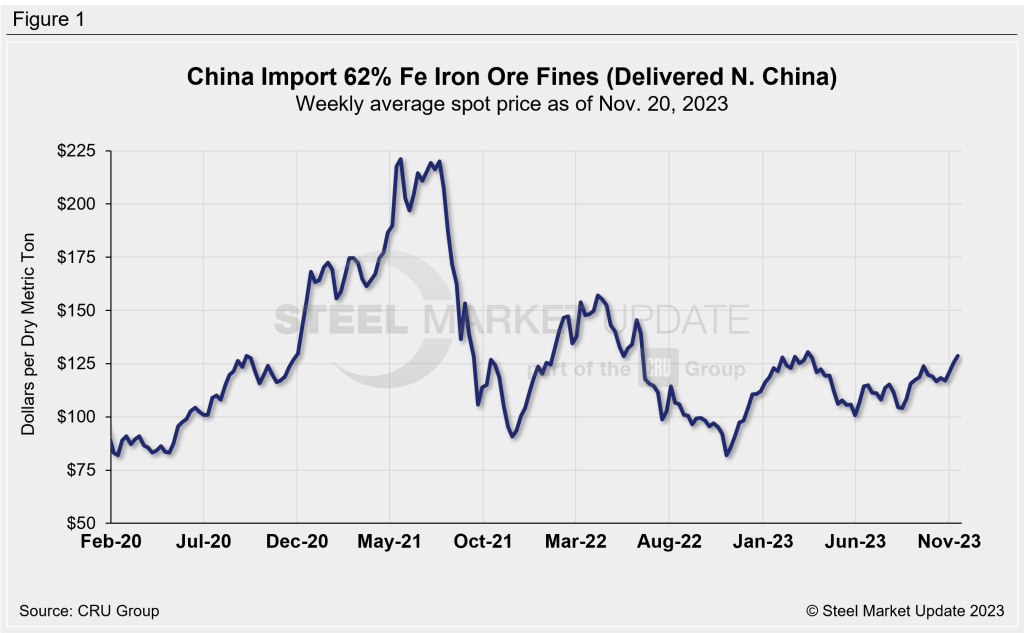 Coking Coal
The price of premium hard coking coal FOB east coast of Australia increased in September, reaching a recent high of $366 per dmt in mid-October. Prices have since edged down, declining by roughly $40 per dmt week on week (WoW) through Nov. 20. Since reaching a 2023 low of $220 per dmt in late May, prices had been on a slow but steady rise in Q3. While the fourth quarter brought a 37% boost in price, tags have declined in a hurry, sliding by 12% just WoW through Nov. 20 (Figure 2). Prices are also down more than 16% vs. the past month but still up 22% over the past three months.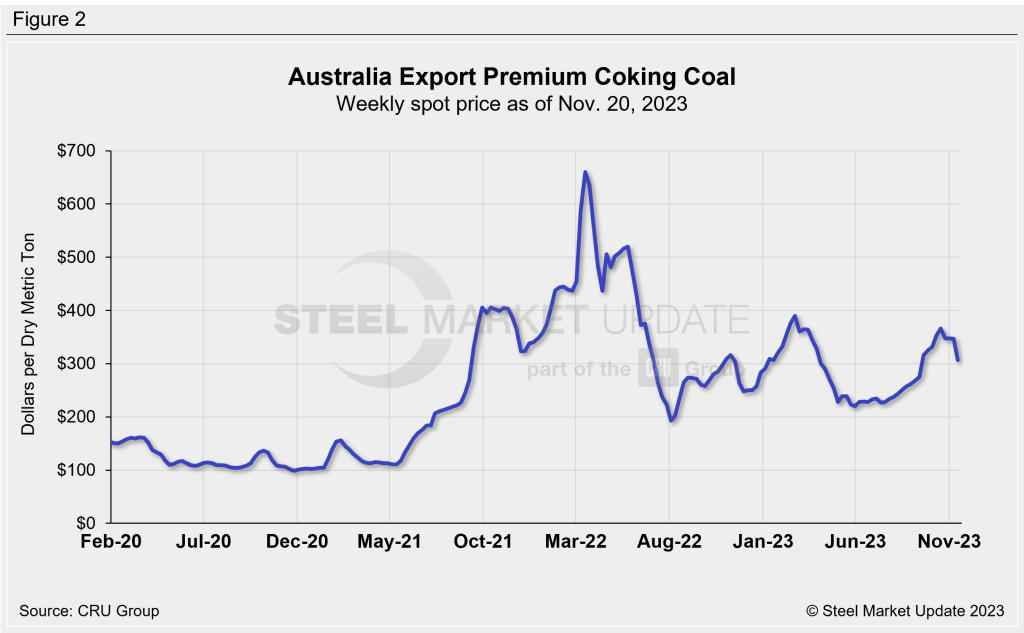 Pig Iron
Most of the pig iron imported to the US had come from Russia, Ukraine, and Brazil. This report summarizes prices out of Brazil and averages the FOB value from the north and south ports.
Pig iron prices had remained elevated but stable for most of 2021 and early 2022. Prices jumped more than 60% and hit a historic high of $975 per dmt in April 2022 following the invasion of Ukraine by Russian forces. Since then prices have steadily eroded to a three-year low of $420 pet dmt in November. Recall that pig iron prices reached a multi-year low of $275 per dmt back in June 2020 (Figure 3).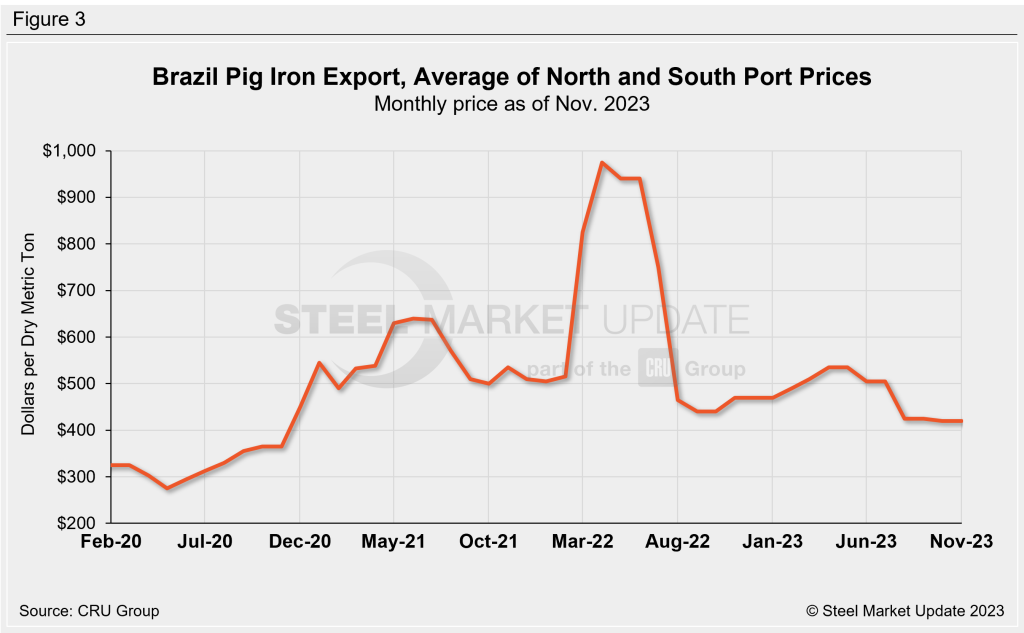 Scrap
Hot-rolled steel prices have been on a nearly $300-per-ton rally since late September on the back of repeated mill price hikes. The price mills must pay for their raw materials has been far more stable over the same period, despite some recent gains. Changes in the relationship between scrap and iron ore prices offer insights into the competitiveness of integrated mills, whose primary feedstock is iron ore, compared to minimills, whose primary feedstock is scrap. Figure 4 shows the spread between shredded and busheling scrap, priced in dollars per gross ton in the Great Lakes region.
Scrap prices increased in November after remaining sideways or declining marginally in each of the last four months. Busheling scrap prices rose $15 per gross ton to $415 per gross ton in November, while shredded scrap increased by $25 to $395 per gross ton.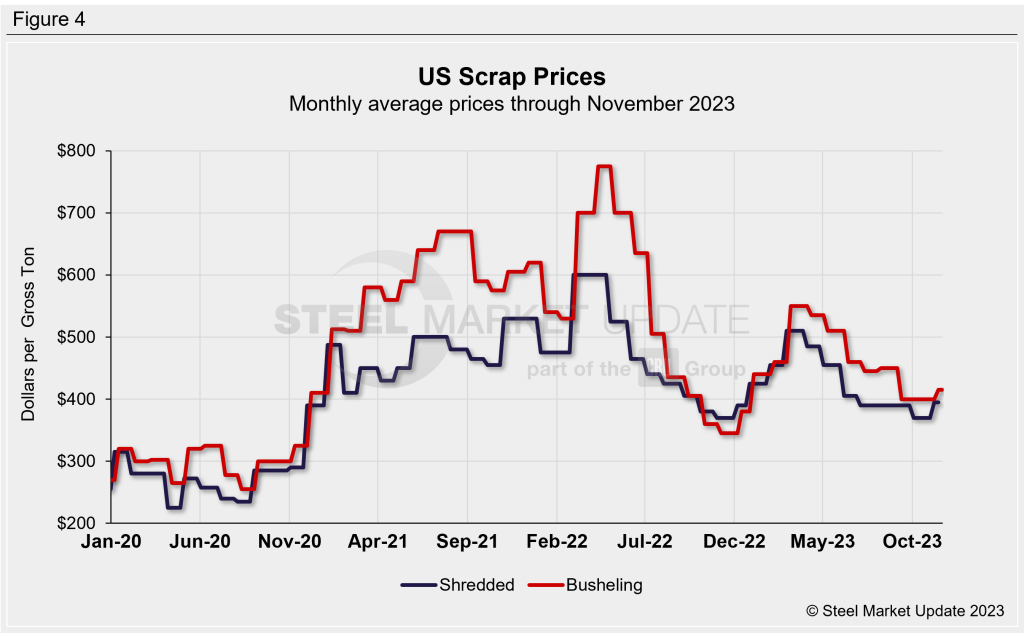 Figure 5 shows the prices of mill raw materials over the past four years. Iron ore prices are 42% below the May 2021 peak of $221 per dmt, but similarly (41%) higher than prices this time last year. Shredded scrap prices are up just 7% vs. a year ago but 34% below the March/April 2022 high of $600 per ton.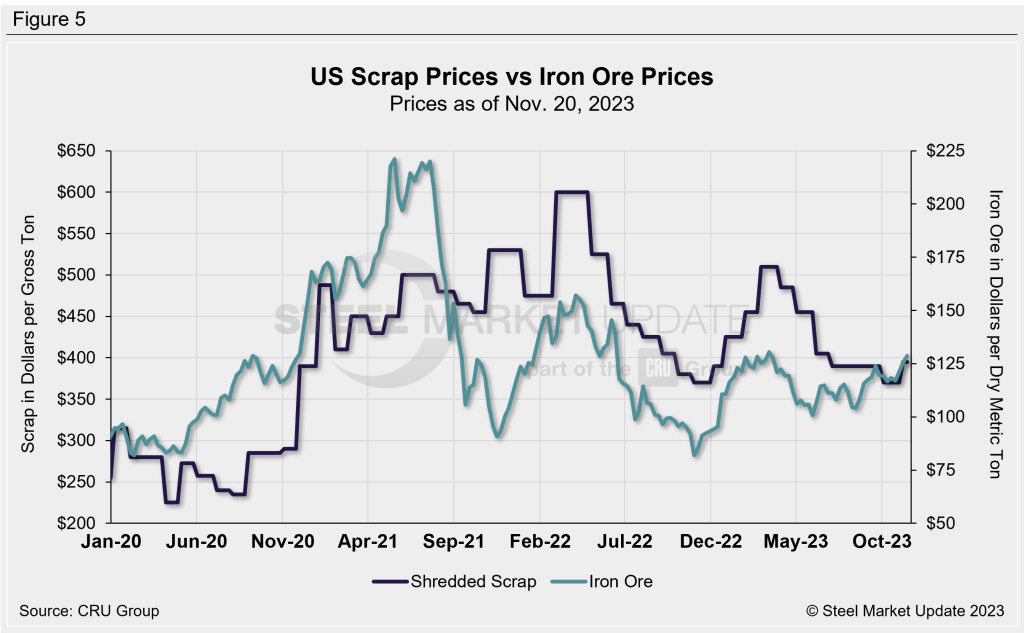 To compare the two, SMU divides the shredded scrap price by the iron ore price to calculate a ratio (Figure 6). A high ratio favors the integrated/BF producers and a lower ratio favors the mini-mill/EAF producers.
At the current 3.02 ratio shown below, integrated producers have mostly held onto the cost advantage for much of the year. Back in November 2021, we saw a ratio of 5.84, the highest since mid-2018. The scrap-to-iron ore ratio reached a record low (within SMU's 12-year data history) of 1.86 in August 2020.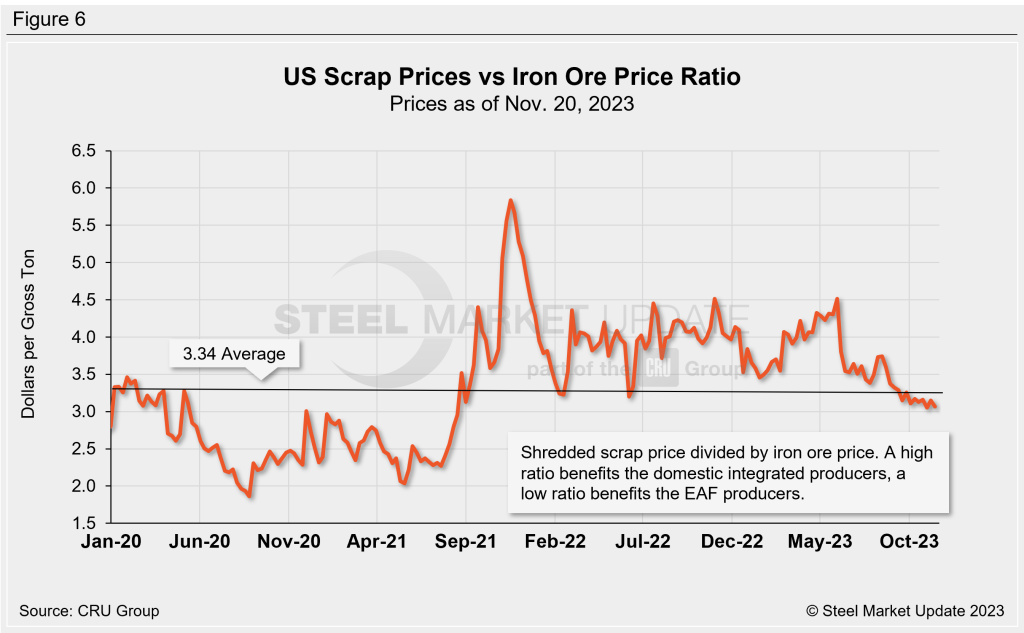 Figure 7 shows how the price of hot-rolled steel relates to the price of busheling scrap. Busheling has declined $135 per gross ton (25%) from the February peak and is back in line with historic levels. As of Tuesday, Nov. 14, the SMU hot rolled price average increased $75 per ton WoW to $940 per ton and is trending higher. This is still down $220 per net ton (19%) from the 2023 peak of $1,160 per ton in mid-April.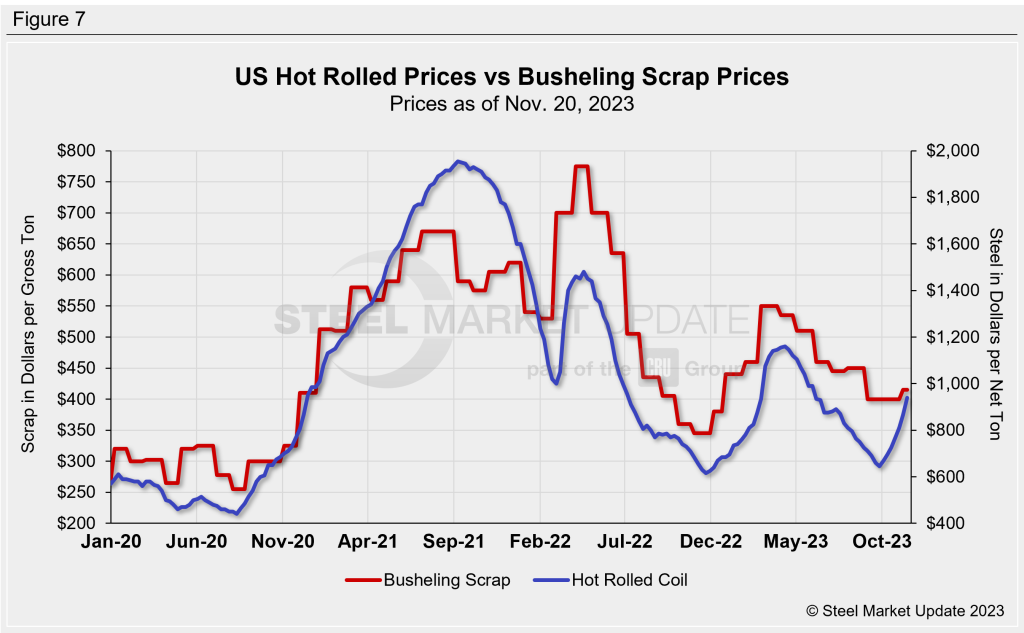 Zinc and Aluminum
Zinc is used in galvanized and other coated steel products. Spot prices fluctuated dramatically in the past couple of years, The LME cash price for zinc reached a record high of $2.05 per pound in May 2022, declining through July to reach a 10-month low at the time of $1.35 per pound. Since prices have trended lower but have remained within historic levels. The latest price as of Nov. 20 is $1.17 per pound, up 16% vs. the three-year low of $1.00 just 30 days prior. Zinc is still up 12% compared to three months earlier, but down 15% from levels one year ago (Figure 8).
Aluminum prices, which factor into the price of Galvalume, had also been on the rise in 2021 and into early 2022, reaching a record-high of $1.76 per pound on March 23. (Note that aluminum spot prices often have large swings and return to typical levels within a few days, as seen in the graphic below. We do not consider those surges in our overall high/low comparisons.) Aluminum prices have been relatively stable since June, and more in line with historical levels.
The latest LME cash price is $0.99 per pound as of Nov. 20. Aluminum prices are up just 2% from one month prior, 4% from three months earlier, but down 17% from prices one year prior.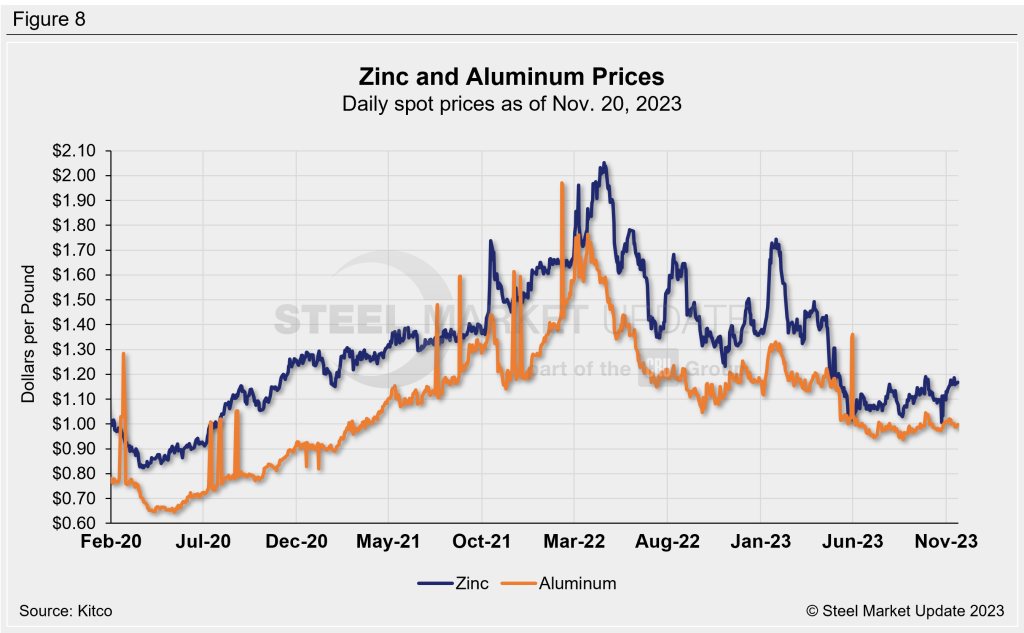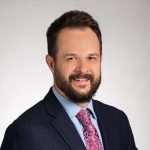 Latest in Raw Material Prices