Futures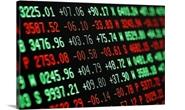 Hot Rolled Futures: Waiting Mode
Written by Andre Marshall
September 12, 2013
---
Financial Markets
Two weeks back we were 1640 on SP 500 and technically it looked like we were headed to 1550-1560 zone as part of a larger retracement. Well the market has dumbfounded the chartists again, and we have since rebounded to today's level of 1682. We are likely headed now to the 1770-80 zone before seeing a significant pull back. The US stock market is the manifestation of the world's hope for better things to come as money flight to our shores continues. However, it feels a bit like the whole world is waiting for something, grasping onto slightly positive economic data coming out of China  (August industrial output, retail sales, exports) and the US (positive August auto sales numbers, and slightly improving unemployment number). Meanwhile the underlying picture for the world economies continues to struggle with tremendous headwinds from debt levels, to unemployment and wage issues, not to mention whole regions that are in political turmoil.
The depression of some of the world's currencies reflects the strain some of these economies are under. In our zone things feel better, as the US economy proves once again to be the largest and most resilient economy. The strength of our market however appears directly connected to the government's efforts to contain interests rates, thus the growth in our auto and housing markets, while manufacturing/export markets continue to suffer. How therefore will our government succeed in easing off the bond buying program when it will directly affect the few regions of our economy that are thriving (consumer related industries) especially at a time when the world is relying on us for our, albeit meager, 1.5% growth? I believe some world leaders asked Obama that very same question at the G-8. For now, we are the world's beacon.
Copper and Crude has taken very different paths in the past two weeks. Copper has drifted and just today has lost a few cents to end $3.205/lb on the Dec. contract. The market is still quite long and waiting for follow through with no breakdown as yet. Crude is also just about where it was 2 weeks back at $108.75/bbl, however crude has since been to $104/bbl and $112/bbl extremes as the middle east situation with Syria has remained very fluid. Gold meanwhile had a big down day today coming off $43/oz, as the Syria war concern rally is now retracing back to lower levels. Gold appears headed to 1250 area as it failed to hold 1360 support. Another sign of optimism in the markets with this decline.
Steel
A very quiet week in steel, continuing a period of very quiet for some weeks now. A total of 250 contracts or 5000 ST traded. The market has come under some pressure as sellers have lowered offer levels and reached to some buyers levels. Q2'14 has been the biggest mover down from $625/ST to $617/ST, and Q4 '13 also under pressure moving down to $623/ST from a $630/ST level. Q1 '14 has also gone from $635/ST trading to $629/ST offered. The CRU number posted yesterday came in $646/ST down another $2/ST from the week prior. This leaves the market a long way from price levels that will encourage buyer interest, and thus transactions on futures. Rumblings abound in the spot market of deals being offered, but nothing tangible enough, as yet, to affect the index, or to even encourage trades on futures in anticipation.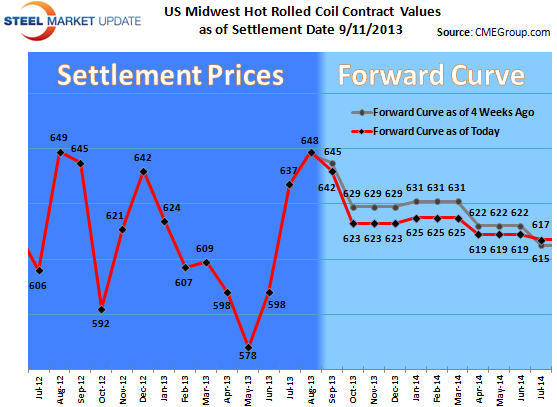 Latest in Futures