Steel Mills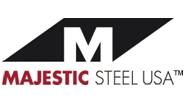 Majestic Steel Plans to Hire 80 Positions in 2014
Written by Sandy Williams
February 6, 2014
---
Majestic Steel USA, a flat-rolled steel service center located in Cleveland, Ohio, plans to expand its staff by 80 positions in 2014. The family-owned and operated company has entered into a period of what they are calling "hyper growth." 
"We're invested in the industry and looking to hire additional resources to help us take steel into the next generation and beyond, said Todd Leebow, Majestic Steel USA's president. "Currently the industry, market and economy are shifting and we feel like this is the right time to capitalize on that immense opportunity."
Three top-tier positions have already been filled as part of the company's growth strategy.
Majestic Steel announces the appointment of Allen Garrett as Director of Business Development. Garrett joins Majestic from Steelscape, bringing a 25 year background in chemical, coatings, metallurgy and forming industries. He will be responsible for the conceptualization and commercialization of specialty products, including metallic coatings and metal prints.
Brienne Callanen will be the new Pre-Paint Sales Coordinator. Callanen has six years of experience with Centra, including positions as Inside Sales/Product Analyst and Strategic Planning & Marketing Leader.
New Sales Associate Shea Smith joins Majestic Steel with an extensive background in supply chain management, account management and single bill packages from her previous roles at Mitsui, Ternium and New Process Steel.
Latest in Steel Mills