Steel Products Prices North America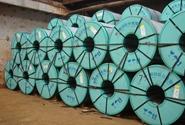 May Import License Data Looks Scary
Written by Brett Linton
May 20, 2014
---
The U.S. Department of Commerce released updated import license data through the 20th of May. If we remember, the license data through the 13th projected that we would see May imports surpass 4.0 million net tons and could go as high as 4.5 million tons. We discounted that number as we have seen previous month's data where the first two weeks were leaning toward the final month's number as being higher than it eventually was. We think that will be the case this month as well. Even so, the final May number will most likely be "scary" when compared to prior months.
There are some unsettling numbers in this week's analysis. Oil Country Tubular Goods (OCTG) are once again "surging" and the license data is pointing toward numbers exceeding 400,000 net tons. Hot rolled is another item which appears will be much higher than the 12-month moving average as well as the the three month moving average. Cold rolled, which climbed to 247,000 tons basically on the backs of the Chinese steel mills in April based on license data through May 20th, is poised to pull back a bit in May yet above the 12MMA and 3MMA. Other metallic (most of which is Galvalume) has been out of whack for a number of months. We used to see 40,00-50,000 net tons as the "normal" number and May license data is pointing toward a number close to three times that number.
It is important to remember that the data shown below is not the final numbers – only a projected number based on incomplete (May 20th) license data. However, the trend has been for imports to grow, which we believe is partially due to the spread between domestic and foreign steel prices. As SMU has noted in articles published in this newsletter previously, the spread has grown to unsustainable levels. We will need to go back and look at the history, but the span of time where the spread has exceeded $100 per ton has been over a number of months going back to late 4th Quarter 2013. The net result is a building flood of imports with each successive month beating the previous month's levels.
At the same time, the domestic steel mills continue to operate at 76 percent of capacity and produce about the same amount of tonnage on a weekly basis as they did the week before, the month before and the year before that. Any increases in demand, it appears, are being absorbed by foreign imports.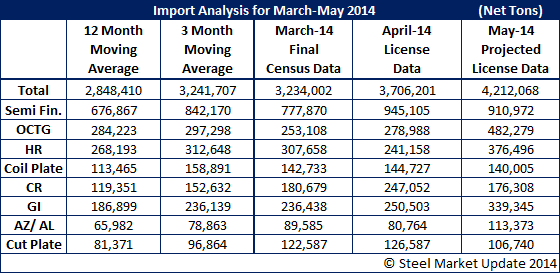 Latest in Steel Products Prices North America