Steel Products Prices North America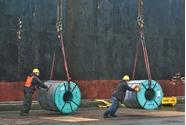 June Preliminary Steel Imports Down 11% Over May
Written by Brett Linton
July 27, 2014
---
Preliminary steel import data was updated late last week by the US Department of Commerce, reporting total June imports at 3,585,781 net tons, down 11.1 percent over May levels and down 4.1 percent over April levels. Compared to the same month one year ago, total June 2014 steel imports are up 45.8 percent or 1,125,697 tons.
A reminder as to how the U.S. Department of Commerce steel import data works. The US DOC releases license data on a weekly basis on Tuesday evening. The request for a licenses does not necessarily mean steel will arrive during that calendar month. Therefore, license data has to be taken with a grain of salt as the final numbers can vary by hundreds of thousands of tons. As the month progresses (in the current case the month of July) we can gather a sense as to where imports should be for the month without having an accurate number available. A few weeks after a month has closed the DOC will release Preliminary Census data (which was what was just released or the month of June). The Preliminary Census data is based on receipts and about one to two weeks later the numbers are confirmed and the Final Census Data is released.
At the moment, license data is suggesting imports should be higher in July compared to the 3.5 million tons just announced for June (see table below).
Semi-finished imports which are mostly slabs destined for U.S. based steel mills continue to be the single largest steel product imported. June is showing 862,444 net tons (about 24 percent of the total) of semi-finished steels were imported. At the moment, July license data is indicating semi-finished imports will be higher than June and could come close to the 1 million ton mark set in May.
May had the highest import totals since prior to the Great Recession. There are a number of items which bear watching: OCTG, after a slight decrease from the May highs in June, July appears poised to come close to the 400,000 net ton mark once again. South Korea continues to be the main culprit.
Hot rolled coil imports grew in June (over May) and it appears that July tonnage will exceed that of June with South Korea and Russia as the two largest exporting countries. Coiled plate is also poised to for imports to be close to double the 12 month moving average during the month of July. The biggest plate exporting countries for July appear will be Russia, Canada and the Netherlands.
Cold rolled imports also continue to be much higher than the 12 month moving average with June tons higher than May and July license data suggesting that it will be another mill similar to June. The larest cold rolled exporting countries are China, Canada and South Korea.
Galvanized imports in June were down slightly from May levesls but still above both the 12MMA and 3 Month Moving Average (3MMA). July license data suggests imports will be similar to those of June. Canada was the largest supplier during the month of June followed by China, India and South Korea. July license data is suggesting that China will be the largest exporting country in July with South Korea and Canada jockeying for second position.
Other metallic, which is mostly Galvalume products, is one item where the numbers have grown significantly in the past few months. June tonnage is down slightly from the May highs but license data is suggesting that July could exceed the May numbers. During June, Taiwan was the largest exporting country with Mexico in second position. License data for July suggests Taiwan will ship more tons than June as will South Korea and China.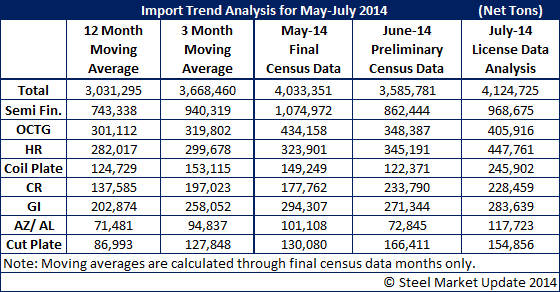 Latest in Steel Products Prices North America