Steel Products Prices North America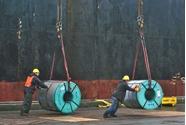 First Look at December Steel Import Trend
Written by Brett Linton
December 16, 2014
---
Peter Wright wrote an article in our last issue about the accuracy of the steel import license data. What Peter was referring to was the license data reported at the conclusion of the month and before the preliminary and final census data are reported. Steel Market Update begins to analyze the data beginning in the middle of the month to see if we can assist those watching the numbers by reporting any changes we might see in the trend. The current import license trend for December indicates another very large month for foreign steel arriving into U.S. ports.
Last year we saw December imports totaling 2.6 million net tons. At this moment we are seeing imports trending toward 3.0-3.5 million net tons. This is based on the daily import rate (seen below) which is lower at this point in the month than what we saw in any of the previous four months. August imports totaled 3.7 million net tons and we do not expect December to reach that level due to the lower levels we are seeing in semi-finished which tend to account for as much as 20-25 percent of the total imports during any given month.
We are also seeing lower license numbers on Galvalume, which is due to the seasonality of the product. All of the other products are within the ranges seen at this point in the month during August, September, October and November.
We will review the numbers again when they are released by the US Department of Commerce (SIMA) next Tuesday evening.

Latest in Steel Products Prices North America