Steel Mills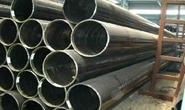 EVRAZ NA Expects Headwinds for OCTG in 2015
Written by Sandy Williams
January 19, 2015
---
EVRAZ North America produced 1.999 million tonnes (2.2 million net tons) of crude steel in 2014, down 8.8 percent from the total in 2013. Crude steel production increased by 5.7 percent to 528,000 tonnes (582,000 tons) in the final quarter of 2014 as compared to third quarter 2014. Finished steel products slipped 8 percent y/y in 2014.
The yearly decrease in crude steel and steel products was due to the shutdown of Claymont operations in Q4 2013. Excluding Claymont 2013 production, results in 2014 show crude steel production increased 3 percent and steel products increased by 4 percent.
The Claymont closure reduced EVRAZ North America 2014 flat rolled products by 37 percent. Tubular products increased by 14 percent y/y and 6 percent from the previous quarter, driven by strong OCTG demand and operational improvements. Crude steel production in Q4 was supported by the increase in tubular production.
EVRAZ Portland saw a decline of 12 percent q/q in production of flat rolled products due to record levels of plate imports in the quarter.
Average selling prices for flat rolled in 2014 were $955/tonne ($866/ton) and $935/tonne ($848/ton) in Q4. Tubular product average annual sale price was $1,333/tonne ($1,209/ton).
EVRAZ expects OCTG demand to "face significant headwinds during 2015 as a result of the rapid declines in oil prices." EVRAZ expects "robust plate market fundamentals" to sustain plate volumes in Q1 2015 despite elevated import levels.
EVRAZ announced two-year collective bargaining agreements with USW Locals 6673 (Calgary, Alberta) and 4890 (Regina, Saskatchewan) were ratified on January 12 and January 16, respectively.

Latest in Steel Mills