Scrap Prices North America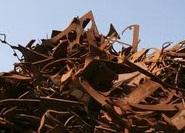 September Scrap Negotiations Continue as Detroit Settles Down $30 on Primes
Written by John Packard
September 8, 2016
---
SMU scrap sources advised ferrous scrap prices have settled in Detroit with prime grades (Busheling and bundles) moving lower by $30 per gross ton and shredded scrap by $20 per gross ton. Dealers had been hoping that a slower flow of feeder stock into the yards coupled with stronger buying by long products mills might help keep shredded scrap prices firmer as well as obsolete grades.
Prime grades of scrap are now selling at $230 per gross ton delivered which is the lowest price seen in the Detroit market in six months.
Negotiations continue in other regions but the market is beginning to take shape. According to one of our east coast scrap sources obsolete grades are now expected to trade down $15-$20 per gross ton. This would put shredded scrap around $220 per ton in the Midwest. Prices on prime grades are expected to settle around the $230 per gross ton number seen in Detroit.
We were told earlier today, "Prices in the south are from what I understand in a similar range.  Eastern prices are weaker due to outages at several large consumers.  The Chicago district is also very weak.  Dealers were surprised by the weakness, lack of demand from mills, and exactly where surplus supply is coming from.  Some mills had bought a good bit of scrap in July and August that is arriving now.  There are also some planned outages in the coming months as well which is stifling current demand for scrap.  The mood in general has turned very bearish, including heading into October, though that is a long way away."
Our source continued with, "We are getting to an awfully low level in terms of scrap pricing – some mills are thinking it might be a good time to begin looking for bargains.  At some point, finished pricing will stabilize and buyers will reenter the market.  In the meantime we will curtail scrap flows even further which will deplete what inventories exist today."

Latest in Scrap Prices North America