SMU Data and Models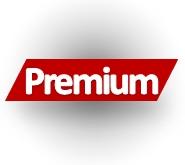 SMU Service Center Inventory Apparent Excess/Deficit Analysis
Written by John Packard
October 25, 2016
---
Last week the Metal Service Center Institute (MSCI) reported September shipments and inventories for the U.S. flat rolled steel distributors. We have already produced a couple of articles for our Executive and Premium level members regarding the overall numbers. Today we are analyzing the MSCI data using our Service Center Inventories Apparent Excess/Deficit model and reporting the results to our Premium level members.
Last Month Forecast: Shipments Yes, Receipts Lower than Forecast
Last month SMU forecast flat rolled shipments out of the U.S. service centers to be 2,056,000 tons which was based on shipments being 3 percent below year ago levels. Actual shipments, according to MSCI data, were 2,070,000 tons (-2.3 percent) or 14,000 tons greater than our forecast.
Our September forecast was for receipts and inventories to be down 3 percent over year ago levels.  We arrived at the 3 percent number by looking at the trend for the past six months. SMU expected the ending inventory balance to be 5,161,000 tons. The actual reduction was 14.3 percent and inventories dropped to 4,891,000 tons.
We had forecast domestic distributors would be holding excess inventories of flat rolled at the end of the month of September. Service center inventories were determined to be in excess but not by 429,000 tons but instead by 144,000 tons. This means inventories are essentially balanced as of the end of September.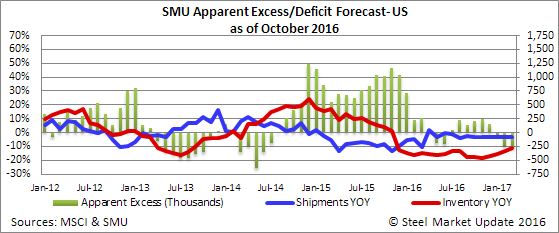 October Forecast for Shipments/Receipts and Apparent Excess/Deficit
During the month of October one year ago U.S. service centers shipped 2,212,600 tons of flat rolled steel to their customers based on 22 shipping days. We have one less shipping day this year and our expectation is distributors will ship 2,048,700 ton of flat rolled by the end of this month. This would be 3 percent below last year shipping levels.
We also believe that receipts will be 3 percent lower than year ago levels and the U.S. flat rolled service centers will receive a total of 1,957,700 tons and total inventories will be 4,800,300 net tons at the end of the month.
Our forecast for service center flat rolled inventories calls for an Apparent Excess to continue through December before slipping into a deficit in the New Year.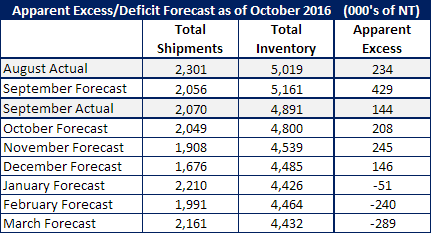 With inventories being in balance and potentially heading lower, coupled with the move by the domestic mills to raise prices as we move toward late Q4 and into Q1 2017, we believe prices will be flat to a mild rise over the next few months.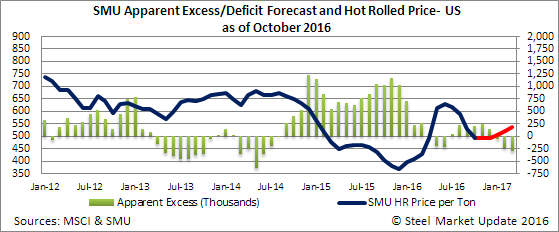 Latest in SMU Data and Models