Steel Products Prices North America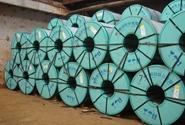 Final January Foreign Steel Imports 2.8 Million Tons
Written by John Packard
March 12, 2017
---
Total foreign steel imports for the month of January were announced this past week by the U.S. Department of Commerce. Imports totaled 2,814,081 net tons or about 120,000 tons more than December and slightly above the twelve month and three month moving averages. At the same time license data was updated for February imports and it appears February will be approximately 100,000 net tons lower than January levels.
Below is a portion of a press release from the American Institute for International Steel (AIIS) about the January tonnage from their perspective:
Falls Church, VA. March 10, 2017. Steel imports started 2017 with a small increase, growing 3.1 percent from December's total to reach 2.77 million net tons.
January's imports were 7.4 percent higher than the January 2016 total.
Imports from Canada, South Korea and Japan recorded big increases from December, with imports from Canada spiking 22.3 percent to 531,000 net tons, imports from South Korea up 18 percent to 311,000 net tons, and imports from Japan growing 15 percent to 177,000 net tons. Compared to a year earlier, imports from Canada and South Korea were up 8.8 percent and 29.4 percent, respectively, while imports from Japan were down 18.7 percent. Imports from the European Union fell 34.6 percent from December – and 14.4 percent from the previous January – to 288,000 net tons, while imports from Brazil dropped 17.2 percent from December – and 12.7 percent from January 2016 – to 296,000 net tons.
Semifinished imports totaled 484,000 net tons in January, 34.4 percent higher than a year earlier….
Steel Market Update (SMU) continues to point out the excessive number of tons coming in from foreign sources on cold rolled and coated steels (galvanized and other metallic, most of which is Galvalume). In SMU opinion, the domestic steel mills have been inviting these imports to come into the country due to the mills raising the spread between hot rolled and cold rolled/coated base prices. The normal spread has been $100-$120 per ton and the spread today is $200 per ton or higher.
To put the 311,000 net tons of galvanized imports in January into perspective:
CSN (Terre Haute, IN) produces approximately 25,000 tons a month of galvanized, NLMK Sharon Coatings with their two mills can now produce about 60,000 tons, The Techs (3 mills owned by SDI) are probably around 75,000 tons per month, SDI Butler is 50,000 tons per month, USS Fairfield is 50,000 tons per month, Nucor Berkeley is 50,000 tons per month and the total of all of these coating lines is approximately 310,000 net tons… At the moment steel buyers should be "happy" the domestic mills have not lowered the spread between HRC and GI and squeezed out the foreign mills – there isn't enough coating capacity in the U.S. to produce the tons needed…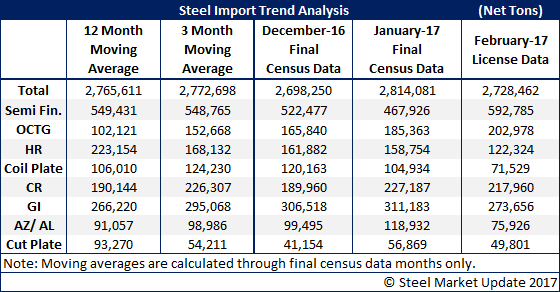 Latest in Steel Products Prices North America