Shipping and Logistics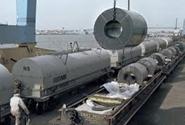 What You Should Know About Shipping Conditions
Written by Sandy Williams
June 10, 2017
---
Ships, barges, trains and trucks move the nation's cargo. Here is this month's look at shipping conditions by various modes.
Seaborne Freight
Rates have dropped in the dry bulk market recently, but may now be plateauing, according to the latest report by MID-SHIP Group. Fleet expansion was strong during the first half of 2017, growing at the fastest rate in three years. Approximately 140-160 Panamax vessels are expected to be added to the fleet in 2017. In 2018, that number is anticipated to drop to 50 vessels. MID-SHIP expects similar decreases in new deliveries for all classes of ships in 2018 and 2019.
"Looking ahead, for markets to improve going forward, the global economy, in particular worldwide steel production, will have to continue to improve. While we believe this is likely, we are concerned about ongoing geopolitical negative factors," wrote MID-SHIP.
The Baltic Dry Index rose 25 points to 849.0 as of June 9, 2017. BDI tracks dry-bulk rates based on vessel size and shipping route and is used as a benchmark for overall trade volume.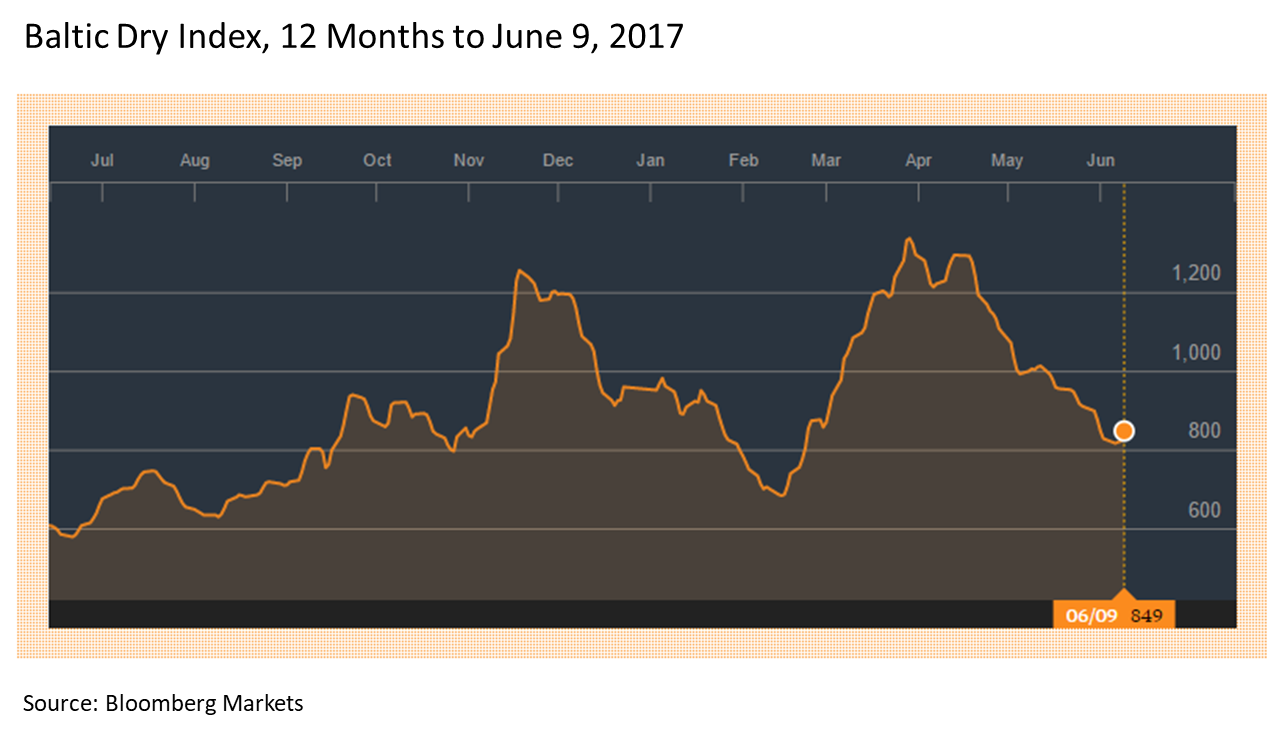 Rivers
High water on the Lower Mississippi River has complicated berthing for barges and reduced the tow size by 5-10 barges per tow. Southbound barges are experiencing delays, adding 2-3 days to transit times from Cairo to the Gulf. High water and flooding also have complicated barge traffic on the Arkansas River and Upper Mississippi. Tow size has been cut by 5-10 barges on the Upper Mississippi, and transit times have increased by 3-4 days.
According to MID-SHIP, "Imports of steels and aluminum to the U.S. Gulf have remained relatively strong for 2017 (fair to say a lot stronger than most stevedores expected). However, many stevedores appear unsure of what to expect for the second half of 2017, given the current Section 232 investigation and various pending trade cases."
Railroad
Rail traffic increased 6.4 percent on U.S. railroads in May. The Association of American Railroads reports combined carload and intermodal traffic hit 2,626,492 units last month. Carloads rose 8.4 percent year-over-year to 1,286,075 units, while containers and trailers increased 4.6 percent to 1,339,417 units.
"All things considered, May was a good month for rail traffic," said AAR Senior Vice President John T. Gray. "Thirteen of the 20 commodity categories we track had higher carloads in May 2017 than in May 2016, including the four biggest categories—coal, chemicals, crushed stone and sand, and grain. Excluding coal, carloads in May were up 4.1 percent, their biggest monthly increase in more than two years, and May was the best intermodal month of the year."
Trucking
Demand for flatbed trucks that carry the nation's steel increased during the week ending June 3. The load-to-truck ratio increased 13 percent to 38.8 loads per truck, said DAT Trendlines. The May flatbed ratio compared to April was down 16 percent, but surged 117 percent compared to May 2016.
The load-to-truck ratio indicates the relation between spot market demand and capacity. Ratio changes often are a signal of impending rate changes.
Spot market rates for flatbed trucks increased 2 cents last week to a national average of $2.12 per mile, according to DAT Trendlines. Average rate per mile varied by region: West $1.76, Midwest $2.12, Southwest $2.61, and Northeast $3.41.
The trucking industry is seeking clarification on what regulations may be changed under the Department of Transportation's Regulatory Reform Task Force. HDT Trucking reported that, according to the DOT, Transportation Secretary Elaine Chao has tasked the "RRTF to consider ways to accomplish DOT's primary safety objectives in less burdensome ways and to further review 'midnight rules' that were issued at the end of the last administration." The DOT has not said what rules may be under consideration or what agencies will be involved.
HDT asked Lane Kidd, managing director of the trucking safety lobby Alliance for Driver Safety and Security, to comment on the RRTF orders. Kidd said he is "not aware of any so-called midnight rules that the Federal Motor Carrier Safety Administration adopted before the Trump administration took office." The agency's mission is to decrease large truck accidents, said Kidd. "I doubt this task force will be inclined to suspend any of these rules at FMCSA."

Latest in Shipping and Logistics