SMU Data and Models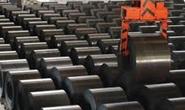 Are Service Centers 'Comfortable' With Their Inventories?
Written by John Packard
June 20, 2017
---
We are hearing reports from steel mills that their lead times have moved out and they have been able to collect some, if not most, of the $30 per ton price increase announced at the beginning of the month. Steel Market Update (SMU) is concerned as our research data is suggesting that service centers are "comfortable" with their inventories and that the purchases being made are only to accommodate slightly longer lead times.
During the week of June 5, SMU produced our early June flat rolled steel market analysis. We are in the process of conducting our mid-June analysis right now, and we will have details from that data in Thursday and Sunday issues of Steel Market Update.
However, we wanted to share some information collected from the June 5 analysis, though we will have more data available later this week from the survey now in process. We are interested in trying to understand the service centers' need to buy. We also want to invite comments from our readers as to whether the information we collected in early June and then again later this week is matching what you are seeing in your company or supplier.
When asked on June 5 if their company needed to build flat rolled steel inventories, service centers who participated reported inventories as being "fine and we are comfortable" (72 percent) or "too much inventory" (21 percent). Combined they accounted for 93 percent of the total responses made at that time.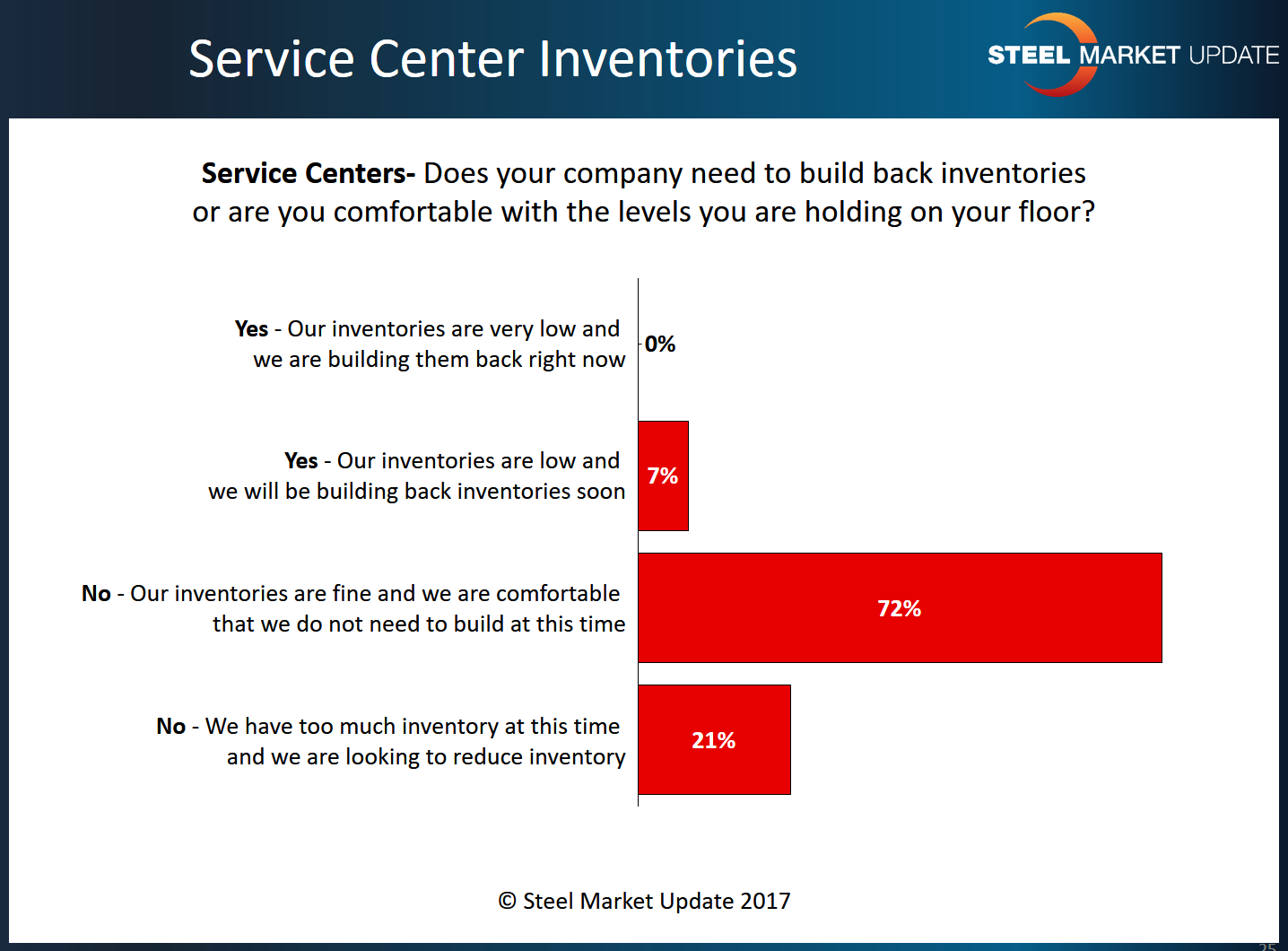 SMU Service Center Inventories
Looking back at service center inventories at the beginning of June, the average months on hand (MOH) based on our survey responses came to 2.25 months' supply. On a three-month moving average, we were at 2.31 months' supply. According to the Metals Service Center Institute, the number ( not seasonally adjusted) was 1.9 months' supply, as of the end of May.
Our inventories, as seen below, have been slowly building since the low ebb of 2014 and appear to be relatively balanced (we don't show large gyrations from week to week or month to month).
The service centers we canvass cover a wide spectrum of sizes – from the largest moving tens of thousands of tons per month to a small plant that may only move a thousand tons. We treat them equally and do not use a weighted average when calculating the numbers shown below.
We have a new survey in the works right now and we will have a new MOH available for our Premium members, as well as those companies that participate in our analysis at the end of this week.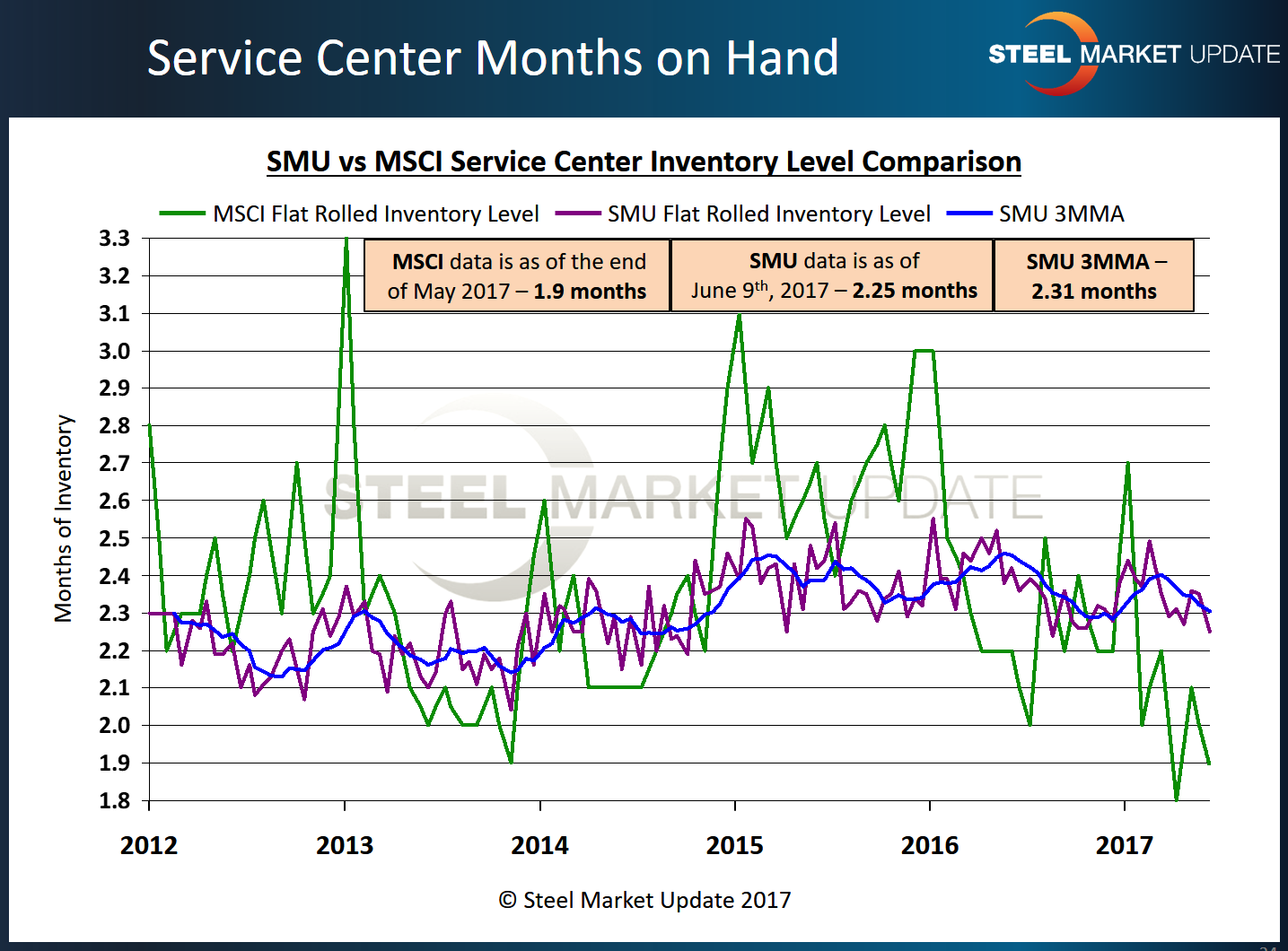 A week prior to SMU beginning our early June flat rolled market trends analysis, one of our service centers suggested we take a look at "off the books" inventories to see if the inventories that were in transit, at toll processors but not yet booked, or on a mill floor in some form of roll & hold program (and not invoiced) are a factor. The idea was to see if there were significant tonnage that was not being recognized in our analysis, as well as analysis by others associated with the steel service center industry. Here is what we found: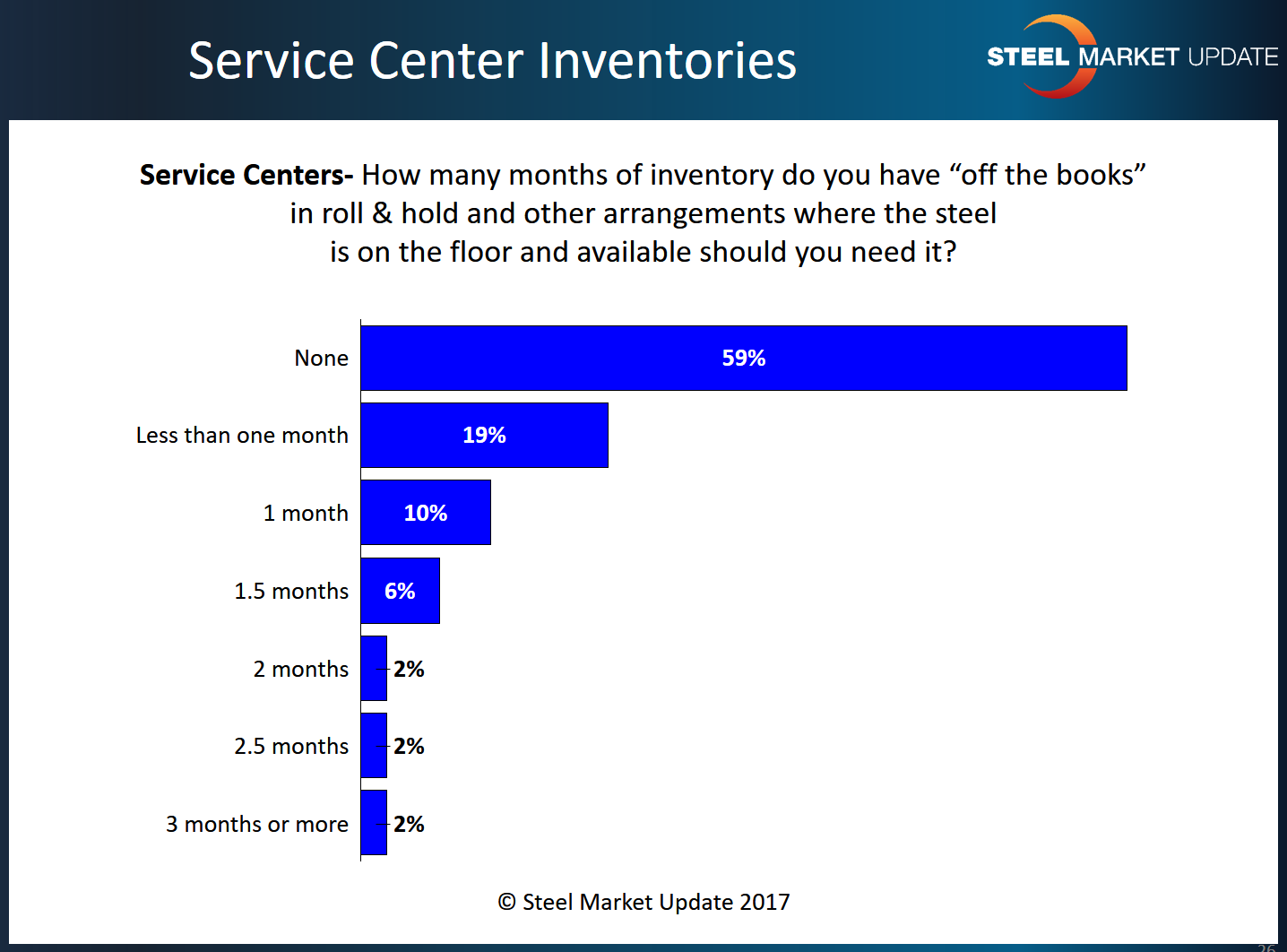 As you can see,  59 percent of the service centers polled during the first week of June told SMU they do not have any "off the books" inventories. However, another 41 percent do have tons that are not necessarily being picked up during the analysis of inventories performed by us or others. We are asking this question again this week, and we will report our findings later this week or over the weekend.
We welcome any comments our readers might have on this subject. You can send them to: info@SteelMarketUpdate.com
Through the first week of June, at about the same time as this latest move by the domestic mills to raise prices, service centers were reporting to Steel Market Update that they were more inclined to lower flat rolled inventories than not. In our early June analysis, 38 percent of the distributors reported their company as reducing inventories. Only 2 percent reported they were building inventories.
We will be curious what this will look like when we complete our analysis later this week.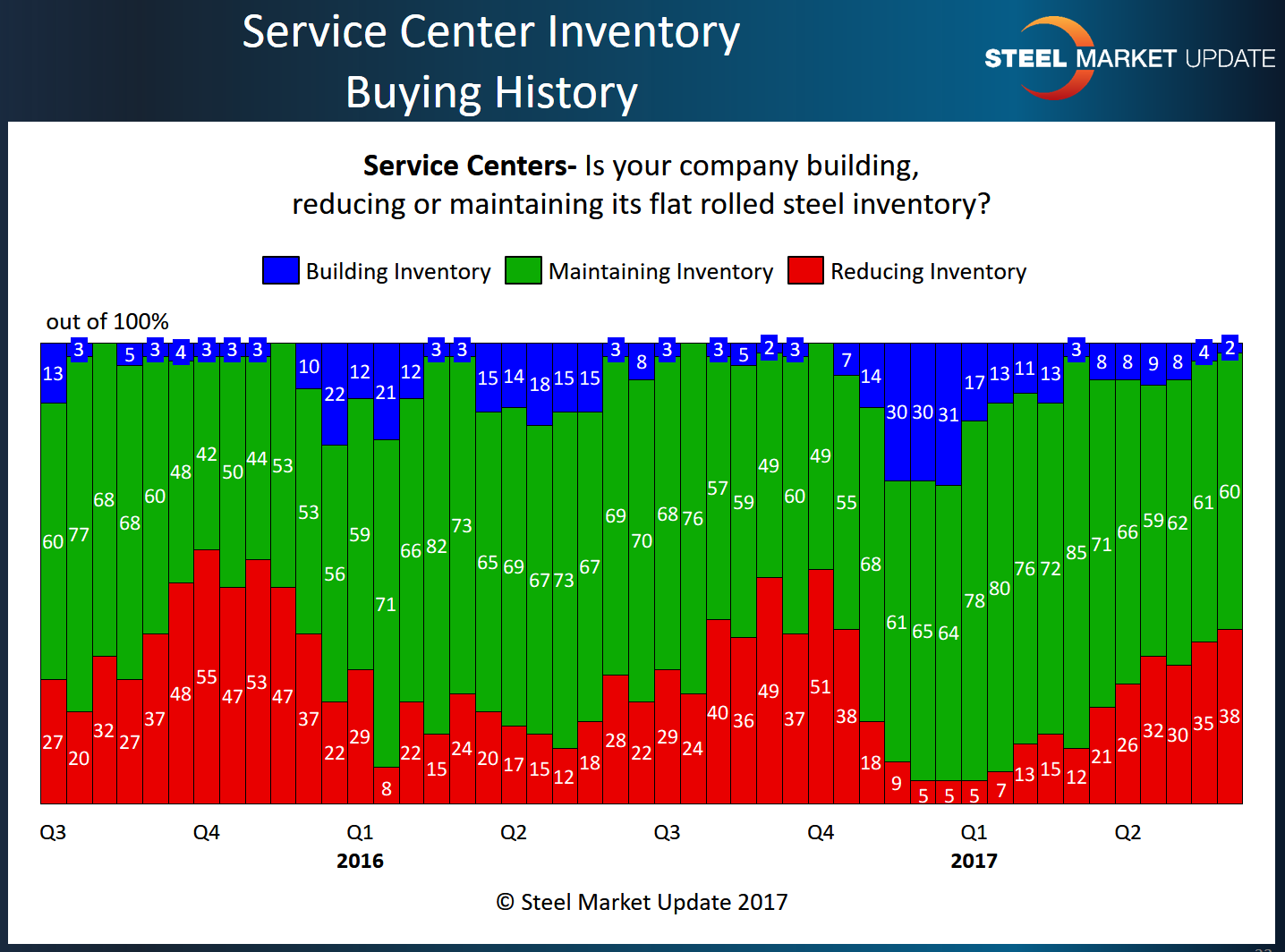 Comments from our June 5, 2017 Report
One reason for discrepancies in industry inventory data may be material that is "off the books." Explains one service center executive: Service centers typically don't count material as inventory until it physically arrives and is tagged and entered into their inventory system. Off-site non-tagged tons held at an outside warehouse, in consignment plans, in hold and release programs or imports still on the dock may not be reflected in the industry figures.
"Our 'off the books' inventory is determined by suppliers as they balance our needs with their rolling cycles in support of our VMI programs. It is much less than a month's supply and only in certain products," commented a large service center in the South on the subject.
No doubt, the recent price increase announcement and the debate over the Section 232 investigation are having an impact on service center buying decisions.
The southern service center added that his company's inventories are in line with current and projected shipments. "We see demand staying relatively flat, so our inventory will be flat, as well, for the foreseeable future. We've found that we are not good at price speculation, so we buy to meet demand, not to speculate. We occasionally do go a little heavy or a little light if the direction is obvious and significant in the short term."
Added an executive from a large Midwestern service center: "There is a lot of uncertainty right now due to all the mixed signals. Mill price increases. Scrap sideways to down a bit. Ore still down. Section 232 recommendations looming. The potential is for prices to move up rapidly if the 232 determination is significant. We believe we have hit the bottom and that prices will increase, but we differ internally as to how much and how fast.We are buying a bit stronger right now, assuming this is the bottom of the market."

Latest in SMU Data and Models