Steel Products Prices North America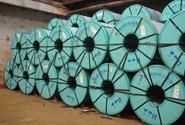 October Imports Continue to Trend Higher
Written by Brett Linton
October 25, 2018
---
The U.S. Department of Commerce released updated foreign steel import data for September and October yesterday, with the September figure down to 2.2 million tons and the October trend remaining over 3 million tons. Prior to this week, the September total was hovering around 2.7 million to 2.9 million net tons.
Our October trend is based on license data through Wednesday, Oct. 24. We take the daily rate of import licenses and project that rate over the full month to come up with our total "trending" figure.
The October increase is mostly attributed to semi-finished products (mostly slabs). Semi's are trending to be nearly one-third of the total imports for the month, currently up 145 percent over September. Other big changes between September and October were from hot rolled (down 11 percent), galvanized (up 18 percent), Galvalume (up 11 percent) and plate cut lengths (up 29 percent). The chart below goes into further detail on specific monthly figures.
Looking at the 12- and three-month moving averages, the majority of October data is above both figures except for imports of finished steel products, oil country tubular goods and cold rolled steel.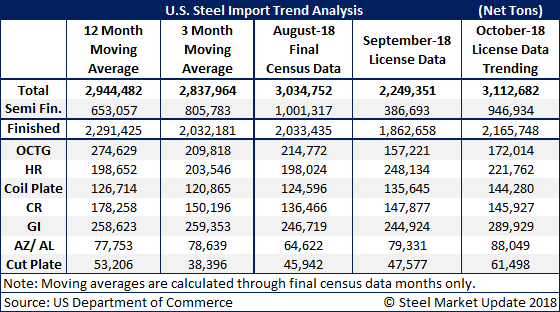 To see an interactive history of total steel imports (through final August data), visit our website here. If you need assistance logging into or navigating the website, please contact Brett at Brett@SteelMarketUpdate.com.
Latest in Steel Products Prices North America