Shipping and Logistics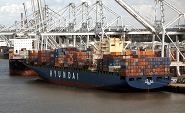 Tariffs Create Volume Records for U.S. Ports
Written by Sandy Williams
January 22, 2019
---
U.S. ports reported a record year for cargo volume in 2018. The Port of Los Angeles broke its all-time cargo record for the third time in a row, moving 9,458,749 TEUs (twenty-foot equivalent units the size of a container), a 1.2 percent increase from 2017. The Port of New Orleans reported a new record and a 12 percent year-over-year increase. South Carolina Ports saw TEUs increase 6.4 percent for the year to a record 3.2 million. Port of New York and New Jersey volume increased 6 percent in the first 11 months of 2018. Georgia Ports Authority reported its highest volume ever with an increase of 8 percent to 4.36 million TEUs.
What's all this record breaking about? Primarily the trade dispute with China. U.S. ports have the United States government to thank for a rush by importers to get products to the U.S. ahead of tariffs and potential tariff increases.
"This is a rush of cargo based on political trade policy," said Gene Seroka, executive director for the Port of Los Angeles. "Many people were fearful that we were going to go from a 10 percent tariff on certain items to 25 percent on Jan. 1."  
Section 301 tariffs on Chinese goods were a driving force behind the good fortune of ports this year. The irony, of course, is that tariffs are intended to slow the influx of imports, not accelerate them.
"There was a surge throughout 2018 as cargo came in ahead of tariffs. Imports were up and exports were flat," said Philip Sanfield, Director of Media Relations at Port of Los Angeles.
Section 232 tariffs on steel fared somewhat better in achieving the goal of reducing metal imports, depending on geographic location and steel product.
"Port NOLA initially experienced a somewhat steep drop in steel and nonferrous metals imports when the tariff went into effect," said Matt Gresham, Director of External Affairs at the Port of New Orleans. "For CY 2018, Port NOLA saw a 30 percent decrease in overall breakbulk shipments, attributable to steel and metals imports."
Asked about expectations for steel volumes in the coming months, Gresham said the port is seeing steel shipments pick up. "While tariffs remain in place, quotas for certain commodities have reset and Port NOLA has realized an uptick in steel imports and other commodities," he said.
Port of Los Angeles saw little impact from the Section 232 measures except for a decrease in slab imports headed for California Steel Industries. CSI supplies hot rolled, pickled and oiled, galvanized and cold rolled sheet, and electric resistance welded pipe, but does not manufacture its own steel. Its West Coast location makes it more economical to purchase slab from foreign sources, including Brazil, Mexico, Japan and Europe—sources that are now subject to a 25 percent tariff.
"Other breakbulk steel, such as coils, pipe, beams, etc., have not seen a significant reduction. That is because domestic producers have increased their prices, therefore the 25 percent tariff has had minimal effect on the market," said Sanfield.
TEU volume is expected to stay strong at Los Angeles in January due to importers seeking to get cargo in before the Lunar New Year when production facilities in Asia shut down for a week or two. There is also an incentive, said Sanfield, to ship cargo before March 1 tariffs come into play, although the "situation is changing by the day." Sanfield expects that volume levels will begin to soften in February and continue through the first quarter. Not a surprising situation, added Sanfield, given the full warehouses at the port. There is approximately 1.8 billion square feet of warehousing in Southern California, but currently only a 1 percent vacancy rate in terms of leasing.
"Warehouses are chock-full due to cargo coming in early," said Sanfield. "Warehouse space is tight and chassis availability is at a premium."
Chassis Availability a Problem Coast to Coast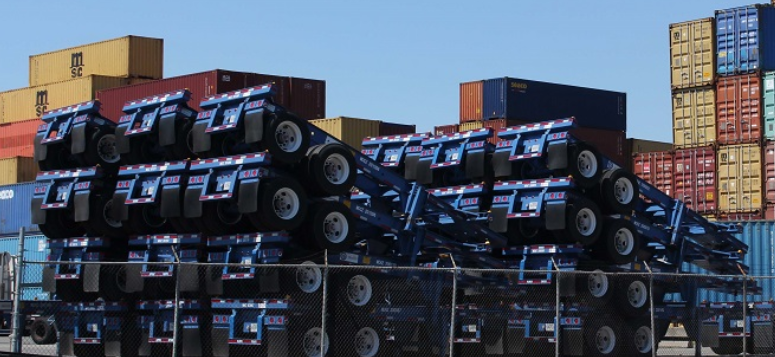 "With warehouse space in Southern California maxed out, retailers are storing import loads on chassis in their yards or anywhere else they can find space. By tying up chassis for weeks at a time, the beneficial cargo owners (BCOs) have precipitated a chassis shortage in the region, which in turn prevents truckers from returning empty containers to the ports," reports JOC.com.
Port of New York and New Jersey is also reporting tight chassis supply due to the pre-tariff rush and the increase in mega-ships of 9,500 TEUs loading and unloading at the docks. The increased volume from the huge ships is adding to dwell times for cargo headed to retail distribution centers.
"Motor carriers are under pressure to move containers and chassis off the port terminals," said TRAC Intermodal CEO Jennifer Polli.
The congestion is spreading to inland terminals, said Union Pacific Railroad in an update to intermodal customers.
"There is significant chassis tightness in several key markets as the heavy surge of imports that landed on the U.S. West Coast prior to the New Year continues to flow to the inland terminals," wrote UP in a Jan. 4 memo. "Currently, tightness of international chassis at our DIT (Dallas), Marion (Memphis), Global 4 (Chicago), Dupo (St. Louis), and Englewood (Houston) terminals are forcing us to ground and stack containers waiting for chassis."
Storage fees for containers are racking-up for cargo owners waiting for chassis availability. UP is charging $100 per day storage, but said that for now it will forego the increase to $200 per day on the sixth chargeable day.
"We have containers sitting at the UP that have been grounded for over a week because there are no chassis available with charges being billed to importers of record. I am talking about thousands of dollars this week alone on a move where the container is in the stack with no end in sight," said Neely Mallory, president of Mallory Alexander, regarding Memphis conditions.
"The Memphis market is experiencing record-high cargo volumes. The current congestion at rail terminals and the resulting stress on chassis supply have been attributed to the large Trans-Pacific volumes arriving in extra loader ships," TRAC said in a statement to JOC.com. "The flow of traffic should get back to normal levels once the pre-tariff surge gets absorbed into the distribution system."

Latest in Shipping and Logistics