Steel Products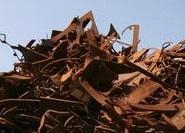 Ferrous Scrap Prices to See Big Bump in December
Written by Tim Triplett
October 29, 2020
---
Ferrous scrap prices are expected to see a strong finish to 2020, say the experts, rising by an estimated $35-55/GT, lending support to finished steel prices that also continue to rise. Except for some slight weakness in October, ferrous scrap prices have moved upward for the past three months, and that trend is expected to continue into the new year.
"All I can say at this point is that the market will be up significantly in December," said one dealer in the Northeast. "Iron units globally are very tight including at scrap yards and steel mills, and demand globally is very strong. Export 80/20 prices are up nearly $40 in just the last several weeks. Expect the domestic market to track that high, at least." 
The three biggest reasons for the increase in scrap: rising demand, tight supplies and low mill inventories, explained another scrap executive:
Demand for scrap is growing: Most of the flat rolled mills are running at close to 100 percent capacity to keep up with growing steel orders. Electric furnaces are taking more market share from the BOFs and require a greater proportion of scrap in their melt mix. Internationally, the demand for raw materials is surging at a time when collection processes are slowing down in much of Europe due to the pandemic. Prices for alternative grades to scrap such as pig iron and DRI are rising. Scrap's distant cousin, iron ore, also has been moving up significantly, giving price advantages to the electrics (who need more scrap). All told, these factors are giving no relief for buyers of any ferrous raw materials. Export sales are up at least $40/GT over the past four weeks with expectations prices may rise another $20 or so by year end.  
Supply is tight in the U.S.: Over the past 90 days, mills have done a very good job keeping scrap prices low while the price of finished steel products has steadily increased. One of the consequences of this is slower inbound flows to the scrap yards. Relatively lower prices compounded with winter weather and holidays will make December a very tight market with regard to supply.
Mill inventories are down: Many mills have been trying to conserve cash by keeping just-in-time inventories and melting as much home scrap as possible. This can only be done for a period of time before those options run out and the mills must buy at least what they melt. 
Don't underestimate the effect of foreign demand, said another scrap executive. "The scrap markets around the world are very strong with prices going up daily. Offers into Turkey are in the $350s and climbing. One month ago they were substantially under $300. This means the market in the U.S. will be up a minimum of $30/GT in December and likely more for those mills that bought sideways in November. Most dealers are not going to want sell too much at those prices because in January the market has got another $50/GT in it. Demand for scrap in the U.S. is still increasing while the supply is decreasing. We all know what this means."
Pig Iron Market
"The pig iron market remains quite firm with limited supply. The U.S.-based mills will need to resupply soon, but they have been waiting for prices to drop and they haven't," commented one exec. "The Chinese buyers are still booking cargoes from all sources pushing the price almost to the $420s CFR China. This means for the U.S. mills to buy only for late January/February shipment, their price will be $395-400/MT CFR NOLA."

Latest in Steel Products