Scrap Prices North America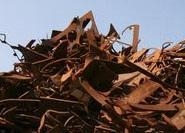 Scrap Prices Begin to Stabilize in February
Written by Tim Triplett
October 29, 2020
---
While trading was still ongoing as of Friday, it appeared ferrous scrap prices for February would settle sideways for prime grades, but down for obsoletes, as shred supplies have increased and export demand has decreased. Steel Market Update sources reported the February busheling price unchanged at around $495/GT and the shred price down by $50-60 to around $400/GT.
"Price drops for obsolete grades are a result of price elasticity—higher prices have increased inbound flows. Prime scrap, which is more inelastic, has not dropped because its supply has not increased substantially," said a dealer in the Northeast. The export market has dropped $70-80/GT and has lowered the scrap "floor" for the domestic market, he added.  
Another dealer described the same scenario. "High prices brought good flows in January, and dealers began lowering their buy prices in the middle of the month once they saw export sales begin to dry up and pricing fall. So they were expecting a down market and prepared to sell into it. Prime grades stayed sideways, which is simply a statement about strong demand and tight supply."   
Following big jumps in December and January, and mixed results in February, SMU sources expect scrap prices to stabilize in March as the winter weather slows inbound flows and export pricing inches downward. "Most participants feel the scrap market has hit a new trading range that should be consistent or stable for the next few months," commented one scrap exec.
Pig Iron Market
Pig iron prices are beginning to moderate, reported another SMU source. "Pig iron has dropped as U.S. mills have bought South Brazilian at $510/MT CFR. That's down about $50/MT from the emergency buys of expedited resold cargoes that were redirected to the U.S. rather than going to China. Most expect the pig iron market to continue to weaken now that iron ore has retreated and demand in China has paused," he said.
By Tim Triplett, tim@steelmarketupdate.com

Latest in Scrap Prices North America