Steel Products Prices North America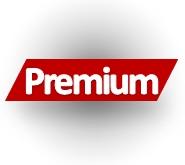 Import Market Share for Sheet, Plate, Longs, Tubulars Through November
Written by David Schollaert
January 18, 2021
---
This report examines the import share of sheet, plate, long and tubular products. As of November 2020, imports' share of total sheet products was 11.4 percent, down from 11.8 percent in October. Imports' share has been on a steady decline since its most recent peak of 16.6 percent this past May. The import share of HRC has been below 10 percent since January 2019, edging down again in November 2020 to 7.1 percent, compared to 7.7 percent in October.
Other metallic coated sheet has seen the most drastic change over the past five years. Since 2015 when its import share was 51.3 percent, it had fallen to just 14.8 percent this past October, but rose to 18.3 percent in November 2020. This notable and drastic change is a result of a simultaneous decrease in imports and an increase in domestic shipments since 2014.
Table 1 shows total supply to the market in three months and 12 months through November 2020 for the four product groups and 16 subcategories. Supply to the market is the total of domestic mill shipments to domestic locations plus imports. It shows imports on the same three- and 12-month basis and then calculates import market share for the two time periods for 16 products. Finally, it subtracts the 12-month share from the three-month share and color codes the result green or red according to gains or losses. If the result of the subtraction is positive, it means that import share is increasing, and the code is red. The big picture is that import market share has decreased in three months compared to 12 months across all four product groups (sheet, plate, tubular and long). Outside of some long products subcategories (heavy structural, light shapes, wire rod, and cold finished bar) all others saw declining import market share in three months compared to 12 months through November 2020.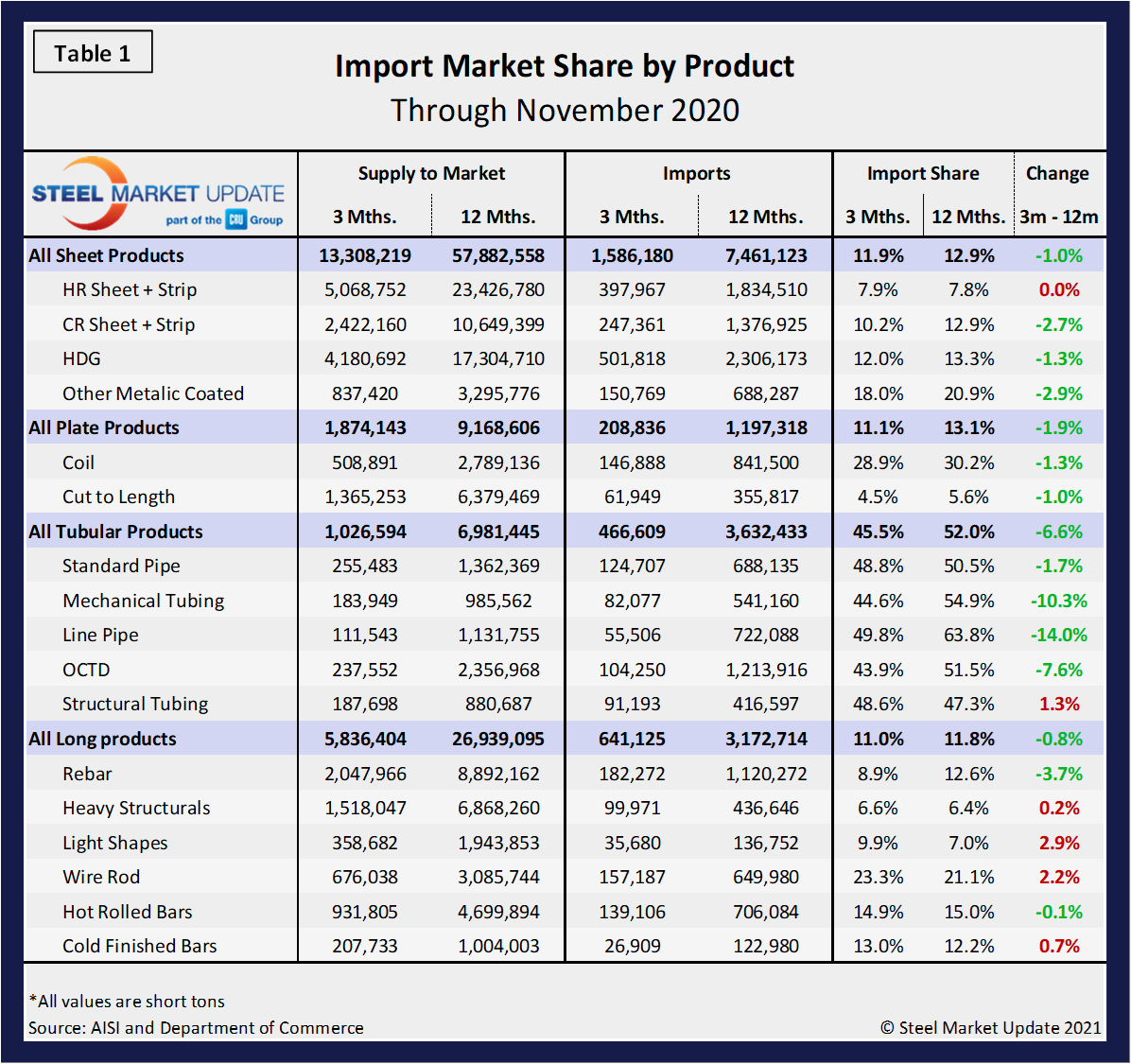 Figure 1 shows the historical import market share of plate and total sheet products. The import share of plate has been decreasing erratically since February 2015. Sheet product import share has also coasted downward in the same timeframe. Current market share of plate as of November 2020 is 10.7 percent, down from 10.9 percent the month prior and a decrease of 43.4 percent in just 24 months. Sheet is presently 11.4 percent, a decrease of 28.8 percent over the same period.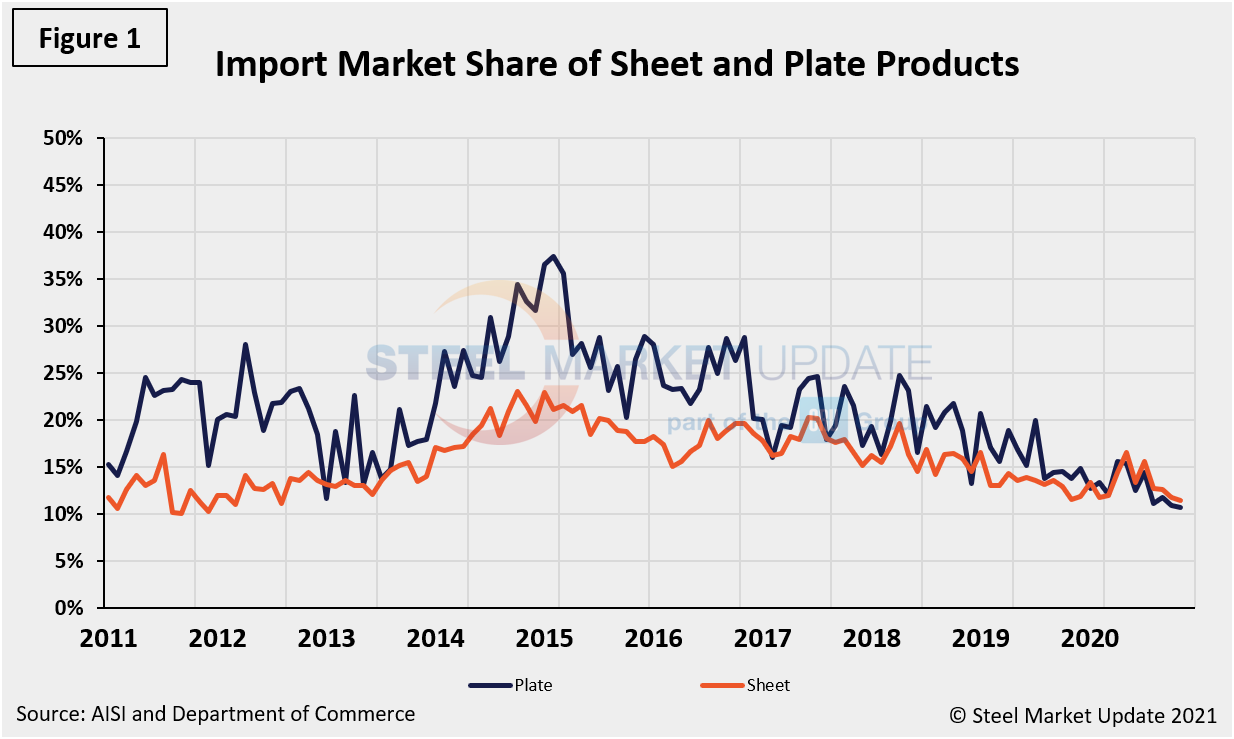 Figure 2 shows the import market share of the four major sheet products. Other metallic coated (mainly Galvalume) has traditionally had by far the highest import market share, but the gap has closed since late 2017. For the last four years, hot rolled coil has had the lowest import market share of the major sheet products at just 7.1 percent through November 2020, down from 7.7 percent the month prior.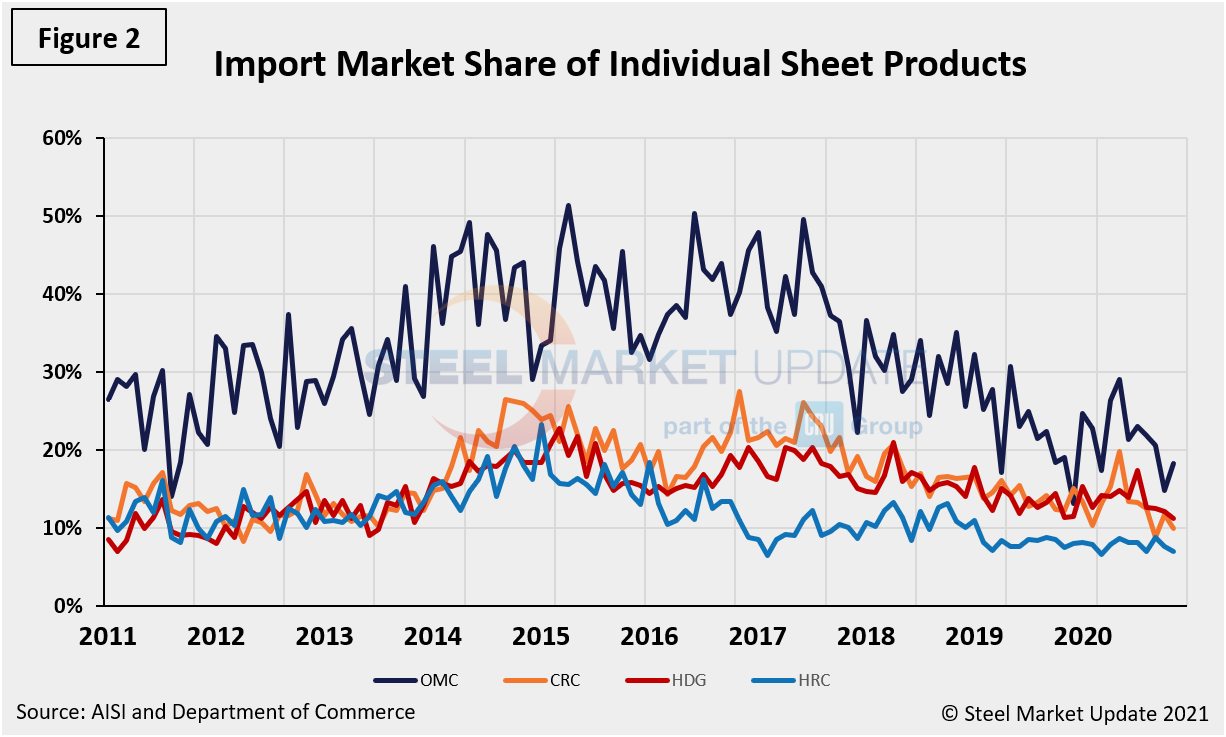 Figures 3 through 6 show the domestic shipments, imports and import market share of the four major sheet sectors. The biggest change has been that domestic shipments of OMC (Figure 6) have more than doubled since 2014 with a corresponding decrease in import market share. The import market share of cold rolled has declined by half since 2017, a trend that is likely to continue. The import market shares of hot rolled and HDG have drifted down as well over a similar period, but at a less dramatic rate.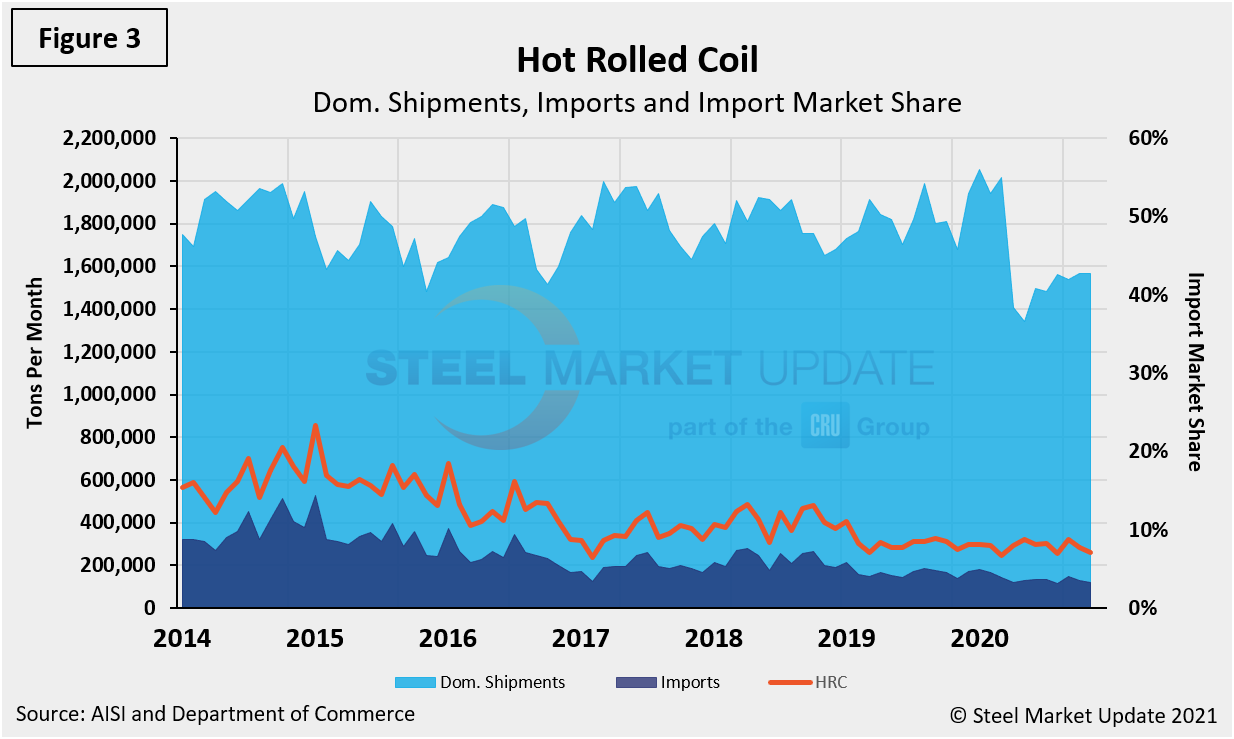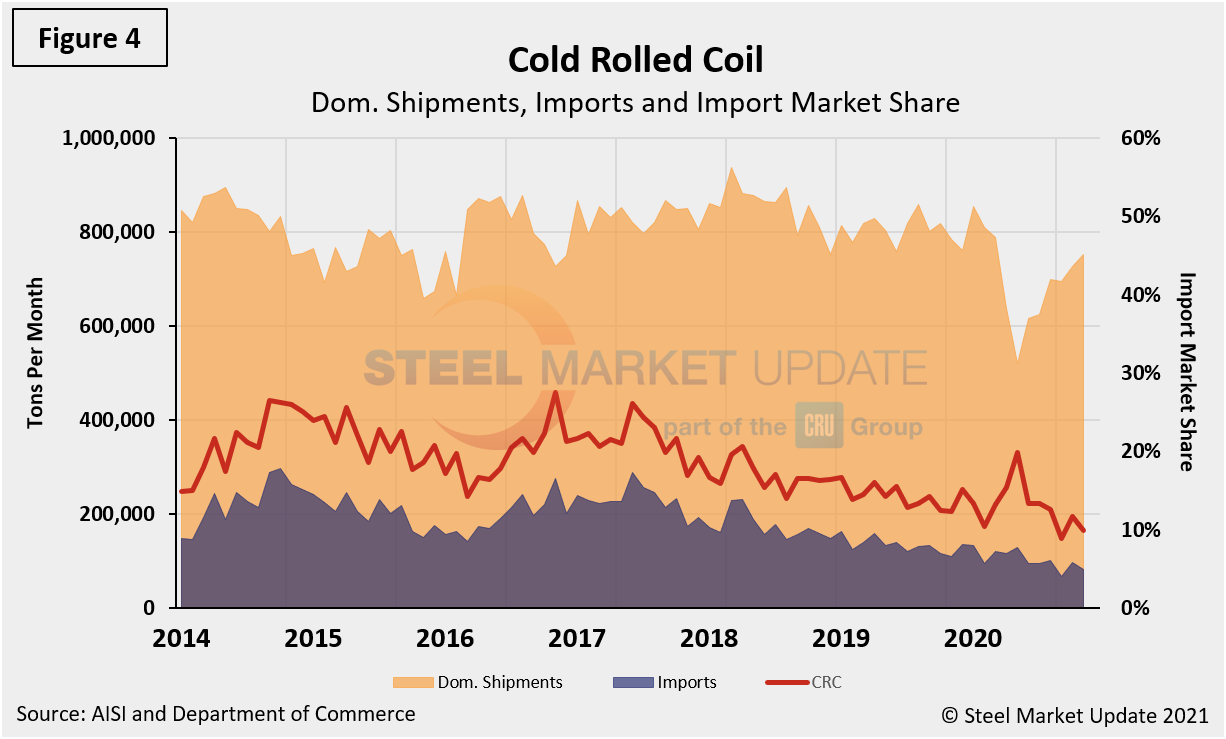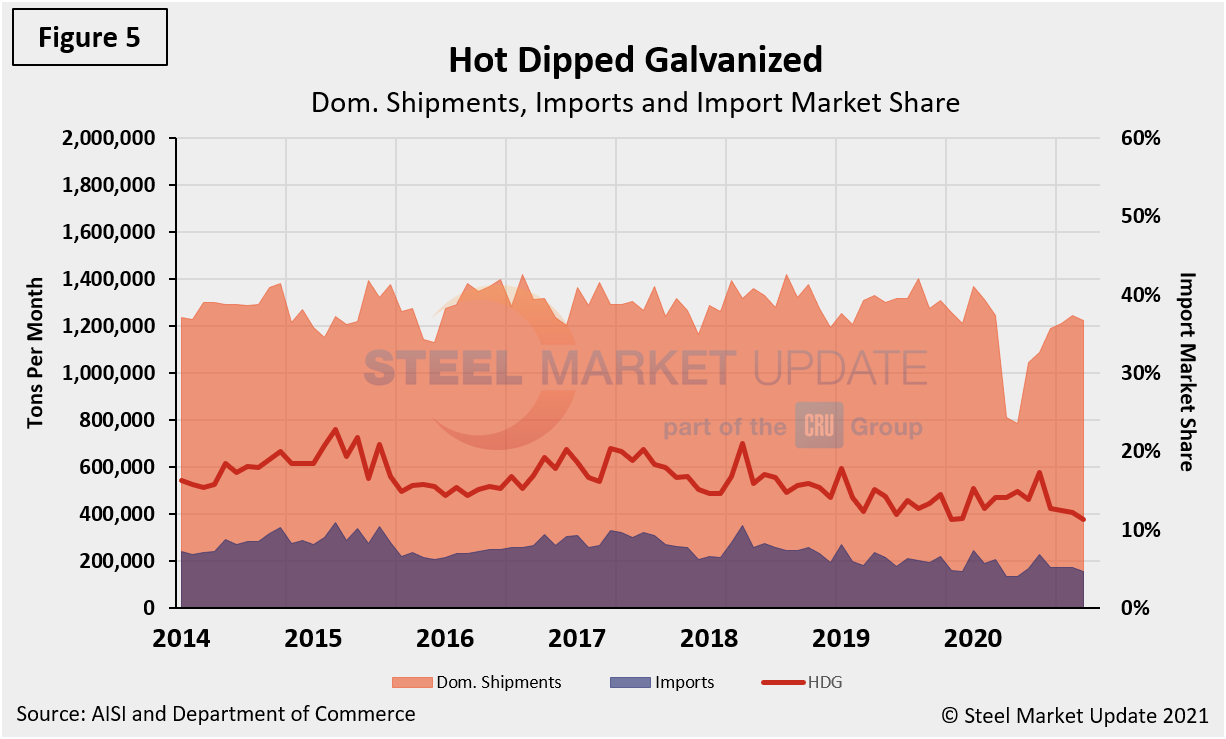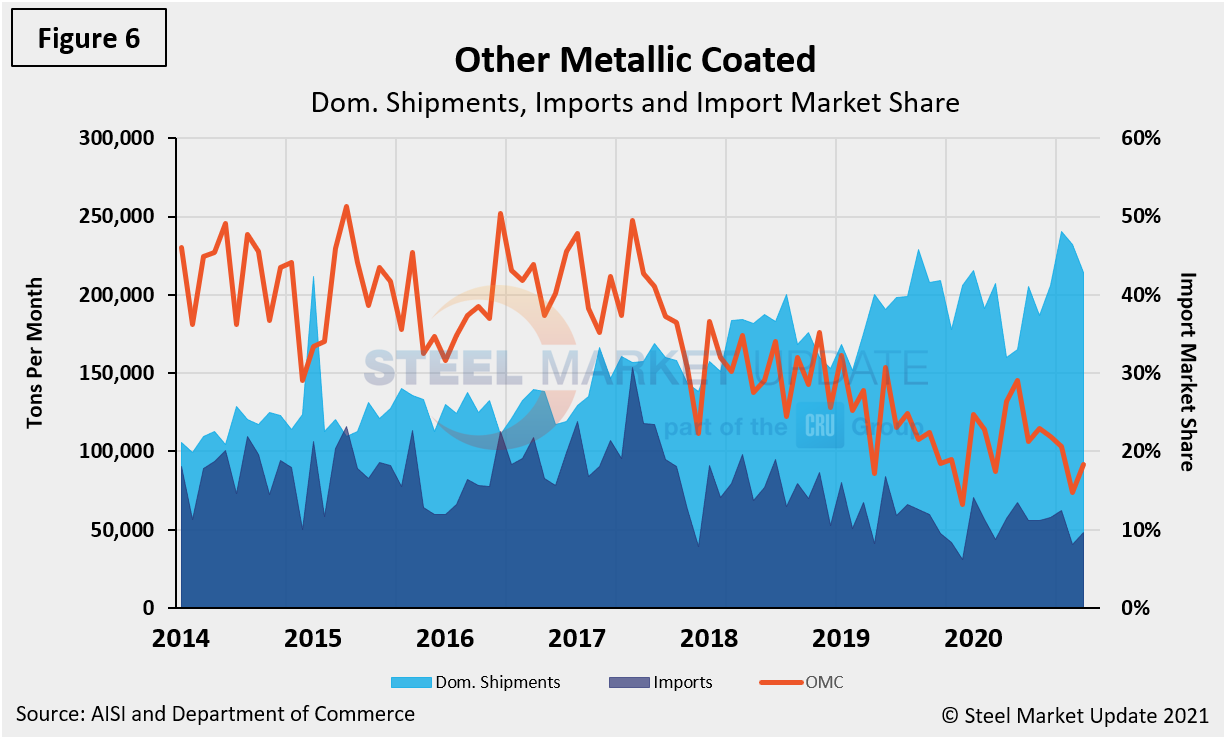 Figure 7 breaks out coiled and discrete plate from the flat rolled total and shows that in 2020 through November coil imports had more than five times the market share of CTL imports, while CTL imports fell from 20.0 percent in July 2016 to 4.4 percent in November 2020, down further from 4.6 percent the month prior.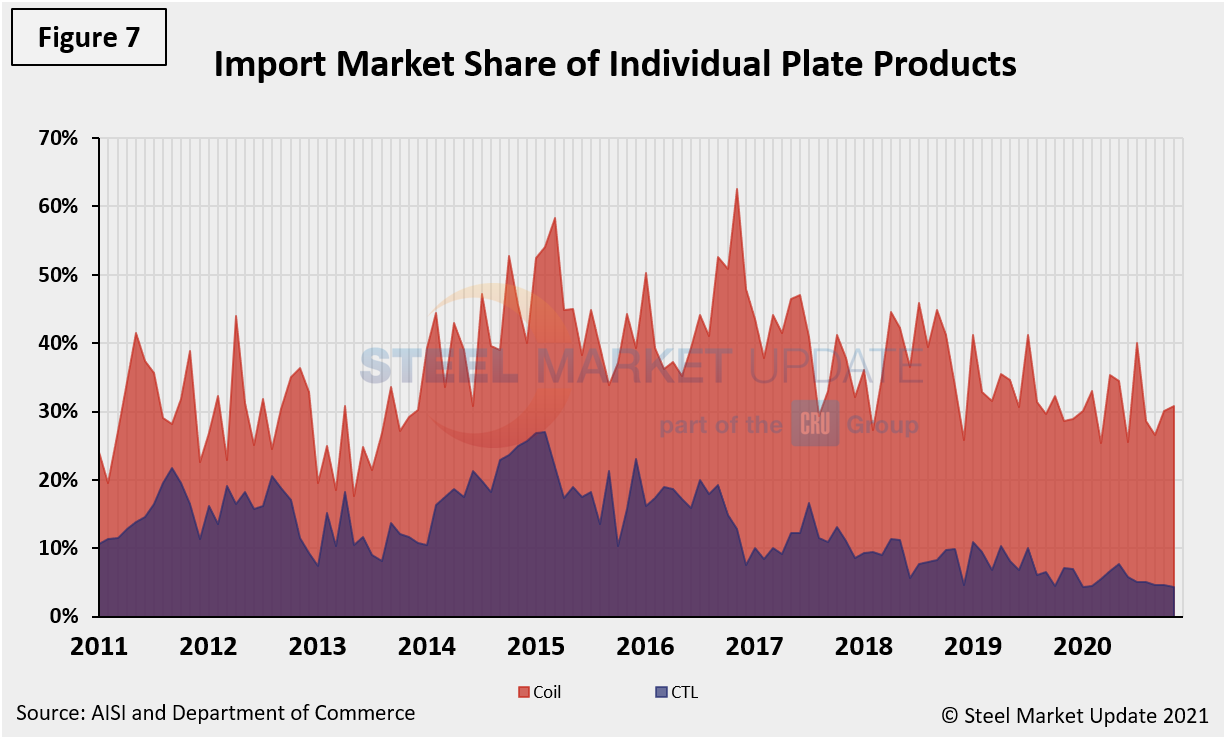 Figure 8 describes the total import share of tubular goods and long products. Both have seen steady decreases since 2015, though long products at a more accentuated rate. Since 2016 alone, the import market share of long products has declined by more than 50 percent, while tubular goods has decreased by nearly 29 percent over the same prior. Additionally, tubular goods increased slightly to 46.7 in November 2020 compared to 46.2 percent the month prior, while long products dipped to 11.6 percent from 12.4 percent during the same period.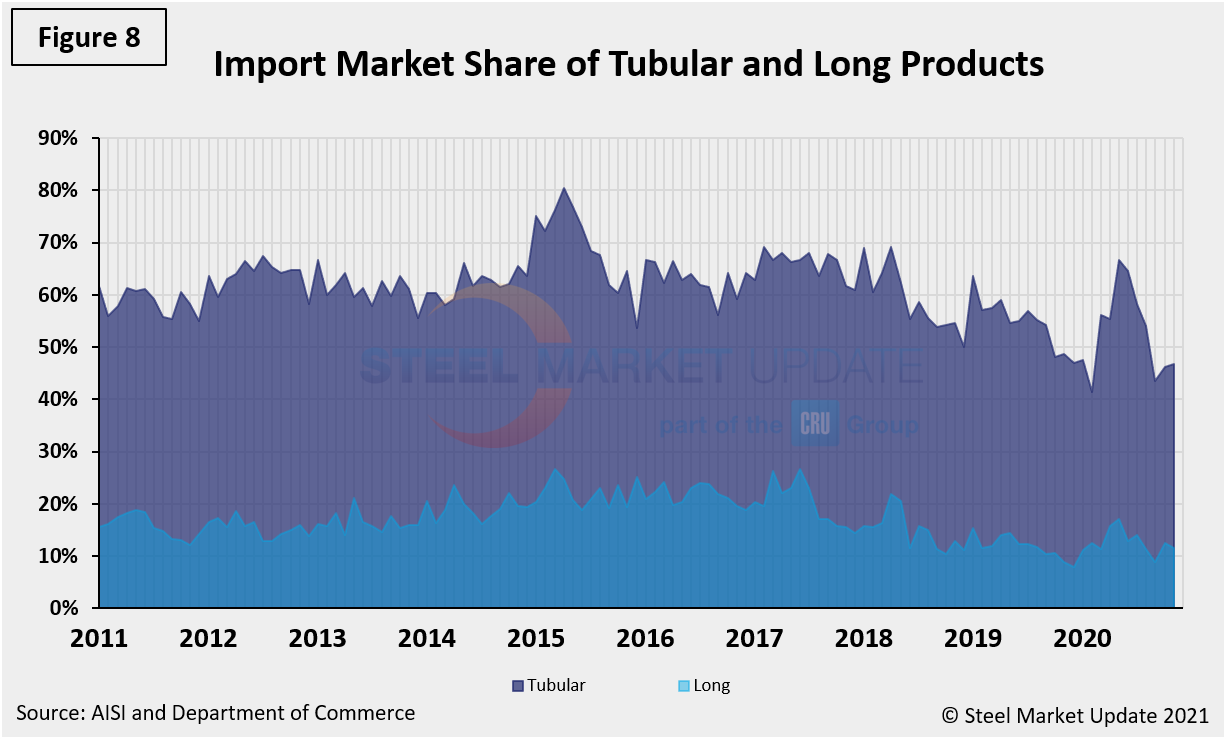 Figure 9 shows the import market share of the individual tubular products. Based on the available information, all are very high compared to other steel product groups. Line pipe is the highest but declined dramatically in 2019. Standard pipe has seen some momentum since August of 2019, while domestic production of OCTG dropped dramatically in May and June with the result that import market share skyrocketed but has since seen some correction. Most notably is that line pipe was the only tubular product reporting a decrease through November.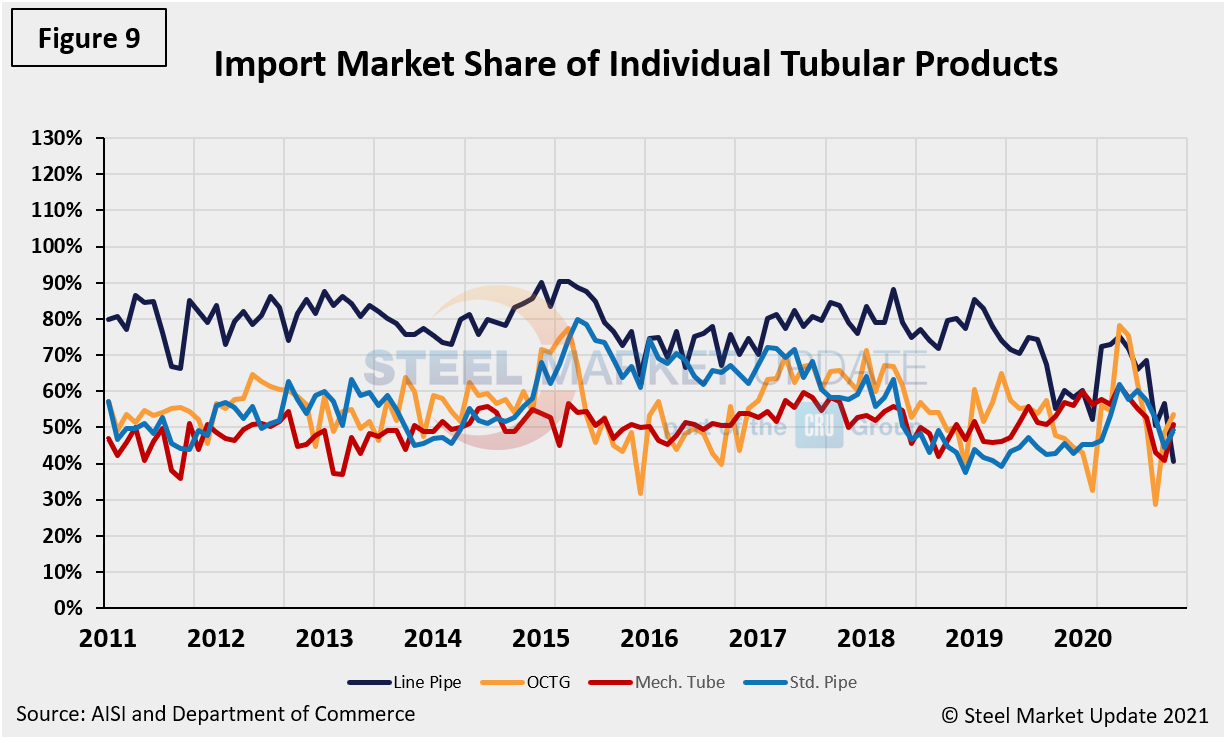 Figure 10 shows the detail for the four major sectors of the long products group since January 2011. The most significant change in this sector was for wire rod, which in the years 2014 through most of 2017 had double the import market share of the other long products. In the second half of 2017, the gap began to narrow to the point that in November 2019 the import share of wire rod fell below that of hot rolled bars. Rebar has been very erratic, but the import share fell to a historically low level in December 2019 before returning to a more normal level in 2020. It is important to note that both wire rod and hot rolled bars have seen repeated increases since August 2020.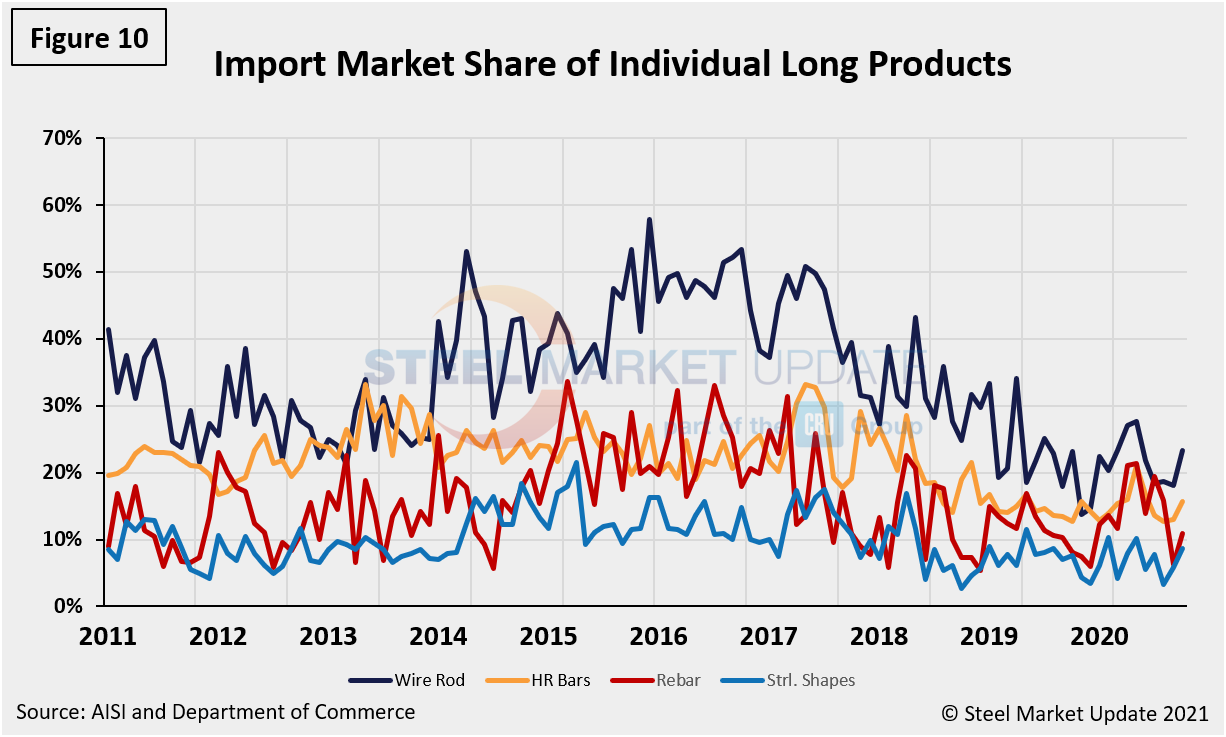 By David Schollaert, david@steelmarketupdate.com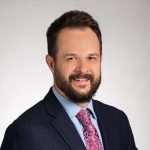 Latest in Steel Products Prices North America