Futures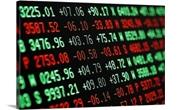 HRC Futures: Down, But is There More to Go?"
Written by Tim Stevenson
February 25, 2021
---
SMU contributor Tim Stevenson is a partner at Metal Edge Partners, a firm engaged in Risk Management and Strategic Advisory. In this role, he and his firm design and execute risk management strategies for clients along with providing process and analytical support. In Tim's previous role, he was a Director at Cargill Risk Management, and prior to that led the derivative trading efforts within the North American Cargill Metals business. You can learn more about Metal Edge at www.metaledgepartners.com. Tim can be reached at Tim@metaledgepartners.com for queries/comments/questions.
Throughout this price rally, buyers have kept a keen eye out for data or events that will signal a long-awaited correction. Last week, with the European Union's suspension of a scheduled June tariff increase on select U.S. imports as a show of good faith to normalizing U.S.-EU trade relations, the futures market seemed to indicate that buyers' prayers may soon be answered. The below chart shows the change in HRC futures from the day before the EU's announcement, May 12, to settlements on May 19. The March 2022 contract is down $295/ton.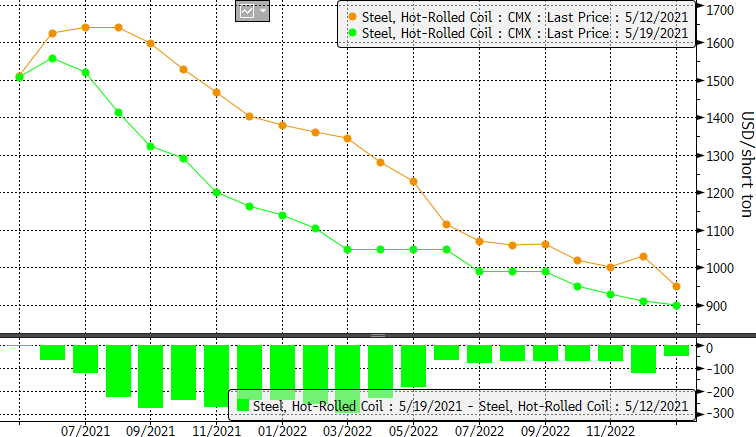 As the market evaluates what deescalated trade relations between the U.S. and EU mean for steel prices, they are weighing the relative strength of the U.S. market to that of other regions for which trade frictions currently exist. While Chinese steel effectively has no path to the U.S., as an approximately 1 billion metric ton per year producer, pricing in China affects ferrous pricing in other parts of the world. In the last three months, the Chinese export HRC futures have increased $250/mt, and the May 2021 contract has increased $318/mt. China's export tax rebate reduction is the primary driver of this move, as well as pollution control rhetoric from regulators in the region spawning worry of decreased supply.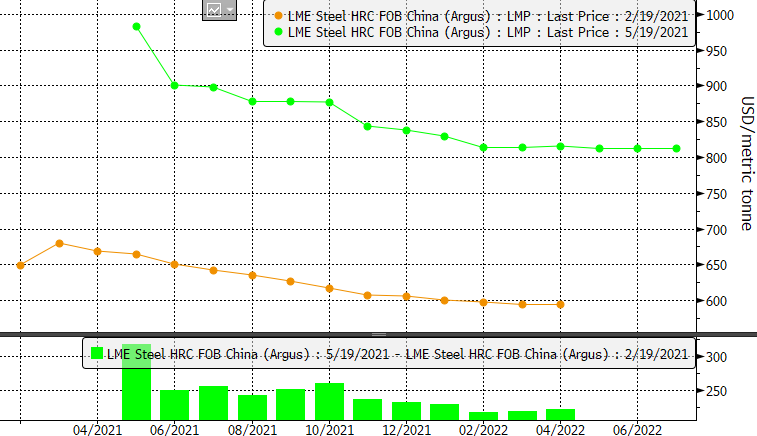 To many, normalized trade relations between the U.S. and EU means the eventual removal of the Trump administration's Section 232 tariffs on steel and aluminum, but if this does occur the timing and implementation remains unknown. If the veil placed between U.S. and European steel markets is lifted by the removal of tariffs, what occurs when market participants look across the Atlantic and observe a situation that frighteningly mirrors their own? With international pricing exhibiting similar trends to that of the U.S., how high is the floor to which U.S. domestic steel prices can fall?
Iron ore has moved higher over the last month in tandem with Chinese HRC on environmental regulation concerns.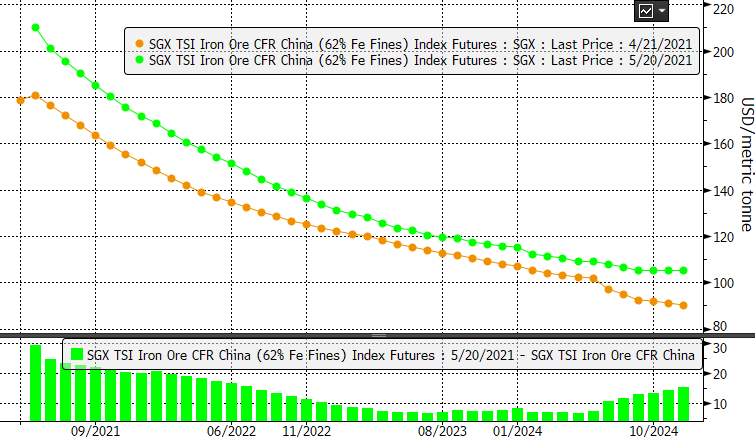 The strengthening in iron ore has been enough for the ratio of busheling scrap over iron ore to return to the same level as the end of 2020, just before busheling scrap increased to its current level.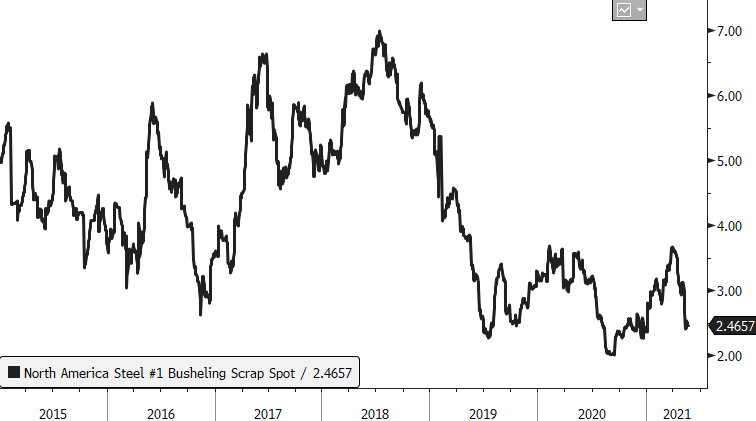 Despite the recent rise in iron ore prices, and perhaps unsurprisingly due to the recent weakness in HRC futures, busheling scrap futures are down $20-40/lt since May 13. This week-over-week weakness, and relative weakness compared to iron ore, is in the face of looming supply expansions at the end of 2021 and early 2022. This new capacity is EAF-based, and thus requires high iron content inputs such as prime scrap. Given that scrap as an input to steelmaking is effectively iron ore plus energy, can the wind fall out of busheling scrap's sails while iron ore dances around $200/mt?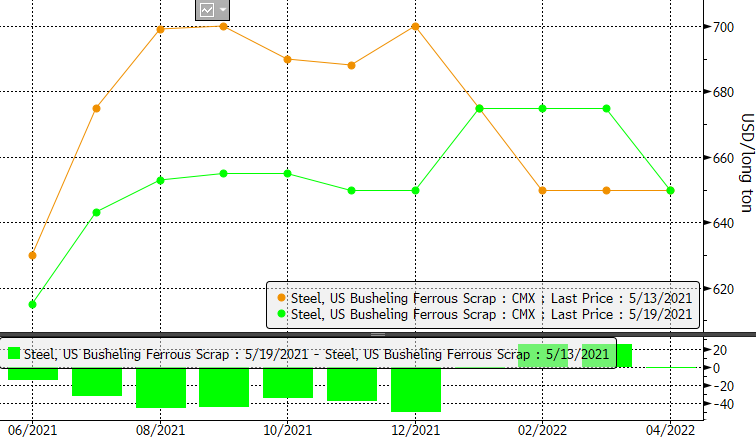 Thanks for reading and stay healthy!
Disclaimer: The information in this write-up does not constitute "investment service," "investment advice" or "financial product advice" as defined by laws and/or regulations in any jurisdiction. Neither does it constitute nor should be considered as any form of financial opinion or recommendation. The views expressed in the above article by Metal Edge Partners are subject to change based on market and other conditions. The information given above must be independently verified and Metal Edge Partners does not assume responsibility for the accuracy of the information
Latest in Futures