Trade Cases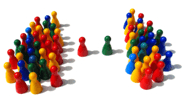 Manufacturers Call for Removal of Section 232 Tariffs
Written by Sandy Williams
May 11, 2021
---
Pressure is building on the Biden administration to provide relief for numerous manufacturing companies in the U.S. that say Section 232 tariffs are making supply chain problems worse.
The Coalition of American Metal Manufacturers and Users, the National Foreign Trade Council and other steel and aluminum users collaborated on a May 6 letter to President Joe Biden requesting the immediate termination of the Section 232 tariffs on aluminum and steel. The tariffs set at 10% for aluminum and 25% for steel have been in place since 2018.
"Manufacturers in the United States currently face historic shortages of readily available and globally priced steel and aluminum products at a time when the country is relying on our sector to help drive the economy and overcome the unprecedented challenges caused by the COVID-19 pandemic. Without termination of the tariffs, this situation will worsen if Washington moves forward with an infrastructure bill to invest in America, as these projects will create more strain on domestic steel and aluminum supplies, causing delays in construction and risking manufacturing jobs.
CAMMU and the co-writers of the letter note that the 4,800 steel industry jobs created since 2018 (not directly attributable to the Section 232 tariffs) do not justify putting 6.2 million American manufacturing jobs at risk in the steel and aluminum using industries.
"It is businesses manufacturing in America such as ours who pay the tariffs on imports, and it is our businesses and employees who suffer when our product cannot compete with overseas manufacturers because the U.S. is an island of high steel and aluminum prices. On some products, American businesses pay 40 percent more for similar steel compared to their European counterparts — an unsustainable situation for any U.S. employer."
The letter cited the ongoing raw material shortage in the U.S. that is disrupting manufacturing operations. Supplier lead times have lengthened from the customary four to six weeks for common steel products to as long as 16 to 20 weeks, with some product deliveries extended into 2022, said CAMMU.
The letter continues, "Mr. President, we support a strong and thriving steel and aluminum industry, but producers today simply cannot meet demand and the tariffs create a tax that only manufacturers in the U.S. must pay.
"While the U.S. government cannot control the business decisions of a handful of domestic suppliers who dominate the steel and aluminum markets, you have the power to terminate the Section 232 steel and aluminum tariffs imposed on our allies under the auspices of national security concerns. We strongly urge you to do so as quickly as possible so that our companies can continue to manufacture products in America to meet our customers' demands."
Steel CEO Says Tariffs Not to Blame
In a press briefing on Monday, Cleveland-Cliffs' CEO Lourenco Goncalves said that tariffs are not to blame for the shortage of steel and high prices, but rather supply and demand.
"We are in a situation right now that everybody wants steel, and everybody wants steel now," said Goncalves. "That's because they did not prepare during COVID-time when prices were very low….
"It's about time for us to stop talking about prices and be more focused on the weaknesses that were introduced in the system by allowing manufacturing to be transferred to other countries that don't do anything better than us," said Goncalves. He added, "It's not a matter of having or not having the tariffs. It's a matter of having a type of market that rewards good performers and punishes bad performers, so if we need tariffs to punish the bad players, we need to continue to have the tariffs."
Retaliatory 232 Tariffs to Increase
Calls to terminate or keep the tariffs are in the limelight right now due to an EU deadline of June 1 that will double the retaliatory tariffs to Section 232 in Europe to 50%. Included in the measures are increased tariffs for American whiskey, Harley-Davidson motorcycles and power boats.
U.S. Trade Representative Katherine Tai says she is working to resolve the dispute with the European Union over the steel and aluminum tariffs, but says any solution must address production overcapacity in the market.
In comments to the U.S. Senate Appropriations subcommittee on April 28, Tai said the tariffs had a positive impact on U.S. steel production, although she acknowledged they came with a cost from retaliation.
In a call with EU Commission Vice President Valdis Dombrovskis last week, Commerce Secretary Gina Raimondo said the U.S. is not ready to remove the tariffs, but seeks to prevent further escalation of the trade dispute with the European Union. 
In comments to Bloomberg TV, Raimondo said that with President Biden heading to the G7 meeting, she expects "robust discussion" about Section 232 between now and then.
"The Europeans are not happy," said Raimondo. "I've had many discussions with my counterparts in the EU. They are our allies—Europe of course is not a threat to American national security."
She added that the U.S. and Europe must work together to solve trade and overcapacity issues concerning China.
By Sandy Williams, Sandy@SteelMarketUpdate.com

Latest in Trade Cases