Service Centers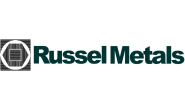 Russel Metals Reports Lower Q3 Profit
Written by Becca Moczygemba
November 10, 2022
---
Canadian service center Russel Metals posted lower earnings in the third quarter of 2022 on falling prices and customer destocking.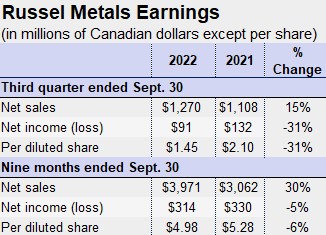 The Mississauga, Ontario-based service center posted net sales of Canadian $1.27 billion ($938.58 million USD) in third quarter of this year, up 15% from $1.11 billion in the same quarter in 2021.
But net income dropped to CA$91 million in the Q3 '22, down 31% from $132 million a year earlier.
Russel expects to see cautious buying in the fourth quarter, especially given the typically slower holiday season.
But the company anticipates growth over the next year. It plans to upgrade and modernize its legacy facilities and to consider M&A opportunities, notably in the US.
"The US is a big footprint … so emphasis would be on service centers in the US," Russel CFO Martin Juravsky said.
Analysts asked Russel executives how much value-added services were helping margins. "You're seeing a less than three-year payback on that. We're seeing the margin impact, and we think that will raise the bar over time," said Russel president and CEO John Reid.
By Becca Moczygemba, Becca@SteelMarketUpdate.com
Latest in Service Centers