Steel Mills
Ryerson Swings to Q4'22 Loss, Predicts Brighter 1H'23
Written by Michael Cowden
February 23, 2023
---
Ryerson Holding Corp. swung to a loss in the fourth quarter on lower sales volumes and selling prices.
The Chicago-based service center said the "transient margin compression" was most pronounced in the carbon steel sheet and stainless markets.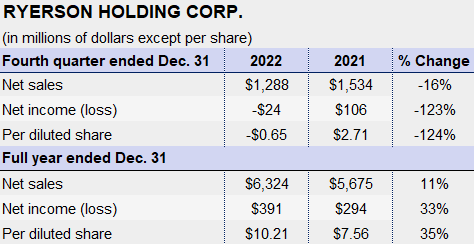 The fourth-quarter loss capped off an otherwise profitable year for the company, which forecast better times ahead in 2023.
Ryerson's headline sales and profit figures are in the chart above. The company also recorded average selling prices of $2,770 per ton ($138.5 per cwt) in the fourth quarter of 2022, down 14% from $3.236 per ton in the fourth quarter of 2021. It shipped 465,000 tons in Q4'22, down 2% from 474,000 tons in Q4'21.
Ryerson noted in commentary released with earnings data on Wednesday, Feb. 22, that prices bottomed midway through the fourth quarter and rebounded toward the end of the year.
The continuation of that trend, and higher commodity futures prices, point to a brighter-than-expected outlook for the first half of 2023, the company said.
Ryerson ended the year with total debt of $367 million, down nearly 43% from $639.3 million in 2021.
Fitch Ratings noted that Ryerson had reduced debt by $116 million in the fourth quarter alone and said that the outlook for the company remained bright.
"Ryerson's EBITDA declined in 4Q22 in line with cost headwinds and a significant decline in steel prices, but from historical high levels, and at a still relatively healthy level in Fitch's view," Fitch associate director Bill Van Meerbeke said.
The New York-based credit ratings agency earlier this month upgraded Ryerson's long-term issuer default rating to "BB" from "BB-" and said its rating outlook for the company was stable.
By Michael Cowden, michael@steelmarketupdate.com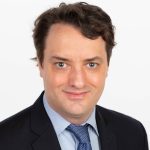 Latest in Steel Mills