Final Thoughts
HRC Futures: March Madness Three Years Running
Written by David Feldstein
March 16, 2023
---
Editor's note: SMU Contributor David Feldstein is president of Rock Trading Advisors. Rock provides customers attached to the steel industry with commodity price risk management services and market intelligence. RTA is registered with the National Futures Association as a Commodity Trade Advisor. David has over 20 years of professional trading experience and has been active in the ferrous derivatives space since 2012.
The aggressive momentum in CME hot-rolled coil (HRC) futures has fizzled in recent days. The curve is on track for the first week-over-week decline since January. Today's selling started well before the day got started in the US, indicating the downside pressure originated from London-based trading desks. What motivated the aggressive selling? Was it an attempt to shake out the weak longs? Was it profit-taking?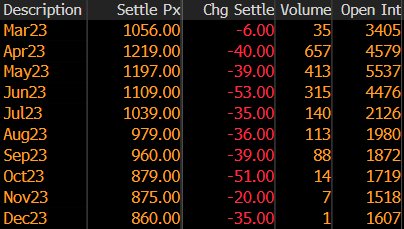 Unfortunately, I can only speculate that is was motivated by the rapidly deteriorating macro outlook that has resulted from the chaos started by the collapse of Silicon Valley Bank last week. The facts that have been revealed over the past couple weeks, however, leave me a bit surprised. Since my last article on Feb. 23, the curve has steepened even further, with the April and May futures jumping $163 and $154, respectively, and the June future up $96, while the futures in the back half of the year are relatively unchanged. Under normal conditions, futures curves are upward sloping. A steeply backwardated curve indicates a shortage for said commodity. 
CME Hot-Rolled Coil Futures Curve $/st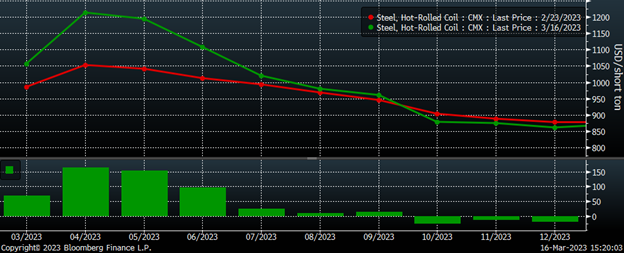 The facts I am refering to are average HR lead times ranging between 7.3–8.7 weeks and February's HR sheet imports falling to 102k tons, as well as February's strong service center shipments, extremely low months-on-hand and very strong bookings into the domestic mills. How strong the orderflow to the international mills has been is an unknown, but what is known is it takes four to six months for those tons to be delivered. We know that there has been a serious increase in trading volume across the HRC futures curve. This chart shows daily trading volume in blue and a five-day volume moving average in yellow. Volume picked up significantly in February and despite it easing up in March, volume remains around 40k tons, which is much higher than it has ever been. The red dashed line in the chart is at 40k tons/day. 
Rolling 2nd Month CME HRC Future $/st w/ Aggregate Curve Volume & 5-Day Avg.

This chart of the rolling second month future is very busy, so lets take it one step at a time.  First, the red line is the open interest across the curve with the yellow line its 22-day moving average. Open interest has broken out above the range it sat in since last July. As of Wednesday night's close, open interest climbed to 590k tons. If you recall, open interest grew rapidly from around 490k tons in February 2021 to 700k tons by the end of May 2021. This expansion in open interest was driven by forward buying. Will we see a similar outcome this go-around? The impetus for the forward buying in 2021 was the steeply discounted price provided by the curve coupled with guaranteed availability. After today's sell-off, the June future is slightly above this week's CRU print while the months of July forward offer a considerable discount, especially if the index has more room to climb as indicated by the April and May futures. Second, expanding open interest accompanying price acceleration is considered a "technically strong" bull market. Last, notice the light-blue trend line drawn using the tops of the 2021 and 2022 rallies being violated.       
Rolling 2nd Month CME Hot Rolled Coil Future $/st w/ Open Interest & 22-day Avg.

This is the same chart as above minus the open interest stats and zoomed in on. The current rally has blasted through this multi-year downtrend line. From a technical perspective, this is bullish and the lack of resistance provided by the trendline must be taken note of for the next resistance level, illustrated by the yellow-dashed line, is up at last year's high of $1,600. I don't blame you if you scoff at the idea of $1,600 HR, but recall the 95% of those surveyed by the SMU in January that voted HR would be at or below $800 60 days out. Ask yourself how you would have responded to the idea of $1,100 or $1,200 hot rolled back in December or January?  
Rolling 2nd Month CME Hot Rolled Coil Future $/st
HRC has been in an ultra-fast market in what has not even been a full quarter, so who knows where we will be in three weeks when I write my next article. The futures are truly the tail wagging the dog, but it is also where folks are putting real money as opposed to simply talking. Is the decline in the futures this week nothing more than consolidation? Is the market just taking a breather after the full-on sprint of the previous weeks? Are the scary A-words like allocation and availability about to take center stage? Are there OEMs at risk of running out of steel? Is there a widespread restocking to adapt to the growing lead times occurring? Are futures market participants taking profits this week while those establishing new short positions falling into a bear trap? Or is the futures market prescient and signaling the beginning of the end to the run we have seen in recent weeks? Has the market topped out? All we can do is consider the facts and keep an open mind about this crazy market we call home. 
Disclaimer: The content of this article is for informational purposes only. The views in this article do not represent financial services or advice. Any opinion expressed by Feldstein should not be treated as a specific inducement to make a particular investment or follow a particular strategy, but only as an expression of his opinion. Views and forecasts expressed are as of date indicated, are subject to change without notice, may not come to be and do not represent a recommendation or offer of any particular security, strategy or investment. Strategies mentioned may not be suitable for you. You must make an independent decision regarding investments or strategies mentioned in this article. It is recommended you consider your own particular circumstances and seek the advice from a financial professional before taking action in financial markets.
By David Feldstein, Rock Trading Advisors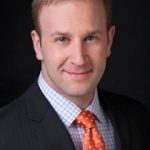 Latest in Final Thoughts