We weren't supposed to see hot-rolled coil prices dip below $800 per ton ($40 per cwt) anytime soon.
Or at least that seemed to be the consensus in mid-June after mills rolled out a round of $50-per-ton price hikes, with a second round rumored to be in the works.
That second round of price hikes never materialized, July scrap prices fell, and hot-rolled coil prices have moved lower since.
Let's take our average HRC price of $830 per ton and take 6% off that, a relatively common discount for contract tons. That gets you to ~$780 per ton, where some of you tell us you can secure spot tonnage for volumes that, while sizeable, are hardly the domain of only the biggest buyers.
Why is that kind of discounting happening? We've heard concerns about automotive, for example. So far, we're not seeing much evidence of overall demand slipping: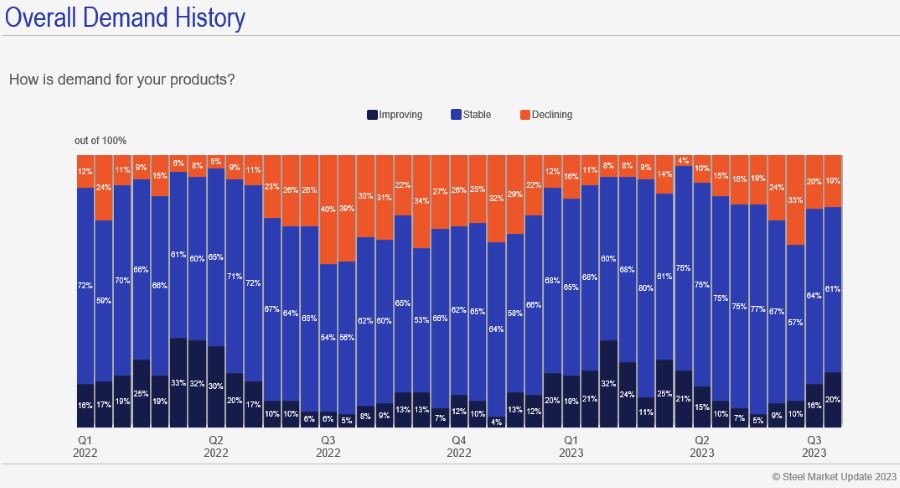 As I noted in my last Final Thoughts, most of you continue to meet forecast. And most respondents to our surveys (~60%) continue to report stable demand.
We've even seen a modest uptick in the number of people reporting improving demand – from only 5% in mid-Q2 to 20% now.
But at the same time, we've also seen fewer people predicting that prices will bottom this summer.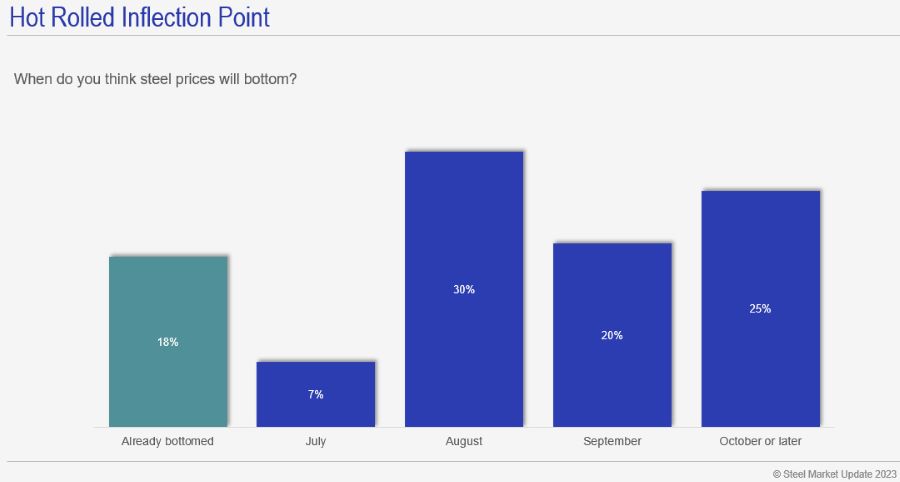 Nearly half of our survey respondents now think it is likely that HRC prices won't bottom until September or October.
Maybe we're seeing mills discounting ahead of a price hike should scrap prices rise in August?  The consensus view, per out latest survey, is that August scrap will be higher: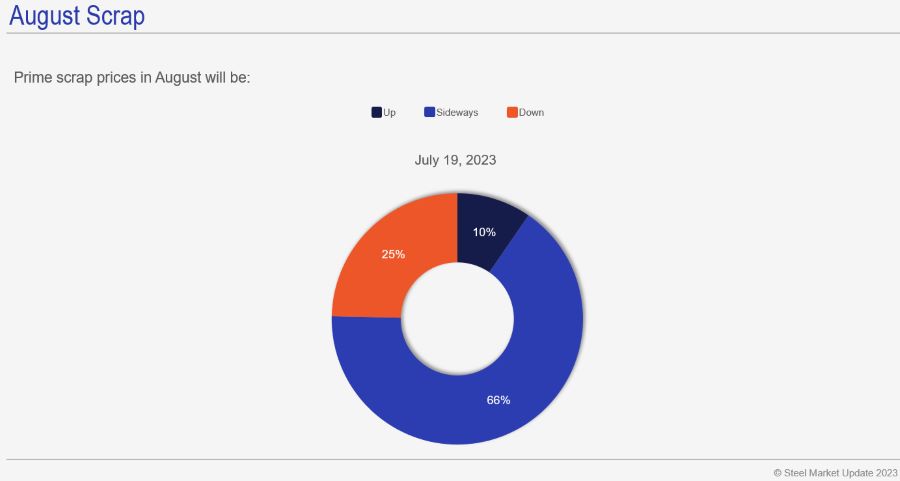 Or is it import competition? I know some of you say you're not seeing as much as you'd feared and that you don't expect to run into much pressure from imports until the fall.
That said, and as we've noted before, flat-rolled steel imports were more than 900,000 metric tons in June, the last full month for which data is available. That's the highest they've been since August 2022, when they weighed in at nearly 1 million tons.
And on some products, notably plate, there is no question that import competition is higher. Imports of plate (cut-to-length and coiled) were 209,228 metric tons in June, the highest they've been since at least July 2017, according to Commerce Department figures.
Or perhaps prices are drifting lower because of this: Current demand is good. But backlogs are getting back to pre-pandemic norms, and there is now more capacity available to meet that demand – not just at the mill level but all along the supply chain.
Meanwhile, for consumers, everything costs more and borrowing costs are going up, leaving less room to spend on big-ticket items like new cars and trucks. If that's the case, perhaps, as one of you suggested to me, there will be no dramatic bubble burst but instead a series of smaller "pops."
I realize I'm not sending you a clear takeaway. In my defense, I don't think it's just me.
I was struck by what appeared to be contradictory guidance from Nucor and Cleveland-Cliffs, two of the largest steelmakers in the US, which appear to have different takes on 2H.
From Nucor's Q2 earnings release: "We expect earnings in the third quarter of 2023 to decrease compared to the second quarter of 2023."
From Cliffs' Q2 earns release: "We are on pace for our best shipment year since becoming a steel company. Service center inventories are significantly lower than historical levels, creating support for a healthy second half of the year."
Any ideas on how to square those two statements? (And to be fair, Nucor did just record its second-best first half ever, a real accomplishment.)
SMU Steel Summit
No column this time of year would be complete without a shout out to Steel Summit!
More than 1,100 people have registered to attend on Aug. 21-23 in Atlanta, and we're hoping to break the attendance record we set last year.
If you haven't registered yet, what are you waiting for? We're less than a month away! (You can register here.) If you have registered already, you can download the conference app and start networking!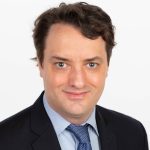 Latest in Features