Steel Products
SMU Buyers Sentiment Index Stable at +27
Written by John Packard
February 8, 2013
---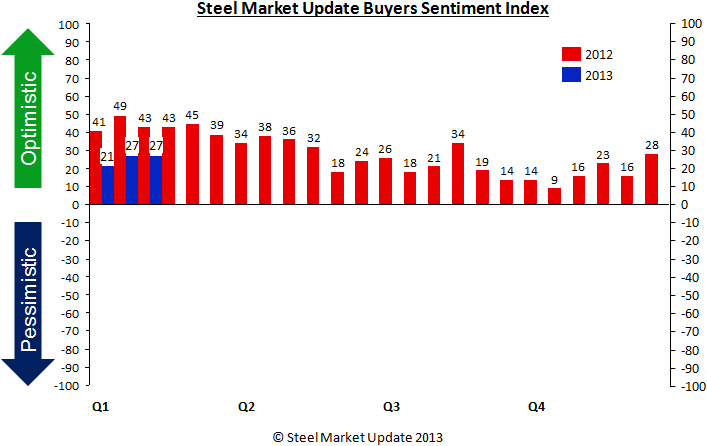 According to the results to our most recent SMU steel survey, those actively involved in the buying and selling of steel are mildly optimistic about their company's ability to be successful in the current market conditions. The Steel Market Update (SMU) Steel Buyers Sentiment Index was measured at +27 which is unchanged from the middle of January but well below the +43 measured during the first week of February 2012. Any reading above zero is considered to be in the optimistic range of our index with a +49 being the most optimistic reading measured since our index began in November 2008. That reading was achieved during the middle of January last year.
During the survey process Steel Market Update found a cautiously optimistic attitude and this was found in other segments of our survey results as well. The vast majority of our survey respondents believe demand for their products to remain the same as it has been with 61 percent of the respondents reporting that way. We did find a small glimmer of hope with 25 percent of the respondents reporting improving demand and the smallest group – 14 percent – believing demand for their products was shrinking at this time.
This mixture of emotions is what we believe is keeping Sentiment from the highs achieved this time last year. During the survey process we received the following comments:

"It's a mixed bag. Some SSC's [service centers] report record sales in January, while most others are struggling amid higher than needed inventories." Trading Company.

"Extremely busy with backlog and growing inquiries for steel and processing." Service Center.
"Lots of companies are still slow." Service Center.
"A little slow but a least steady." Manufacturing Company.
"The HVAC market continues to struggle very poor sales in December and January down slightly from 2012." HVAC Wholesaler.
SMU Steel Sentiment Index is a Leading Key Market Indicator
Over the past three months, our SMU Steel Buyers Sentiment Index monthly moving average (MMA) has shown steady improvement moving from a +19.5 average during November to a +22 average in December and then a +24 average this past month (January). The Three-Month Moving Average (3MMA) prior to our latest measurement was +21.83. Now, with the early February +27 added in our new Three-Month Moving Average (3MMA) is +23.66 indicating a rising trend in Sentiment. Our readers will soon see this in another form when we unveil our complete SMU Key Market Indicators table.
About the SMU Steel Buyers Sentiment Index
SMU Steel Buyers Sentiment Index is a measurement of the current attitude of buyers and sellers of flat rolled steel products in North America regarding how they feel about their company's opportunity for success in today's market. It is a proprietary product developed by Steel Market Update for the North American steel industry.
Positive readings will run from + 10 to + 100 and the arrow will point to the right hand side of the meter located on the Home Page of our website indicating a positive or optimistic sentiment.
Negative readings will run from -10 to -100 and the arrow will point to the left hand side of the meter on our website indicating negative or pessimistic sentiment.
A reading of "0" (+/- 10) indicates a neutral sentiment (or slightly optimistic or pessimistic) which is most likely an indicator of a shift occurring in the marketplace.
Readings are developed through Steel Market Update market surveys which are conducted twice per month. We display the index reading on a meter on the Home Page of our website for all to enjoy.
Currently we send invitations to slightly less than 700 North American companies to participate in our survey. Our normal response rate is approximately 120-170 companies. Of those responding to this week's survey 47 percent were manufacturing companies, 38 percent were service centers/distributors and the balance was made up of steel mills, trading companies and toll processors involved in the steel business.
Steel Market Update does canvass those being invited to participate in order to confirm their active participation in the flat rolled steel business. Our list is updated at least once per month and we are adding new companies on a continuous basis.

Latest in Steel Products