Steel Products
Steel Demand Flat
Written by John Packard
March 11, 2013
---
Based on the results from this past week's steel survey, demand remains relatively stable with 70 percent of our respondents (all companies) reporting demand as "remaining the same." The number of companies reporting demand as "improving" dropped from the low to mid 20 percent range down to 15 percent. Those reporting demand as "declining" increased to 15 percent.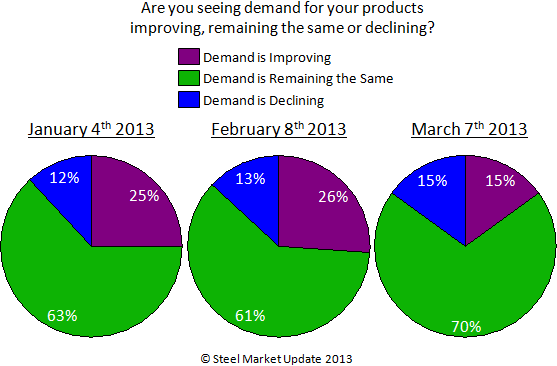 We then broke out the service centers and manufacturing companies into separate surveys and asked each about demand within their segment of the flat rolled steel industry. Service centers have remained pretty consistent over the past few months with 45 percent reporting their customers as releasing less steel than this time last year and an almost equal amount (this past week 42 percent) reporting they were releasing the same amount of steel. Only 13 percent of the distributors responding to our survey reported their customers as releasing more steel than the previous year.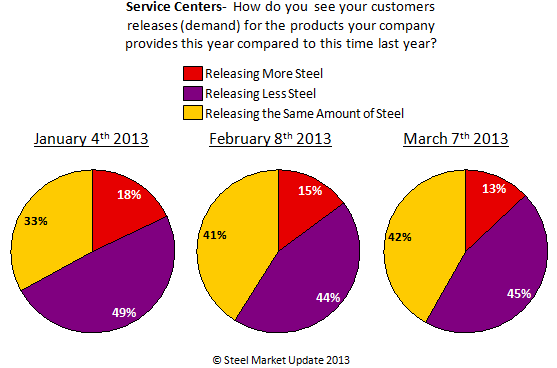 SMU had begun to ask a new question to our manufacturing companies who are responding to our survey: Demand for your products will _____ over the next 3 months based on current order flows. We are building our data base but here is how the responses compare between mid-February and the beginning of March: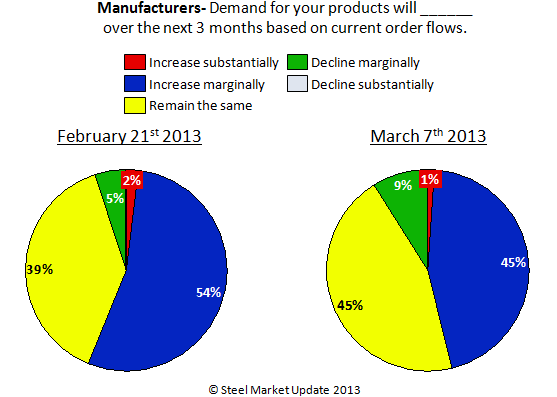 Our readers need to remember service center data is looking back and comparing last year with what they are seeing at this moment. Manufacturers are asked to comment on existing order flows and to project out into the future (3 months out). SMU is developing other products which we are calling our "premium products" in order to provide data which will allow our readers to forecast steel needs and usage further into the future. We introduced our SMU Key Market Indicators as one of the tools and others will be coming in the days and weeks ahead.

Latest in Steel Products