Steel Products
Fewer Tons of Prepainted Steel Imported During January
Written by John Packard
March 15, 2013
---
The chart below is for prepainted flat rolled steel imports. What we like to do is to show the base bare substrate and then the prepainted item as separate line items. As with many of our reports, to take the "noise" out we show the 3-month and 12-month moving averages, the change compared to the previous month and the comparison to the same month one year earlier.
Looking at cold rolled (CR) bare substrate imports were down 3.2 percent compared to December. Prepainted CR was up 5.7 percent but well below both the 3-month and 12-month moving averages. January 2013 prepainted CR imports were also lower than the same time last year.
Looking at the other products based on the 3-month moving average: prepainted galvanized (GI) imports was significantly less than the 3MMA. Prepainted electro-galvanized was much higher (although still a fairly small number at 1,034 metric tons (1,140 net tons). Prepainted Galvalume (mostly metal building and roofing items) was just under its 3MMA – note: Galvalume 3MMA is trending lower than the 12-month moving average. This could be seasonal or price driven – we will need to watch this item to see if it bounces back as we head into spring.
Aluminized imports (AL) are almost non-existent over the past 3 months. Terneplate imports were also insignificant in January and its 3MMA – although there was a large shipment received last January.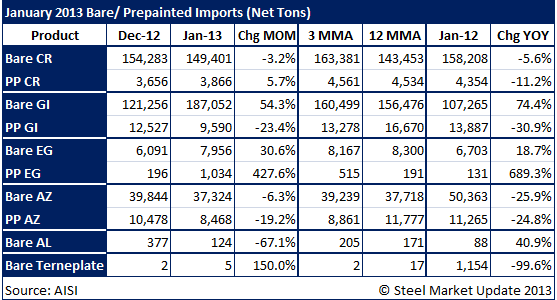 CR = cold rolled
GI = hot dipped galvanized
EG = electro galvanized
AZ = Galvalume
AL = Aluminized
PP = Prepainted
Latest in Steel Products