Economy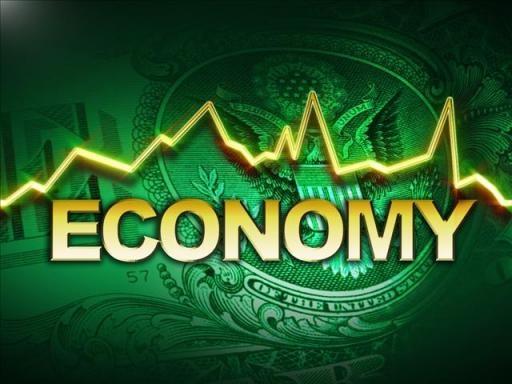 Manufacturing Sector Expands for 8th Month Says ISM
Written by Sandy Williams
May 1, 2017
---
The April 2017 ISM Report on Business showed economic activity in the manufacturing sector expanding for the eighth consecutive month. The PMI registered 54.8, dropping 2.4 points from March as new orders slowed. The PMI has averaged 56.4 since the beginning of the year.
New orders decreased 7 points to 57.5 percent. New export orders grew for the fourteenth month registering an index reading of 59.5. The import index was also up, gaining 2 points for a reading of 55.5 and the third consecutive month of growth.
The production index gained one percentage point to register 58.6. The backlog of orders index registered 57 percent in April indicating that order backlogs grew for the third consecutive month.
The employment index decreased 6.9 points to a reading of 58.9.
Inventories of raw materials grew in April with the index reading gained 2 points to register 51 percent. The customers' inventories index dipped 1.5 points to 45.5 for the month, an indication that customer inventories are too low.
Raw materials prices rose for the 14th month with 44 percent of respondents reporting paying higher prices in April and 49 percent reporting prices were the same. The April index reading was 68.5.
Respondents to the April survey had the following comments:
"Business is definitely improving. Profit margins are increasing." (Fabricated Metal Products)
"Ongoing market strength. While world/political headlines cause personal anxiety, business conditions remain solid." (Miscellaneous Manufacturing)
"Continuing to source more raw materials locally and reduce exposure outside U.S." (Machinery)
"Military and government spending is remaining strong. Commercial business has been flat to slightly down." (Transportation Equipment)
"Our business and outlook are [strong]. We are seeing price increases from suppliers in many categories." (Plastics & Rubber Products)
"Seeing increased orders and new projects." (Chemical Products)
"Bookings are slow; however, we did receive a very large government order." (Computer & Electronic Products)
Below is a graph showing the history of the ISM Manufacturing Index. You will need to view the graph on our website to use its interactive features, you can do so by clicking here. If you need assistance logging into or navigating the website, please contact our office at 800-432-3475 or info@SteelMarketUpdate.com.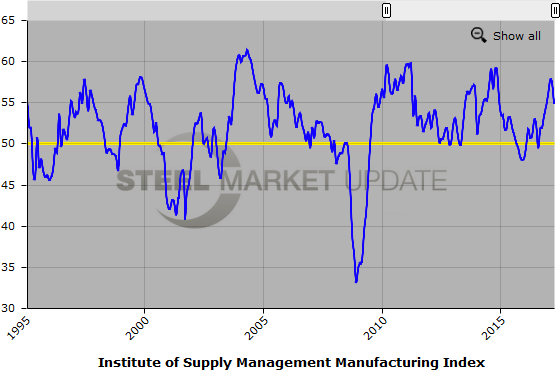 Latest in Economy