SMU Data and Models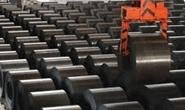 SMU Service Center Inventories at 2.9 Months of Supply
Written by John Packard
December 14, 2017
---
Service centers continue to hold flat rolled inventories steady at 2.89 months of supply at the end of November, according to the proprietary Steel Market Update Service Center Inventories Index (SSII). This is now the third consecutive month we have found flat rolled steel distributors' inventories close to the three months of supply level. Contrast that to the Metals Service Center Institute, which has reported inventories of flat rolled closer to 2.3 months of supply. Earlier today, MSCI reported 2.1 months of supply at the end of October.
With 90 percent of the registered service centers responding to our inquiries over the past four days, we found 38 percent reporting growth in their inventories compared to the prior month. We had 30 percent reporting inventories of flat rolled as being lower than at the end of October. The 22 percent balance reported their number of months of supply as being the same as the previous month.
Of the service centers reporting higher inventories, we found a common theme–a belief in higher mill prices going into the New Year and a desire to protect contract customers, which prompted them to add inventory prior to the end of the calendar year:
"We had some big contracts, so we went ahead and bought a block of inventory. Nothing major. Keep in mind that as a private company, we don't get as keyed up about inventory turns as our competition might. I literally have to go look at the number when you ask – we don't measure quite to that. Our spot inventory is stable, we hedged a little but not much, but took a position for some large customers to help them out."
"We are building inventory through the end of the year for contracts and to manage costs in what we hoped would be a pricing upswing."
"Two reasons [for the build in inventories]: we bought ahead of the price curve (base and zinc) and our customer is slow due to plant maintenance."
The service centers who were lowering inventories reported a belief that prices would be peaking (or were peaking now) and a desire to get ahead of any potential downward movement in future prices:
"We are going to run our inventories down, for the market is not that busy and the mill prices are $60 per ton greater than we are selling sheeted cold rolled into the marketplace. We have plenty of foreign to move," said one service center, who added, "I believe the peak is here. The new pricing will slow purchases and the mills will be looking for orders, sooner rather than later."
Steel Market Update began compiling the number of months of supply at flat rolled steel service centers in July 2017. We started with 23 distributors and have expanded the number of participating service centers to 43. All information collected is kept totally confidential and none of the participating service centers are aware of any of the other contributors. Where required, Steel Market Update has signed confidentiality agreements with data providers. There are both public and private companies participating. We have some of the very largest to some of the smallest service centers providing information.
We will continue to build the number of data providers, and we encourage flat rolled service centers to share information with us. We are also building a database for plate service centers, and we also encourage plate distributors to contact us and inquire about becoming a data provider.
You can become a provider by sending an email to John@SteelMarketUpdate.com
Over time, we will refine and improve the quality of the information and how it will be provided to those companies that are participating, as well as those who contract with us to receive the data. For the moment, we will continue to share the data with all of our readers, but we will change that in the future.
Our ultimate goal is to provide a "Flash" report, which will be released within a few days of the end of each month. The "Flash" report would be from a small number of service centers who represent a cross-section of the flat rolled market and are able to provide data to SMU on an expedited basis.
The "Flash" report would then be followed by our full report utilizing the data from our complete list of data providers. That report will be published between the 11th and 15th of the month.

Latest in SMU Data and Models