Steel Products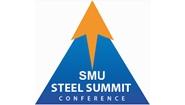 2018 SMU Steel Summit Conference: THE Conference to Attend
Written by John Packard
December 15, 2017
---
Our team has been working diligently on our 2018 SMU Steel Summit Conference. We have expanded the space we are using at the Georgia International Convention Center, we have changed the space that will be used for breaks and for our exhibitors, and we have expanded the audio/visual segment of the program as we continue to go for a professional "look" to our conference.
Perhaps most importantly, we have been working on providing an exceptional program for 2018 attendees. We received rave reviews for this year's event (2017) and we are working to make next year's event even better.
I am going to hold back (for now) on who we have confirmed as 2018 speakers. I will say as always there will be a mix of the "old" and the "new."
We are working on the subject of attracting and keeping youth involved with manufacturing and the steel industry. The program we had at this year's event was exceptional thanks to Jack Bellissimo, Justin Philipp and Guarav Chhibbar. I am trying to get that full section downloaded to our website or to a place where we can store it and then share it with the industry. We will be springboarding off that great introduction into other areas that will help companies attract and keep young employees.
If your company can only budget monies to attend one industry conference during 2018, my opinion is you cannot go wrong in deciding to attend our 8th SMU Steel Summit Conference. to be held in Atlanta on Aug. 27-29, 2018, at the Georgia International Convention Center.
A special thank you to our Steel Summit sponsors: Pacesetter, Bank of America Merrill Lynch, Flack Global Metals, Heidtman Steel, Nucor, Magic Coil Products, Mill Steel, MidWest Materials, Red Bud Industries, All Metals Service and Warehousing and Alliance Steel. We still have seven sponsorship spots open. You can learn more about becoming a sponsor by contacting Jill Waldman at Jill@SteelMarketUpdate.com or myself John@SteelMarketUpdate.com

Latest in Steel Products