Service Centers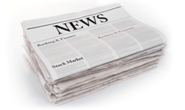 Industrial Metal Supply Names New President
Written by Tim Triplett
November 14, 2018
---
Industrial Metal Supply Co., a full-line metals distributor in the Southwest, has named David Pace as its new president, effective immediately. Pace will have responsibility for the Sun Valley, Calif., company's strategic direction and growth initiatives and will report directly to owner Neil Sherman.
Pace is a 23-year veteran of Industrial Metal Supply and since 2004 has served as the COO overseeing all branch operations. During his tenure, he has been instrumental in the company's growth, including the additions of Phoenix, Riverside and Tucson locations, which used both acquisition and greenfield strategies to extend service throughout Southern California and Arizona. Pace began his industry training in sales and operations at Ryerson Steel.
"As anyone who has worked directly with David knows, he is a very dedicated and hard-working team player," said Neil Sherman. "He brings an amazing amount of energy and creativity to the table and I could not be more pleased about his appointment to this critical role."
Dave Cohen, who will report to Pace, will assume the COO role. Cohen started at IMS in 1995 as a sales manager. Within five years, he took over the newly opened Phoenix branch as general manager. He served in this role until four years ago when he was promoted to senior vice president of business development.
Eric Steinhauer, president of IMS since 1993, has accepted the position of vice chairman of IMS and will report directly to Sherman. In this newly formed role, Steinhauer will assist the management team and sit on the board of advisors.
"During his more than two decades at IMS, Eric has made numerous contributions. He helped grow revenues 11-fold, added four new locations and built the company to more than 400 employees strong," remarked Sherman. "I am very happy he has agreed to stay involved with the company as I know the very accomplished team of Eric, David and Dave will lead us into a new era of growth and fun for IMS."

Latest in Service Centers