Scrap Prices North America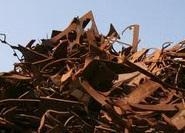 Ferrous Scrap Prices See Big Jump in December
Written by Tim Triplett
October 29, 2020
---
Ferrous scrap prices saw a big jump in December, settling up by a minimum of $70/GT, with rumored sales exceeding $100/GT, report Steel Market Update sources. Scrap prices are widely expected to see further increases in January, adding ongoing support to the uptrend in finished steel prices.
Scrap for December reportedly settled in the following ranges: Shred $385-400, Bush $400-425, HMS $330-360, and P/S $360-390.
"After doing an outstanding job of keeping scrap costs to a minimum during an unprecedented runup of finished steel prices, steel mills are finally having to pay the piper," said one dealer in the Northeast. "Months of sideways or minimal increases in scrap prices have created a supply shortage during the most difficult time of year to source material. In my opinion, the great majority of mills did not purchase forecasted volumes and are still seeking scrap. Most dealers have sold their December tons, which are lower than normal based on the expected reduction of inbounds during December and higher prices in January. The overwhelming consensus among market participants is that January will bring even stronger prices across the board in every region of the country."
"Most U.S. mills have bought scrap at prices between $70-95/GT depending on what they paid for November shipment. To say the least, dealers did not want to sell much tonnage unless the mills made it worthwhile. It does not look like buyers got all the scrap they wanted, thereby leaving January to be even stronger," reported another dealer.
The strength of the domestic scrap market in December was a surprise, commented another scrap executive. "The perfect storm of strong export scrap demand, a global pandemic hampering scrap flows, a weakening U.S. dollar, improved domestic steel production volumes especially at EAFs, low domestic scrap and steel inventories, record low finished steel imports, and considerably higher priced scrap alternatives created a market the likes of which I have not seen in a very long time."  
He expects strong demand and higher prices in January, though not as big a jump as in December. Export scrap pricing is not as strong as U.S. scrap pricing after the December increases, so export will have to move up to push the domestic market much higher, which is possible.  "The dollar is more likely than not to continue to weaken, and the Turkish mills will need to buy U.S. scrap over the next month or so," he noted.  
The only real concern at the moment is Chinese export rebar prices, which have paused over the last several weeks, and limited increases of Turkish rebar prices, he added. "The Turkish mills have also sold an enormous volume of steel to Southeast Asia in recent weeks, so buyers there are taking a pause before ordering more steel. With Chinese export rebar prices competitive again, we will need an improvement in demand before prices there can resume a march higher. But U.S. demand and the need for U.S. exporters to fill orders taken over the last month will keep U.S. scrap prices very firm in January."
Pig Iron Market
On the pig iron market, CRU reports that U.S. and Italian buyers are competing with Chinese buyers, pushing the pig iron prices higher. The most recent deal recorded by CRU was at $480 CFR Italy.
"The fact that the U.S.-based EAF mills bought pig iron at prices over $450/MT CFR means they went over the prevailing Chinese price by about $20/MT to secure tonnage. This level of cost has sidelined the Chinese for now," noted one source. "If that holds, then the U.S. mills should not have to pay more and could potentially see pricing reduced, but not by very much. If the price of steel continues to increase, the Chinese could return to the pig iron market at some point."
U.S. Steel's purchase of Big River Steel, announced today, could have an impact on the scrap market, said one expert. "BRS may not use traditional scrap suppliers now that they have an arrangement with Koch Industries to procure ferrous raw materials. The combined entity will have spare iron production, which could result in the company making its own pig iron for use at BRS plants. This would replace most DRI/HBI outside purchases and totally replace imports of pig iron. They would also have the ability to sell their pig iron to other users as well."

Latest in Scrap Prices North America