Steel Mills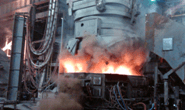 Big River Steel's Second EAF to Produce First Coil
Written by Sandy Williams
November 12, 2020
---
Big River Steel is expected to roll the first coil from its new electric arc furnace sometime next week, according to U.S. Steel's Q3 comments and other sources. The project ran ahead of the scheduled January start-up by more than two months. Although the first coil will be produced next week, full capacity won't be achieved until April or May.
The EAF doubles annual production capacity at Big River Steel to 3.3 million tons. U.S. Steel, which owns 49.9 percent of BRS, recently started up its own new EAF in Fairfield, Ala. in October. The Fairfield project was supported by technical expertise from Big River Steel. The rounds from the EAF will provide substrate for seamless pipe in the tubular market.
A number of other expansions are under construction by competing steel mills. Steel Dynamics will complete its 3 million ton per year Sinton flat roll mill in mid-2021, around the same time as the 1.4 million ton Nucor Gallatin flat roll expansion. BlueScope is adding a 950,000 metric ton expansion at its North Star location in second-half 2022 and a 1.5 million ton per year EAF to produce slabs is slated for AM/NS Calvert. In Mexico, Ternium expects to commission its new hot roll mill in Pesqueria in July 2021.
Latest in Steel Mills