Domestic hot band prices are rolling downhill at a rate that looks to be accelerating. As SMU managing editor Michael Cowden pointed out in Tuesday night's Final Thoughts, present dynamics are eerily like what we saw last summer. And we all know where that led us: to a low of $615 per ton ($30.75 per cwt) on average for hot-rolled coil (HRC) by Thanksgiving.
But in many ways, it's not much of a surprise that flat-rolled prices are declining, especially at the current rate. Several other markers we track are trending down, and have been doing so for the better part of the past few months.
Laura Miller noted that HRC lead times have just dipped below the 5-week mark on average for the first time since early February, presently ranging between 3 to 7 weeks. Ethan Bernard has been describing the ongoing shift in domestic mills' readiness to negotiate with buyers on new orders, a change from just 26% of buyers of hot band saying mills were willing to negotiate as recently as early April, to about 96% this week, according to SMU's most recent survey data.
And that's not all, steel buyers' sentiment remains at some of the lowest marks since December, even if it looks like it recovered slightly from a seven-month low of +58 reported in late May.
All these indicators seem to point out that the present price downtrend has more room to go. I'm certainly not willing to speculate what will happen next. How much further prices may erode or how fast that may happen, but all our indicators and a number of economic gauges seem to be pointing down.
SMU's Steel Demand Index also indicates apparent demand for flat-rolled steel in the US is in negative territory, a place it's been since late April. The index has continued to contract, and has now been below 50 for four-straight readings, which indicates contracting demand. The reading is presently at 42.1, down 1.4 points from late April's measure, and it's the lowest total since Dec. 8.
This indicator is worth monitoring as it compares lead times and demand and is a diffusion index derived from our bi-weekly market surveys. This index has historically preceded lead times, which is notable given that lead times are often a leading indicator of steel price moves.
SMU's demand diffusion index has, for nearly a decade, preceded moves in steel mill lead times. (Figure 1 shows the past five years.) Historically, SMU's lead times have also been a leading indicator for flat-rolled steel prices, particularly HRC prices. (Figure 2 features the past five years.)
Take a look at the data below. As noted above, an index score higher than 50 indicates expanding demand and a score below 50 indicates contraction.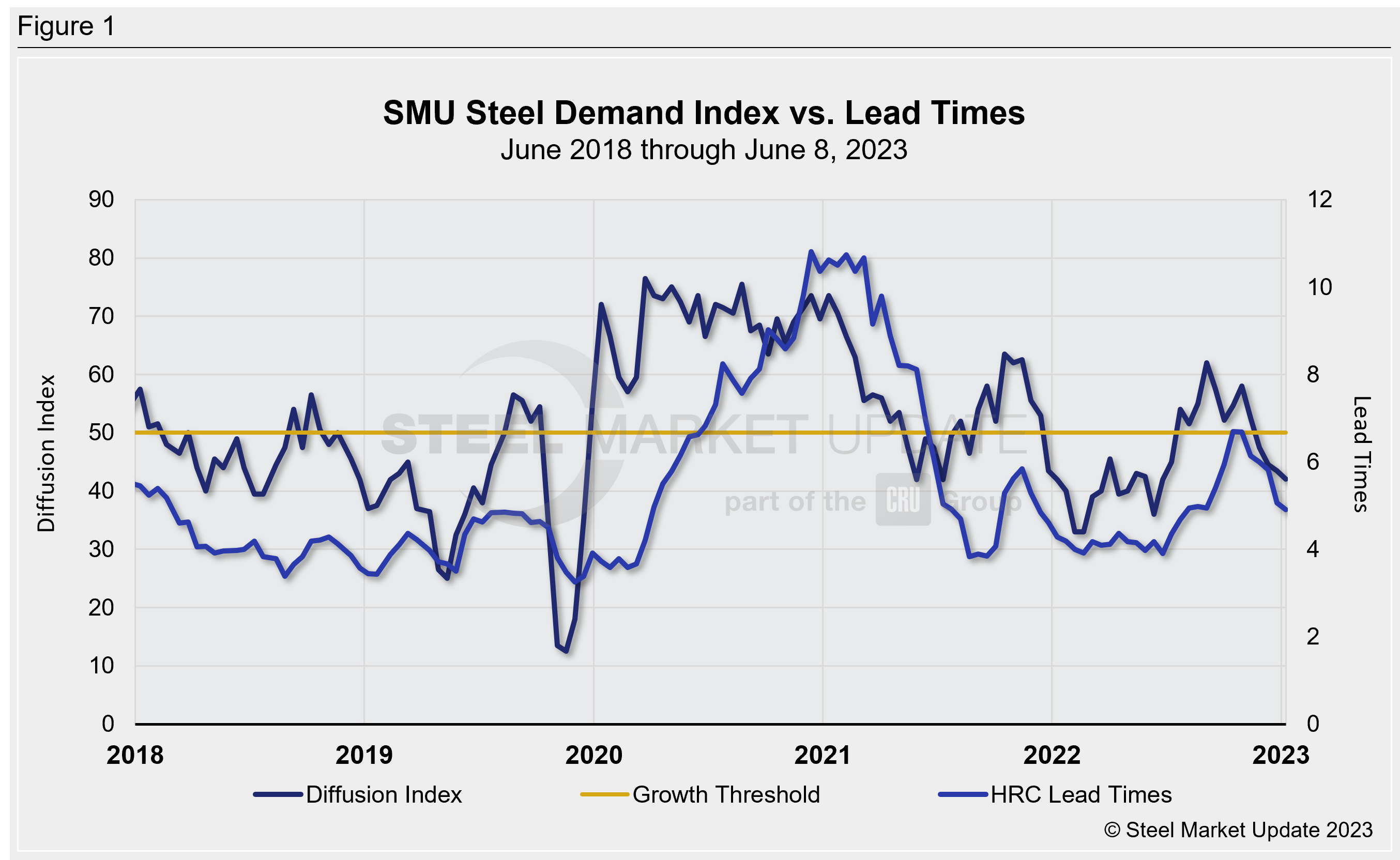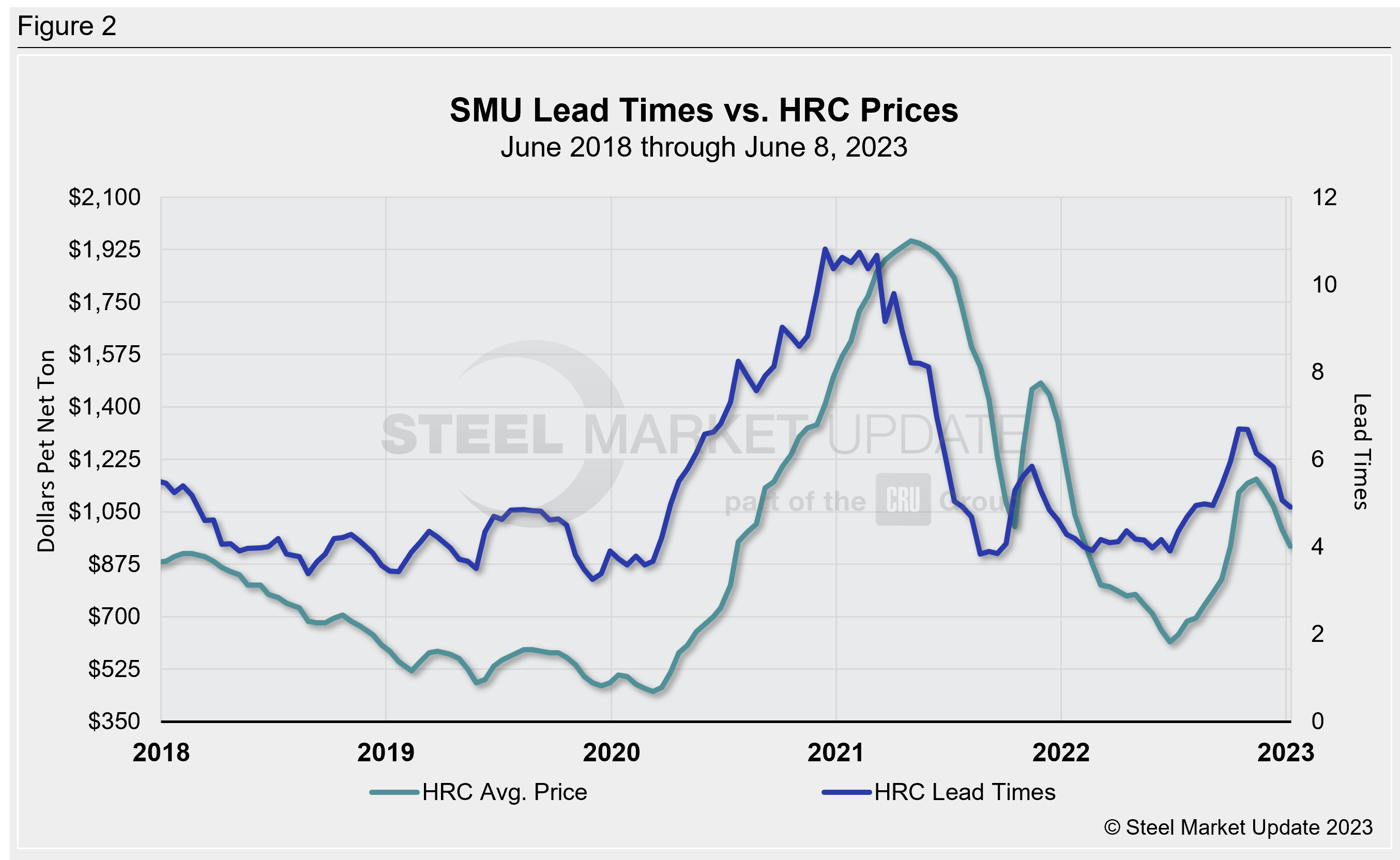 We've just now started to review survey responses, but they continue to point lower, with more than two-thirds of survey respondents in our latest flat-rolled market analysis saying that prices will either bottom in July or August, with another nearly 26% expecting prices to bottom in September or later.
And prices, well, early survey results note that more than 65% of steel buyers expect prices to be at or below $850 per ton by August.
Yet while some sources continue to point to steady backlogs, many argue demand and output are working against each other. And as offshore product tags are dropping aggressively, raw material prices have also dropped considerably, an indication that flat-rolled prices have more room to fall.
And others would note that present dynamics in the steel market are simply a culminating impact of the overall slowdown in the economy. And while the recession "can" continues to be kicked down the road, many believe it will soon come to pass.
SMU Steel Summit
The premium US steel conference is less than three months away. The agenda is packed full of industry experts and key players, and registrations are climbing fast. We had over 1,300 in attendance last year, and we're on pace to easily exceed that total. So, you may want to consider booking your hotel soon for Steel Summit, if you haven't already. Discounted room blocks are going fast, and non-discounted prices are a lot higher than they've been in past years.
You can learn more about the agenda, networking opportunities, and register here.
SMU Community Chat
We're excited to have Geoff Gilmore, future president and CEO of Worthington Steel, as our featured speaker on the next SMU Community Chat on Wednesday, June 14, at 11 am ET.
We'll talk discuss several topics including current steel market dynamics, the outlook for the second half, and what might be in store for 2024. We'll also discuss the biggest challenges and opportunities ahead for Worthington Steel.
You can register here for the free live webinar.
As always, your business is truly appreciated by all of us associated with Steel Market Update.
By David Schollaert, david@steelmarketupdate.com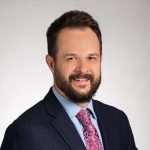 Latest in Final Thoughts