Steel Mills
Algoma Aims To Ramp Plate Production by Year End
Written by Michael Cowden
September 29, 2023
---
Algoma Steel Inc. plans to ramp up production at its modernized plate mill toward the end of the year.
Operations Update
The Canadian sheet and plate producer said it in the meantime continues hot commissioning at the upgraded facility and has begun cold commissioning as well.
The company said it has also run trials through the plate mill's heavy-gauge inline shear.
Algoma CEO Michael Garcia said the development was a "key milestone" in a press release providing both fiscal Q2 earnings guidance and operations updates.
Recall that the plate mill upgrade has faced significant delays.
Another development on the operations side: Algoma expects to perform planned annual maintenance on its steel-making vessel, including a reline, in its fiscal Q3.
That maintenance comes ahead of Algoma transitioning to EAF production, something that is necessary for it to meet aggressive decarbonization targets.
Work on that transition "has advanced as expected" during the company's fiscal second quarter. The two EAFs, which will replace Algoma's two blast furnaces, are on track to be commissioned late in 2024, Garcia said.
Fiscal Q2 Earning Guidance
All told, Algoma expects to ship 450,000 to 550,000 tons of steel in its fiscal Q2.
The company also projects that adjusted earnings before interest, taxes, depreciation, and amortization (EBITDA) in Q2 will be Canadian $75 million to $85 million ($55 million to $63 million USD).
That's significantly lower than adjusted EBITDA of C$191.2 million in Algoma's fiscal first quarter when it shipped 569,433 tons.
Algoma said recent steel shipments had been hit by "lower than expected" prices resulting from the UAW strike at Ford, GM, and Stellantis operations in the US. The company is "closely monitoring" the expanding strike, Garcia said.
Unlike in the US, auto workers in Canada did not go on strike. But closely interlinked North American supply chains mean that the impact of the UAW strike is being felt outside of the States.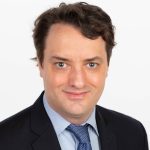 Latest in Steel Mills