Steel Products
ISM Manufacturing PMI rises to 50.7 for December
Written by Sandy Williams
January 4, 2013
---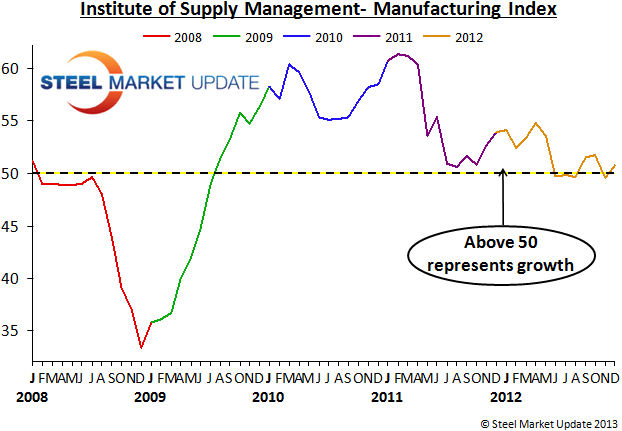 The Institute for Supply Management increased its manufacturing purchasing managers' index to 50.7 in December from 49.5 in November. A rating above 50 indicates an expansion in activity. The ISM uptick comes in tandem with Markit data, also released on Wednesday, that put the Markit US PMI rating at 54.0 in December—a jump from 52.8 in November.
The ISM reported new orders unchanged at 50.3 from November but still in a growth trend.
Production dropped 1.1 percent in December to 52.6 from November's rating of 53.7, indicating growth for the third month in a row, although somewhat slower. The employment index was at 52.7 from 48.4 in November. Manufacturers' inventories decreased from 45.0 in November to 43.0 in December while customer inventories grew 4.5 percent from 42.5 in November to 47.0 in December. Prices are on a 5 month trend of growth increasing 3 percent to 55.5 in December.
Exports and imports both show growth at 51.5, up from 47.0 and 48.0 in November, respectively.
"The election is over; unemployment is dropping; consumer confidence is increasing as are home sales prices. We seem to be turning the corner. New car sales are increasing, which affects our customers." said a survey respondent from the fabricated metal products industry in ISM's press release.
The average ISM PMI rating for the last 2012 months was 51.7, with a high of 54.8 in April and a low of 49.5 in June. A PMI that remains over 42.6 for a period of time indicates a general expansion of the overall economy, thus, December was the 43rd consecutive month of growth.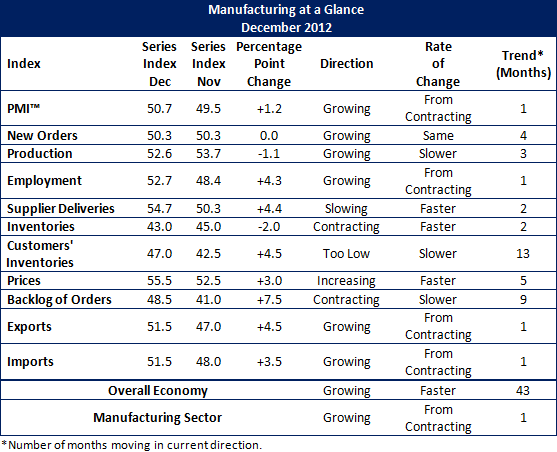 Latest in Steel Products