SMU Data and Models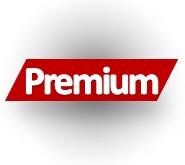 SMU Service Center Apparent Excess Inventories Forecast to Balloon
Written by John Packard
December 18, 2014
---
Last month, Steel Market Update forecast carbon flat rolled shipments out of the U.S. steel service centers would total 2,100,000 tons. Earlier this week the Metal Service Center Institute (MSCI) reported distributors shipped 2,051,600 tons. We over-forecast shipments by 48,400 tons. Our forecast was based on shipments being 4.0 percent higher than November 2013 and instead they came in at 2.4 percent better than last year.
When it came to inventories we forecast excess inventories at 408,000 tons and the service centers would be holding 5,414,000 tons of flat rolled on their floors at the end of November. Based on our proprietary formula, the excess inventories totaled 536,000 tons and distributors held 5,531,000 tons on their floors.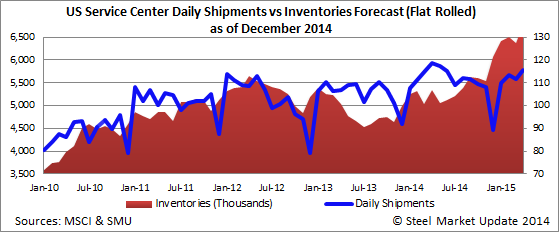 We continue to tweak our models but, we have been essentially correct in that inventories are building which is putting pressure on flat rolled steel pricing – both out of the steel mills as well as spot numbers out of the service centers to their customers.
As we review and update our forecasts for December through April we continue to be optimistic but we have tempered our optimism slightly due to comments made by Alan Beaulieu of the Institute for Trend Research who is forecasting a slowdown for 1st Half 2015.
Originally we were of the opinion that the December through April time period would see shipments increase by 4 percent year-over-year. We have backed off our original 4 percent forecast and have lowered it to 2 percent for each month on our forecast. If we are going to be wrong in our forecast this is where we feel we are exposed. As you look at your business you may want to see how much of an increase/decrease you are projecting and then compare it against our 2 percent (YOY) growth rate.
We have also made adjustments to inventory receipts which we were originally forecasting as showing 5 percent growth year-over-year. Our new forecast calls for flat rolled receipts to grow 5 percent in December and January, 3 percent in February, March 5 percent and zero growth in receipts during April.
For the months of December and January we have also made an inventory adjustment of 50,000 tons to accommodate the flow of foreign steel. We eliminated the adjustment for February, March and April. In the graphic below you can follow along with our shipments and inventory forecast as well as our Apparent Excess forecast for the distributors.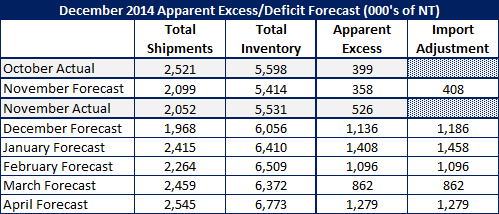 If we are correct, inventories at the service centers will begin to balloon in December and January before moderating a bit in February and March. If we are correct, the service centers will have to adjust inventories by either selling off excess supplies (thus driving spot prices down amongst the service centers) and buying less domestic steel (as they cannot cancel foreign tons on the water). This would keep pressure on domestic pricing through the early portion of 2015.
Our price forecast calls for benchmark hot rolled to bottom at $580 per ton sometime in early 1st Quarter 2015. Our current HRC average is $610 per ton and we have seen offers at the low end of our range close to the $580 level.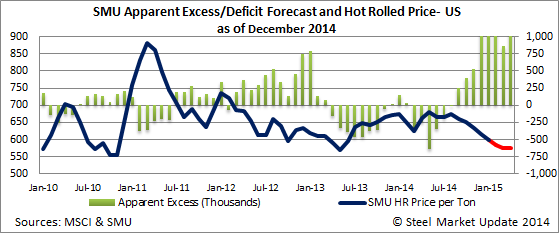 Latest in SMU Data and Models