Economy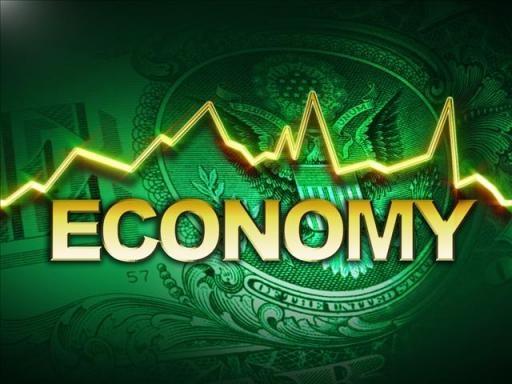 ISM Index Shows Manufacturing Expanding for 93rd Month
Written by Sandy Williams
March 1, 2017
---
The February ISM Report on Business indicates manufacturing activity expanded in February with the overall economy in a 93rd month of consecutive growth.
The PMI was 57.7 percent, up from 56 percent in January. Looking at it from a 3 month moving average, February showed growth at 56.1, up from 54.7.
Production at 62.9 gained 1.5 percentage points while new orders picked up 4.7 points to register 65.1 for the month. Raw material inventories fattened during February with the index gaining 3 points to register 51.5. Prices were higher for raw materials for with the index reading 68 percent, a one point decrease from January. Customer inventories were considered too low in February at an index reading of 47.5, down 1 percentage point from 48.5 the previous month.
Order backlogs grew for the first time after seven months of contraction. The index gained 7.5 percentage points to register 57 percent.
New export orders were at an index reading of 55 percent indicating growth for yet another month. Export orders grew in each of the last 12 months, according to ISM data. The import index grew 4 percentage points to register 54 percent in February.
Ten of the 18 manufacturing industries surveyed reported employment growth in February. The employment index was at 54.2 compared to 56.1 percent in January.
Comments from survey respondents include:
"Business [is] improving and lead times are extending by two or more weeks." (Chemical Products)
"Very positive outlook for this quarter. Production goals have been adjusted multiple times and increased each time due to demand." (Computer & Electronic Products)
"Bookings are heavy early in the season. Expect robust first half of the year." (Primary Metals)
"Sales and business continue to be strong and increasing." (Machinery)
"Business holding steady in Q1." (Transportation Equipment)
"Medical device manufacturing is still strong." (Miscellaneous Manufacturing)
"Even though oil and gas prices are on the upswing, we still face a tough 2017 and will continue to save on costs." (Petroleum & Coal Products)
Below are two graph showings the history of the ISM Manufacturing Index, the first of the non-adjusted index and the second of the index on a three month moving average basis. You will need to view the graphs on our website to use their interactive features, you can do so by clicking here. If you need assistance logging into or navigating the website, please contact our office at 800-432-3475 or info@SteelMarketUpdate.com.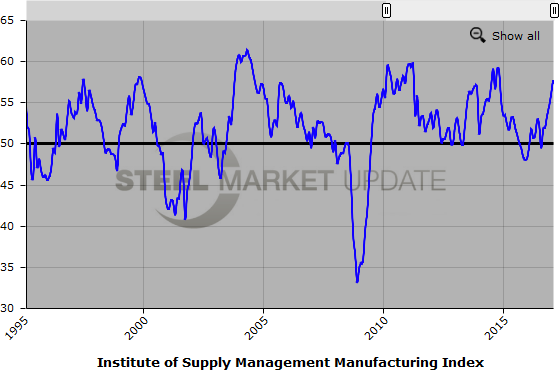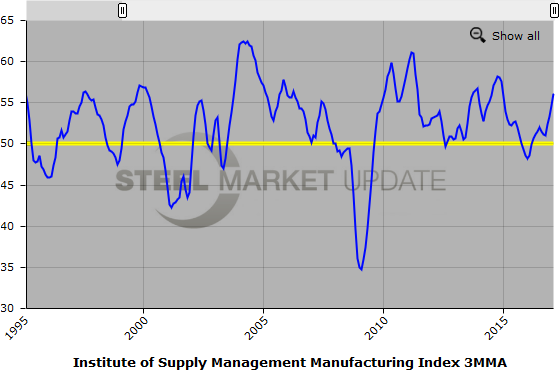 Latest in Economy