Steel Products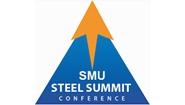 2018 SMU Steel Summit Conference Registration Open
Written by John Packard
January 11, 2018
---
Steel Market Update has opened online registration for our 8th SMU Steel Summit Conference. We are also accepting registrations by phone, which you can do by contacting our offices at 772-932-7538 or 706-216-2140. Information regarding dates, costs and other details can be found further down in this article.
Steel Market Update and our Events team is putting together another terrific conference filled with quality speakers including Dr. Alan Beaulieu of ITR Economics who will be returning for his fourth presentation. We will have a mix of the tried-and-true complemented by other timely and creative programs. SMU President and CEO John Packard will sit down with industry leaders for a one-on-one conversation about the challenges and opportunities the industry faces. One of those discussions will be with Nucor Chairman, President and CEO John Ferriola.
Top rated steel and mining analyst Timna Tanners of Bank of America/Merrill Lynch will once again go head-to-head with John Anton, Director of Steel Services for HIS Markit. Both Tanners and Anton have been entertaining our attendees with their forecasts since our very first conference in Las Vegas.
We are intentionally holding back on announcing some of our speakers and specific program segments as we want to keep our competitors guessing on what we will do this year as we strive to bring clarity to the chaos that is the domestic steel industry in 2018.
Our conference comes at a very opportune time at the end of August when steel buyers and sales managers are putting together their forecasts for 2019 and beyond. We will make sure we have something solid for them to consider after attending our conference. This is an election year and our conference will be held less than three months from election day…
Here are the details that you need to know:
Dates of SMU Steel Summit Conference: Aug. 27-29, 2018. The conference begins at 1 PM ET on Monday August 27 and will end at 3 PM on August 29, 2018.
Location: Georgia International Convention Center (www.GICC.com) located next to Atlanta International Airport (ATL).
Anticipated Attendance for 2018: 750+ executives in manufacturing, distribution, trading, steel mills, toll processors and companies associated with the industry.
Hotels and Rates: We have room blocks at negotiated rates at three hotels surrounding the GICC: The Atlanta Airport Marriott Gateway Hotel, The SpringHill Suites Atlanta Airport Gateway Hotel, and The Renaissance Atlanta Airport Gateway Hotel. The hotel rates run from $143 to $159 per night based on current room block. Once the room block is exhausted the prices at the hotels will rise and could top out at $259 per night. We sold out our room block by June last year and we expect to sell out our block early this year as well.
Cost Per Person to Attend Conference: $1,275 per person with $100 discount for those companies who are Steel Market Update subscribers and another $100 per person for those bringing two or more people to the conference.
Where can you register: As of Jan. 11, 2018, you can register by phone at 772-032-7538 or 706-216-2140. In a few days, you will be able to register online here.
Questions? Please contact our offices at 800-432-3475 or send an email to: info@SteelMarketUpdate.com. You can also visit our website: https://www.steelmarketupdate.com/events/steel-summit
The SMU Steel Summit Conference is THE place to network with suppliers, customers and decision-makers of all kinds while at the same time being exposed to the best program and speakers in the industry.
Steel Market Update wants to thank our sponsors who help us keep our ticket prices reasonable while we expand our services and upgrade the quality of the conference experience: Pacesetter, Bank of America, Crowe Horwath (new this year), Heidtman Steel, Nucor Corporation, Magic Coil Products, Mill Steel, MidWest Materials, Red Bud Industries and Alliance Steel.
We have a limited number of sponsor spots available. You can get more details by contacting Jill Waldman at Jill@SteelMarketUpdate.com.
Jill can also assist you if you have an interest in exhibition space.
Steel Market Update is also working on some "adders" for this year's conference. We will have more details on what that means in the coming weeks.

Latest in Steel Products