Final Thoughts
Final Thoughts
Written by Michael Cowden
October 5, 2023
---
The US steel market appears to have gone from despairing over the possibility of spot HRC prices slipping into the $500s per ton to worrying about spot availability – and in just a matter of 2-3 weeks.
What the heck happened? How can market psychology change on a dime?
Outages and Price Hikes Get Buyers Off the Fence
For starters, we've seen U.S. Steel idle steelmaking at its Granite City Works near St. Louis. It will also take a 16-day planned maintenance outage on one of the smaller blast furnaces at its Gary Works near Chicago.
That is happening against a backdrop of shorter outages (both planned and otherwise) on hot-strip mills and among EAF steelmakers. That includes one that was pulled forward at SDI's EAF sheet mill in Columbus, Miss.
Renewed focus on those outages – and their potential impact on lead times – comes after Cleveland-Cliffs announced a hefty price increase last week. The market has gone from fearing HRC in the $500s per ton to assuming hot band will get to at least $700 per ton.
In short, I don't think it was just market psychology that changed. I think buying patterns did too. Consumers are now off the proverbial fence. And some sources I've spoken to lately think it's unlikely we'll get to Halloween without another round of mill increases.
As for availability, I've already heard some grumbling about allocation. I don't think that's the case yet. But it does speak to the possibility that we could see lead times extend significantly when we update them next week.
I'm also curious to see what our final service center shipments and inventories data for September will look like when we compile it next week. The amount of flat-rolled steel on order slipped in August. Will we find that it increased in September? I think that's possible.
Imports To Rebound in Q1'24?
We've already seen an uptick in imports, according to the latest license data from the Commerce Department. The US was licensed to import 806,125 metric tons of steel in September, up 5% from the 767,280 tons that arrived in August and up 9% from the 739,154 tons that arrived in July.
That material was probably ordered months earlier, when US prices were still higher than those in the rest of the world. And it's possible that import volumes will dip in Q4. Material arriving over the next three months would have been ordered when US prices were falling toward parity with world prices. Less is typically ordered when that happens.
But US prices also tend to shoot up after briefly falling in line with those abroad. I'd been hearing that traders were struggling to attract business from US customers amid low domestic prices and standard lead times. I've heard more recently from some of you that there is more interest in imports again.
That makes sense if we see more price hikes and if lead times extend in a big way. Material ordered overseas now might not arrive until Q1. Could we see a lot of it? Maybe. In the meantime, do domestic mills have a strong hand to get prices up again? I'm guessing that's a goal, especially should they have contract negotiations underway.
Friday Means All Eyes on UAW
A lot still hinges on what happens with the UAW strike, which is now in its third week. Ford and GM have made increasingly generous offers. Ford, for example, is offering wage increases of more than 20%, a traditional COLA, and the elimination of tiers. That's not all of what the UAW wanted, but it's no small part of it.
I'm curious to see what UAW president Shawn Fain will have to say on his now customary Friday Facebook Live stream. Will we hear that the parties have made progress and so the strike will not be expanded? Or will we hear more about the "billionaire class" and another wave of strikes?
Demand Steady
The sauce that has made all of this volatility (whether in prices or in news) palatable has been stable demand.
Check out the chart below: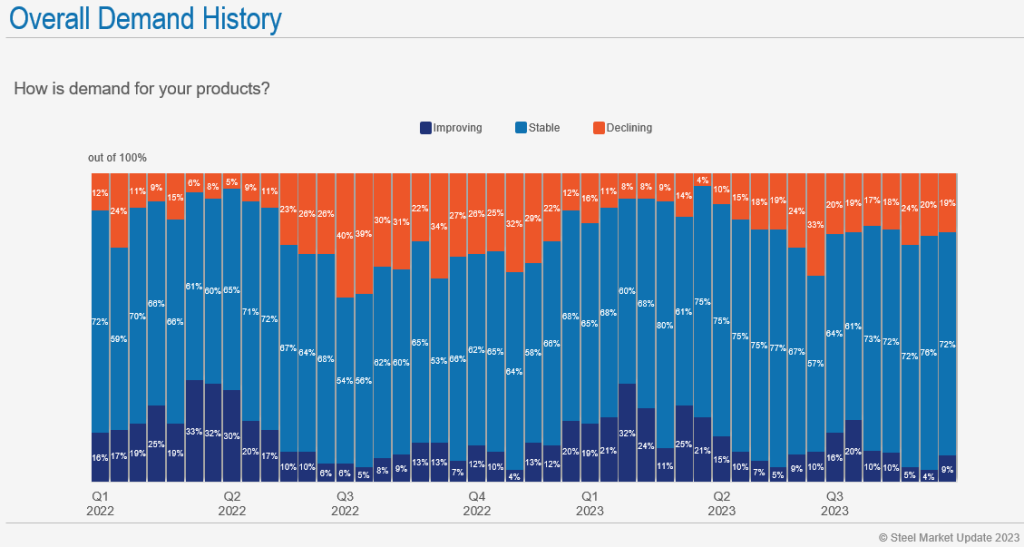 About 80% of survey respondents have been reporting stable or improving demand since the beginning of the third quarter, a surprisingly durable trend.
Some of you have told me that you're seeing things slow down, as you typically do this time of year. Few have told me that demand is poor.
And we're not just seeing that in our survey data. One example: AGC chief economist Ken Simonson said in his Community Chat this week that a soft landing for the US economy looked increasingly likely. I hope he's right.
Tampa Steel Conference
I've said it before, and I'll say it again – don't wait to register for the Tampa Steel Conference on Jan. 28-30 at the JW Marriott Water Street in Tampa. We tend to see registrations for that event shoot up in November, by which time hotels and flights are a lot more expensive than they are now. Save yourself some money and register now!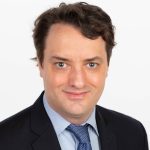 Latest in Final Thoughts