Steel Products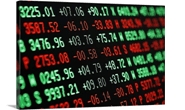 HR Futures: Prices in Flux Along the Curve as Spot Presses Higher
Written by Jack Marshall
March 11, 2021
---
The following article on the hot rolled coil (HRC), scrap and financial futures markets was written by Jack Marshall of Crunch Risk LLC. Here is how Jack saw trading over the past week:
Hot Rolled
The market saw another strong move up in HR futures prices accompanied by strong volume buying. Daily average HR futures volumes almost reached 22,000 ST as the last month saw over 415,000 ST of HR futures trade.
Spot rose $80/ST between the 2nd week HR indexes from Feb'21 to Mar'21. Over the last month, we have seen a significant shift in future HR price expectations as reflected in the shape of the futures price curve.
The curve shifted to contango for the near month Mar'21 through Jun'21, from backwardation, before shifting to a backwardated curve from Jun'21 on out through 1H'22. This can be seen in the shift by quarter–HR Q2'21 rose $237/ST over the last month while Q3'21 rose $269/ST. Market participants had previously discounted the futures prices as they expected a peak in prices much sooner. Continued tightness in HR markets due to short supplies of spot tons and continued long lead times from mills have extended higher price expectations. While imports are starting to help fill some of the gaps in inventory, the high current prices for HR are likely pushing suppliers to maintain lower than average inventory for when prices start to mean revert.  The market has been pushed to rely more on spot tons, which have been scarce. On top of that, as manufacturers try to get back to pre-pandemic outputs, they are working to fill a backlog of orders, which is putting added demand pressure into the market. Some folks have expressed the opinion that the market likely will not peak until June or July, which is currently reflected in the futures
Below is a graph showing the history of the CME Group hot rolled futures forward curve. You will need to view the graph on our website to use its interactive features; you can do so by clicking here. If you need assistance with either logging in or navigating the website, please contact us at info@SteelMarketUpdate.com.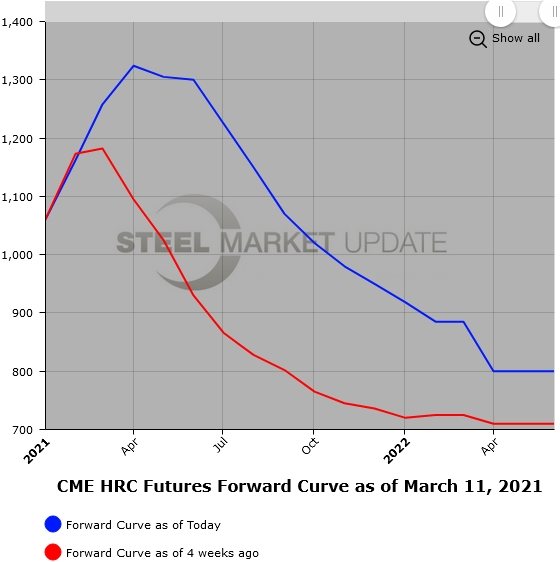 Scrap
BUS futures have been more erratic over the last month. Initially, market chatter suggested BUS prices would be up about $20/GT, but that quickly moved out to $40/GT and then $40-$80/GT. The latest settle of $351.32 for the Mar'21 BUS contract saw a healthy $59.03/GT pickup. More interesting was the BUS futures curve. Prices in the near end as of yesterday were up over $115/GT for Apr'21 through Mar'22 BUS. Futures trades have been sparse over the last month as high offers were discouraging the natural BUS futures buyers. Expectations are high for BUS as rising capacity utilization rates among the U.S. mills, along with increased expected global competition and global supply chain issues, could create a drag on domestic prime scrap supplies as manufacturers' supplies are affected. Upcoming scheduled maintenance projects at a number of mills over the next quarter or two could temper the demand.
Also worth a note, the metal margins (HR-BUS) continued to widen over the last month. Q2'21 rose $137/ton between 2/11 and 3/10 (CME settles $506 to $643/ton). Q3'21 rose $140/ton 2/11 to 3/10 (CME settles $341 to $481/ton).
Below is another graph showing the history of the CME Group busheling scrap futures forward curve. You will need to view the graph on our website to use its interactive features; you can do so by clicking here.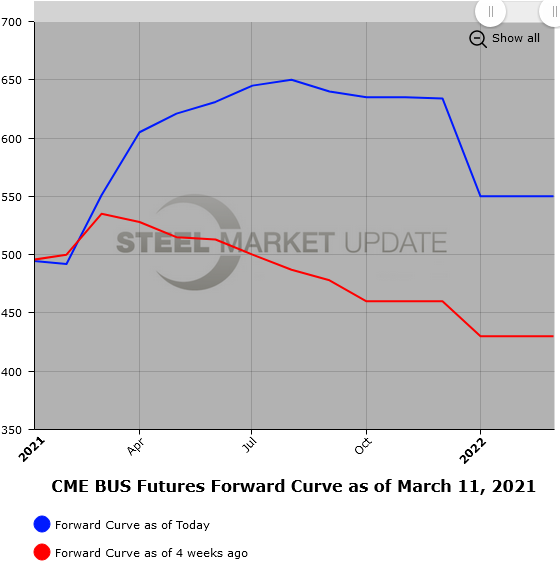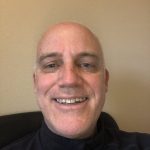 Latest in Steel Products